Guide to Christmas Tree Disposal in NYC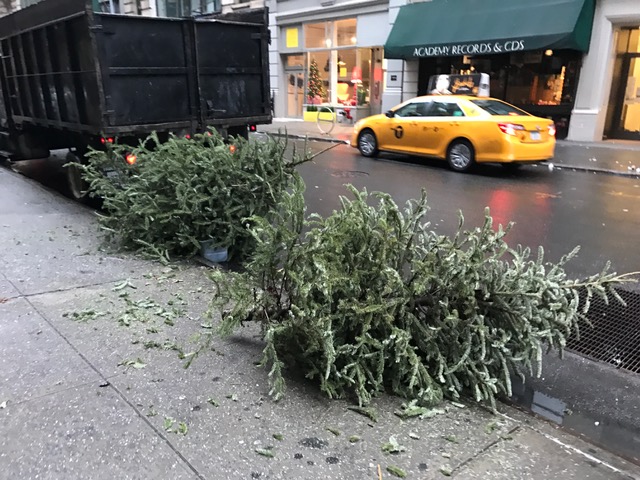 All good things must come to an end. So it goes as the holiday season winds down and we are faced with the bleak prospect of three months of grim, cheerless winter weather. There is no more ominous sign of the slow slog to spring that begins post holidays than the Christmas tree graveyards that surface on street corners across the city on Jan. 2. Before you despondently drag your tree to the curb, read these tips for how to properly dispose of Christmas trees in NYC.
How to Take Down Your Christmas Tree
A more devout observer of Christmas tree tradition would insist that the tree stays erect until Jan. 6, which is the Feast of the Epiphany, or in more common parlance Three Kings Day (i.e., The day the three Magi are said to have arrived at the manger bearing gifts for little baby Jesus). Jan. 5, which marks 12 days after Christmas and therefore the full scope of the season for some, is another day commonly cited as the beginning of tree disposal.  Some people do it as early as Dec. 31, while others have been known to keep some Christmas cheer in their life well into February though this certainly poses some fire hazard risk. Regardless of the day you choose to dispose of your Christmas tree, follow these basic tips for cleanly and safely getting it out of your apartment.
Place old sheet around the bottom of the tree to catch as many dry needles as possible (Pro tip: lots will fall during the Christmas tree disposal process!)
Take off ornaments first, then de-string the lights
One person needs to get on their hands and knees to unscrew bolts from Christmas tree holder while another person holds the tree from the middle to make sure it doesn't topple over
Lift tree out of stand and lay in old sheet
Pull old sheet around the tree like a hammock and carry out of apartment and out to the curb
Tips for Tree Disposal if You Live in an Apartment Building
Do not put Christmas tree down garbage shoot
If your building has a service elevator, opt for this route when taking Christmas tree to the curb
If your building has a helpful super or maintenance crew, ask that they help you dispose of the tree. Depending on the size of your building, co-op or condo staff will often take the tree down for you if you put in a service request. Be sure to tip!
Check with the doorman or super to see if there is a designated time and place for tree disposal.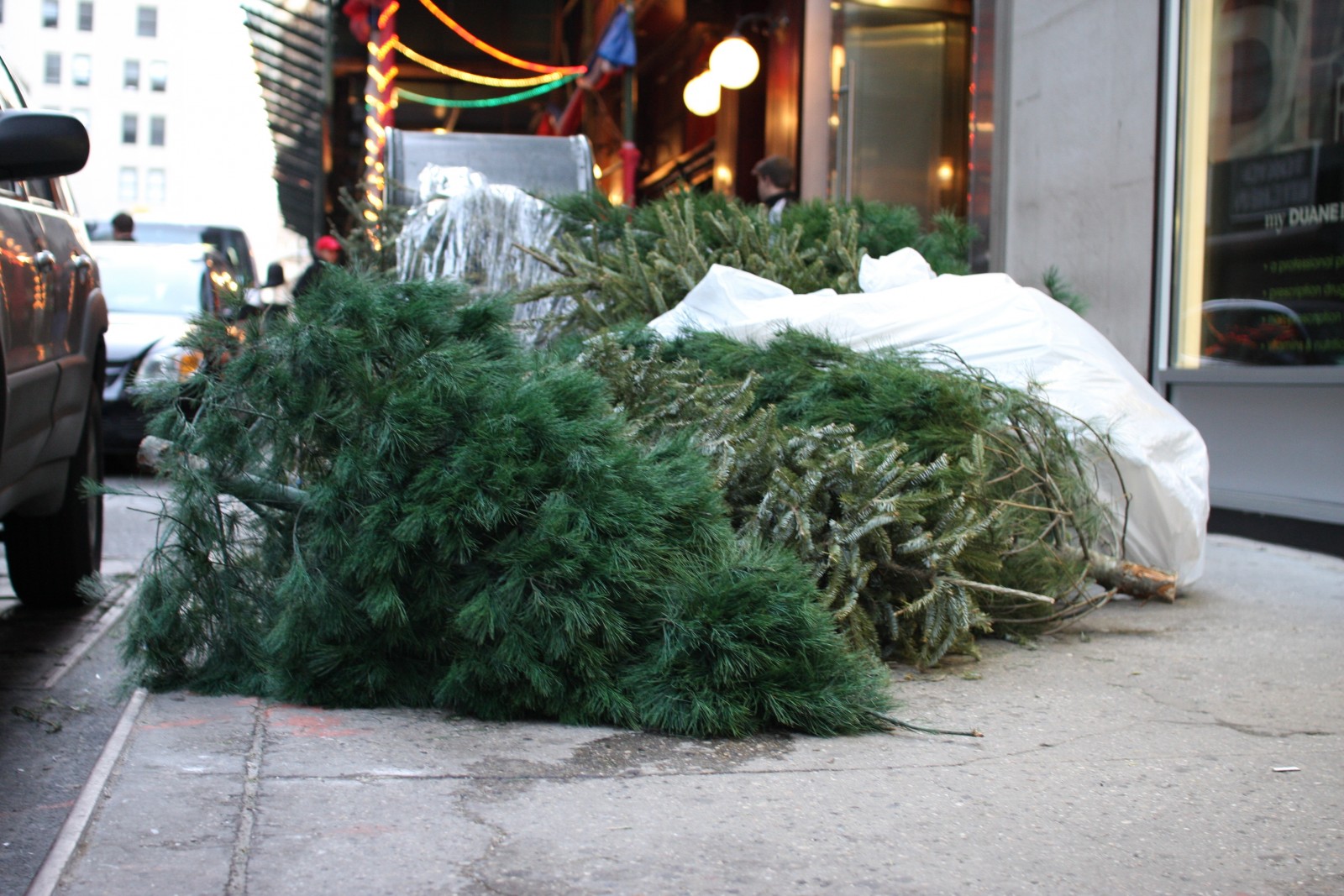 Dates for Curbside Christmas Tree Disposal
If you want to go the path of least resistance, you can simply leave your Christmas tree on the curb and the Department of Sanitation (DSNY) will come to dispose of it with their regular garbage collection. Although many of us like to wait until the 5th or 6th of January to dispose of our trees, DSNY curbside Christmas tree disposal begins on Tuesday, Jan. 3 and runs through Saturday, Jan. 14 (sorry all you Christmas romantics – the tree's got to go at some point!) Note that the DSNY will not pick up a tree that still has ornaments or lights on it and must not be wrapped in any cloth or plastic. Just leave it bare by the curb.  If you leave your tree by the curb between Jan. 3-14, the DSNY will chip it, mix it with leaves and recycle it into compost, which will then be used throughout NYC parks.
If you miss the Jan. 3-14 window (yes, we get it. It's hard to let the Christmas spirit go), the DSNY will still dispose of your Christmas tree. It will be collected with the regular trash pick up and will not be composted.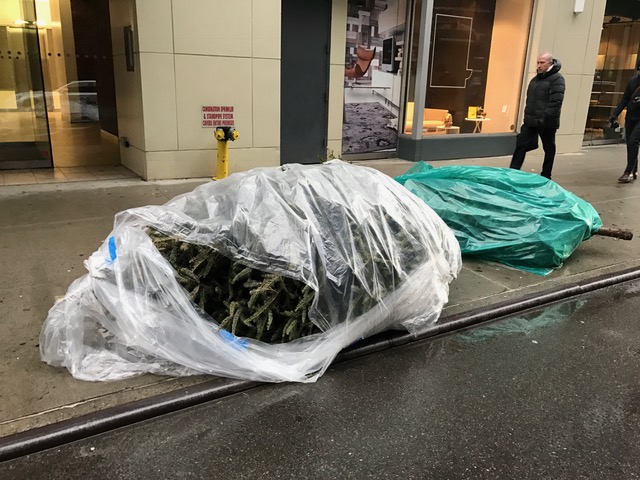 Fake Christmas Tree Disposal
If you opted for a fake Christmas tree, the DSNY will help you dispose of it as well. Simply remove all ornaments and lights and leave it by your regular trash. If your tree is metal or hard plastic, leave it with your recyclables. If it is not metal or hard plastic, you can throw it out with the regular trash. You can also donate fake trees that are still in good condition to DonateNYC and they will be reused in upcoming holiday seasons.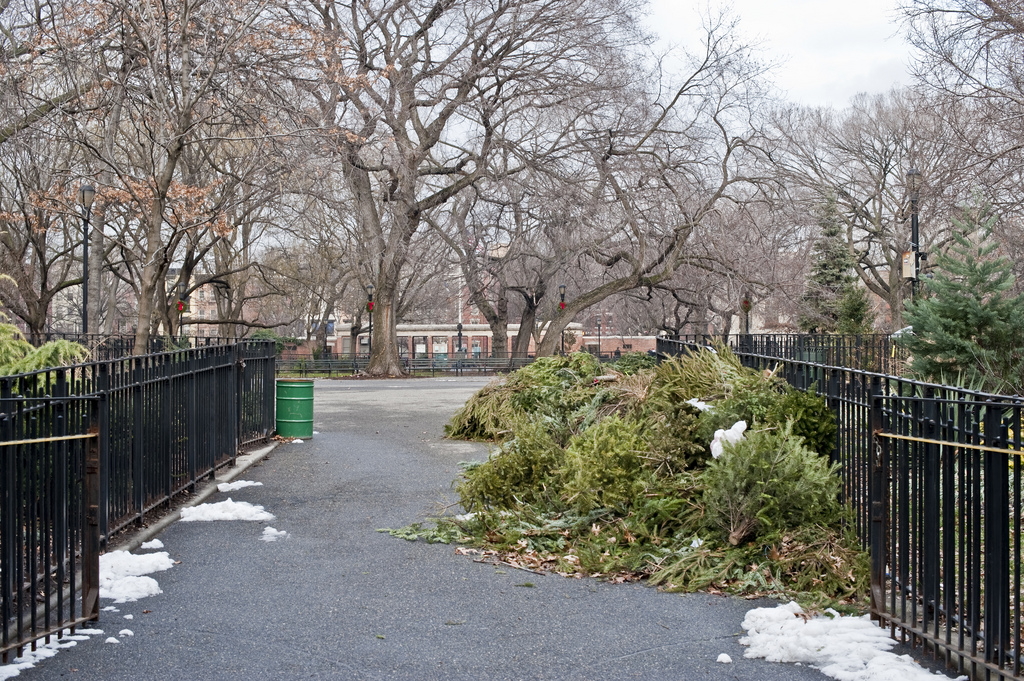 Mulching Your Christmas Tree
There is a wonderful post-Christmas tradition in New York City called Mulchfest. Mulchfest is a Christmas tree disposal event organized by NYC Parks that takes place in local parks across the city and fills the neighborhood with a ubiquitous pine scent and the low, buzzing hum of tree chippers. If you bring your tree to a designated park on Saturday, Jan. 7 or Sunday, Jan. 8, the DSNY will chip your tree and then give you a bag of your very own tree mulch. If you can't make it to the Mulchfest those days, you can bring your tree to a mulching drop-off area in a designated park between Dec. 31 and Jan. 8 and it will be mulched later. A full list of mulching locations can be found here.
Christmas Tree Disposal Services
If you cannot muster the mental stamina to dispose of your Christmas tree yourself, you can hire a Christmas tree disposal service to do the dirty work for you. Companies like Tyler's Trees and NYCTrees both offer Christmas tree disposal services, as well as Christmas tree installation. You can book an appointment with Tyler's Trees online and a crew will come to your house to efficiently and cleanly dispose of your Christmas tree. They operate in all five boroughs with rates starting at $50 for five-foot trees and upwards of $200 for trees over 12-feet tall. NYCTrees offers similar services but only operates in Manhattan and Queens. Rates start at $50.
Related