Most Popular Apartments of 2016
The most popular apartments of 2016 on StreetEasy perfectly encapsulates the extremes of New York City's real estate market as well as the near schizophrenia of its renters, buyers and real estate addicts. When we looked at the sales and rentals with the most page views on StreetEasy this past year, we found a lot of sensationally expensive properties as well as some rock-bottom deals. Just as much as New Yorkers love to ogle over an opulent penthouse on 5th Avenue, they equally relish an insanely cheap, if sickeningly spare, broom closet purporting to be a studio. Whether you're a sucker for luxury real estate or a cheap listing fanatic, StreetEasy's list of the most popular apartments of 2016 is sure to shock and awe you.
Most Popular Rentals of 2016
1. $1,035/Month Studio in Far Rockaway
Living in a studio in Far Rockaway (below) could be a recipe for loneliness and isolation or it could be your ticket to financial solvency in this wildly expensive and hectic city. The immense popularity of this rental could also be driven by the fact that this studio has a dishwasher and is within walking distance to the beach. In other words, a solid antidote to the typical New York City lifestyle.
2. $97,500/Month 6BR in Tribeca
Ah, New York!  Nowhere else are the extremes of the housing market so apparent and in such close proximity. We go as nuts for a rock-bottom deal (see listing above) as we do for a sensational Tribeca townhouse (below). And who could blame us? The listing description paints quite a picture of the "rare and privileged lifestyle" residents will lead at this six-story townhouse on one of "Tribeca's most fabled and exclusive blocks." Can't comprehend what "a rare and privileged lifestyle" on one of the "most fabled blocks" in the city entails? Here's a hint – it involves a three-car garage, 50-foot indoor swimming pool and a separate staff apartment.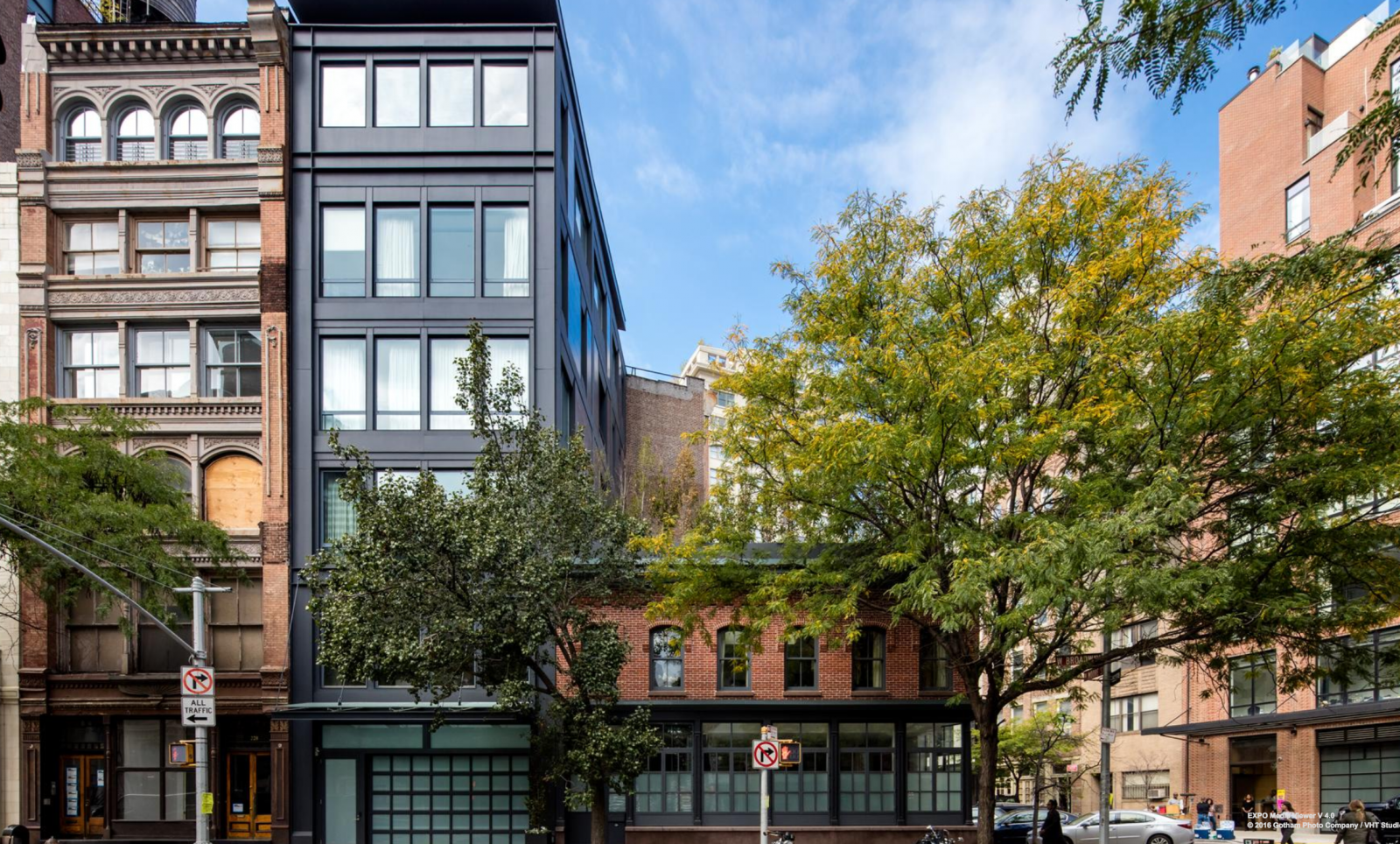 3. $1,250/Month Studio in the East Village
Was it this studio's amazing price or its minimal amenities that attracted droves of StreetEasy users? The price is unheard of for Downtown standards, but it's the meagerness of the accommodations (e.g., shared bathroom) that are the real attention grabber. For $1,250/month, you get a lofted bed, a stove and that's about it (below). The address is on Saint Marks Place between 2nd and 3rd Avenue so chances are you won't be getting much sleep, either.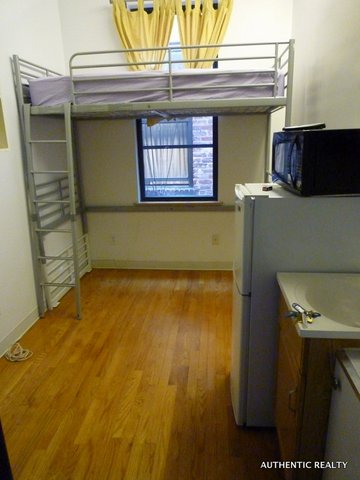 4. $100,000/Month 7BR PH on the UES
The price and the views are the real showstopper at this $100,000/month penthouse on Fifth Avenue (below). The listing description is slightly convoluted with several references to "6 star services" and interiors "stylized by an internationally renowned architect which include cashmere padded doors with leather handles, mahogany cabinetry, curated lighting, unique elegant furnishings, electric and wind sensitive terraces awnings and much more all which set the tone for comfortable living and glamorous entertaining." The main gist, however, is quite clear. The place is luxurious and features an impressive terrace with an outdoor bar and three (3!) outdoor showers 'cause, you know, two just isn't enough.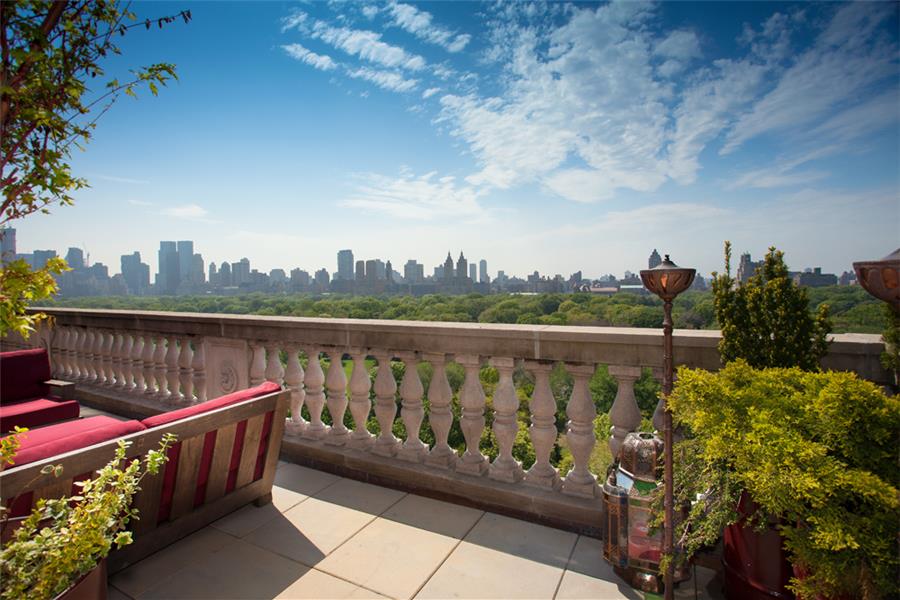 5. $1,325/Month Studio in Chelsea
This (very, very) modest efficiency studio (below) just goes to show you that to some New Yorkers, location is everything. For $1,325/month, you can live in trendy Chelsea and have a lofted bed, stove, sink and mini-fridge to call your own. The same cannot be said for a bathroom — which is shared, located in the hallway, and "cleaned by tenants on a rotating schedule." Dorm room chic, we guess…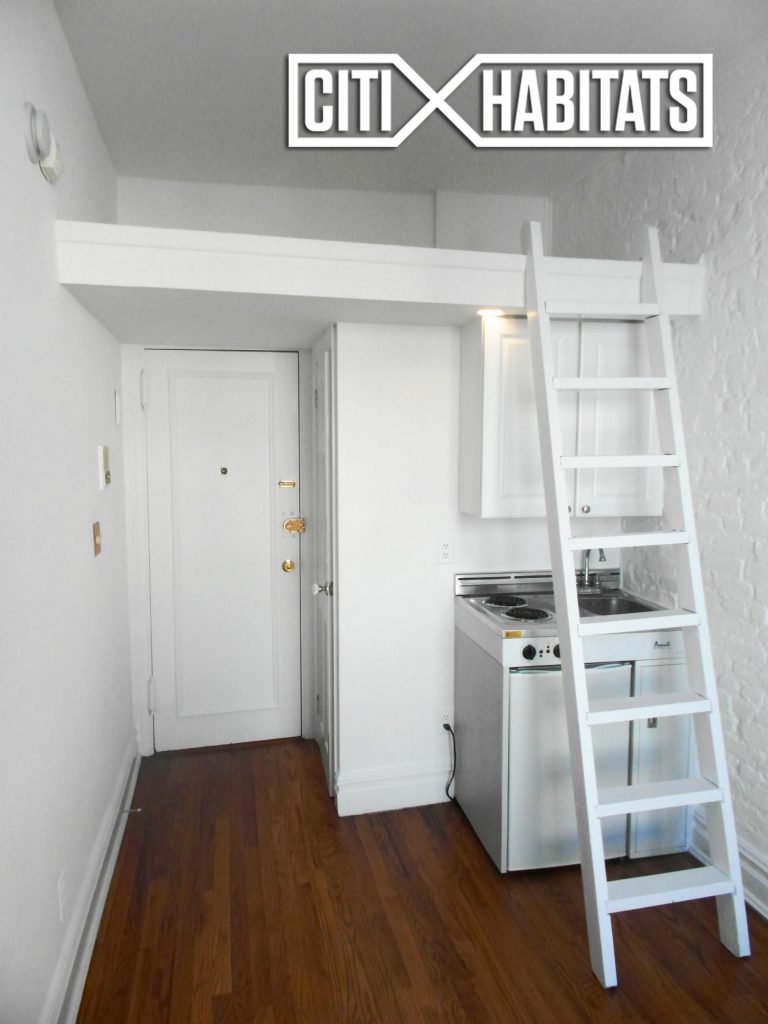 Most Popular Sales of 2016
If you weren't sure an 8-bedroom penthouse at the Atelier Condo building was worth $85M (and who could blame you?) perhaps perks in the listing description will win you over, such as (brace yourself for typos and random capitalization): "2 million dollar construction credit, a 1 million dollar Yacht with docking fees for 5 years as well as two Rolls Royce Phantoms (1 convertible,1 hardtop), Dinner for 2 weekly at Daniel Bolud's Resteraunt Daniel for 1 year, Courtside season tickets to the Brooklyn Nets for a year, A Hamptons mansion rental for a Summer, live in butler services for 1 year as well as private chef."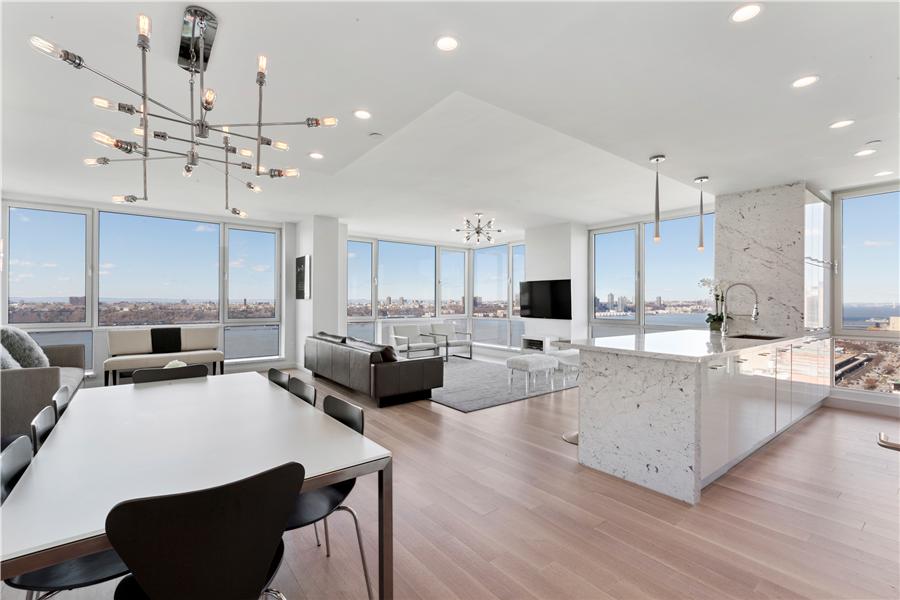 Another intriguing, if mysterious, UWS listing garnered a ton of views on StreetEasy (below). Similar to the listing above, this two-bedroom condo is scarce on listing details or images. It does, however, clearly broadcast itself as an "INVESTMENT OPPORTUNITY" with an estimated value of $1.5M and a potential rental income of $1,138/month. Before you let your curiosity get the better of you and make an inquiry, be forewarned – the property comes with tenants.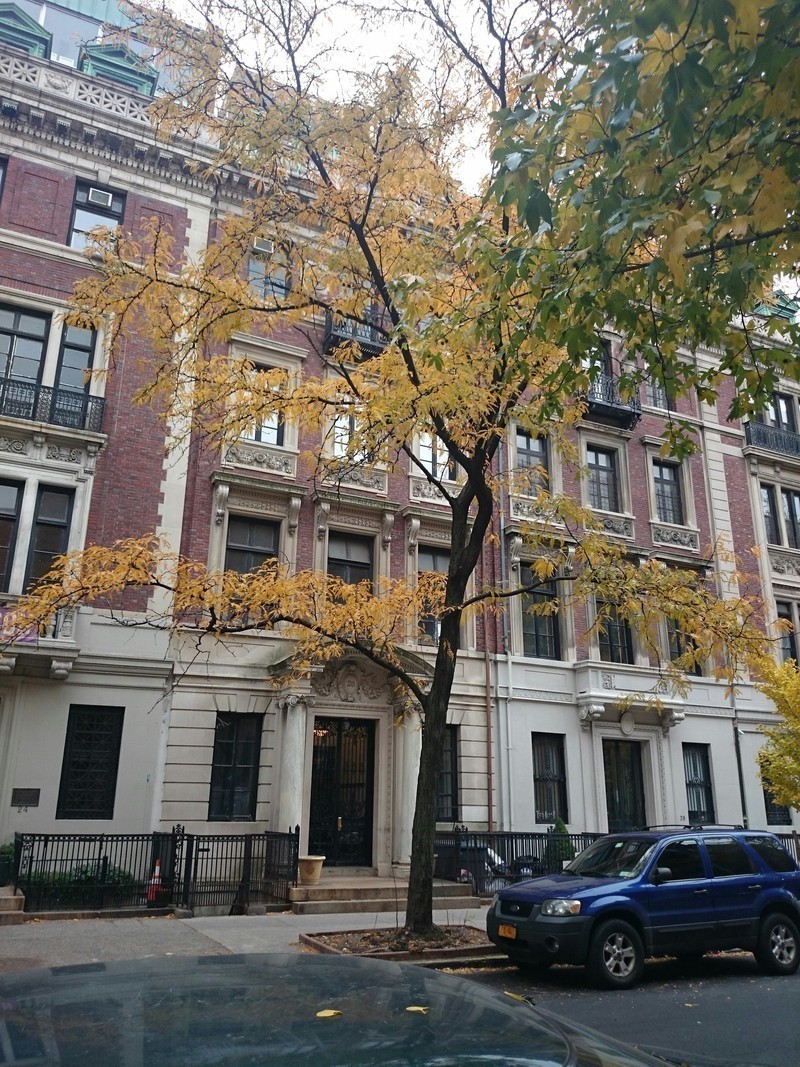 This co-op on the Upper East Side (below) got a ton of views and nearly 900 users saved it. The floor plan is unique to say the least (lovers of classic sixes should look elsewhere!) but the private outdoor space and views of the East River are a rare deal at this price point.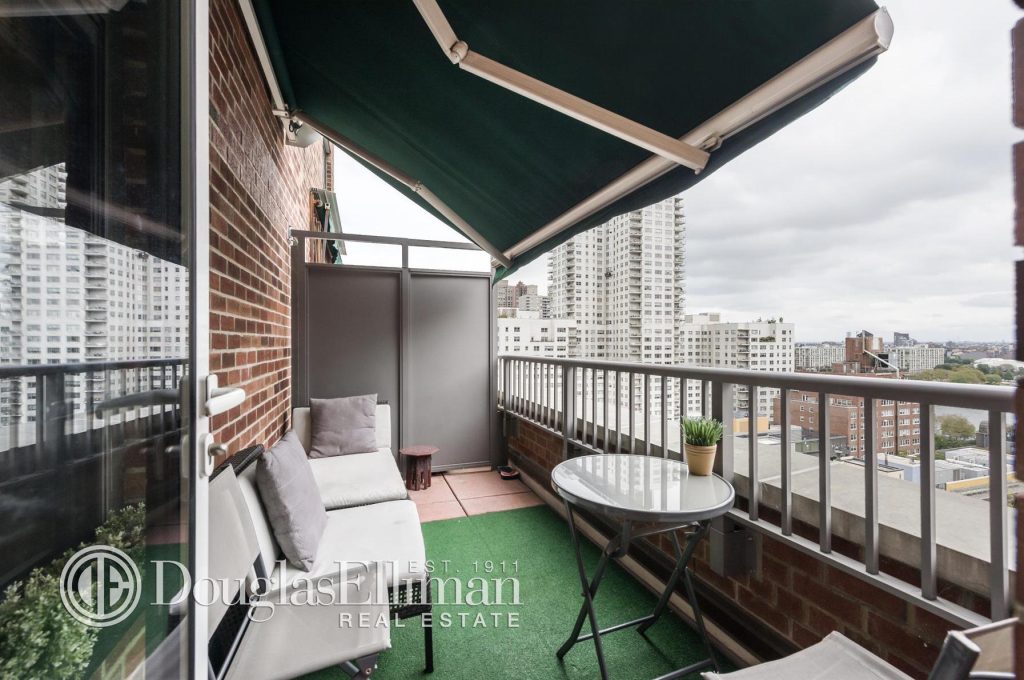 Another solid deal on the Upper East Side rounds out StreetEasy's list of most popular sales of 2016. This Park Avenue one-bedroom (below) is in the Lenox Hill sub-neighborhood of the UES and is all about value and practicality. The interiors are nothing terribly special (save for that periwinkle kitchenette) and remind somewhat of a hotel suite, but it doesn't seem intended for permanent occupancy. The listing description eagerly encourages international buyers, investors, corporate owners and pied-à-terre residents to consider the property.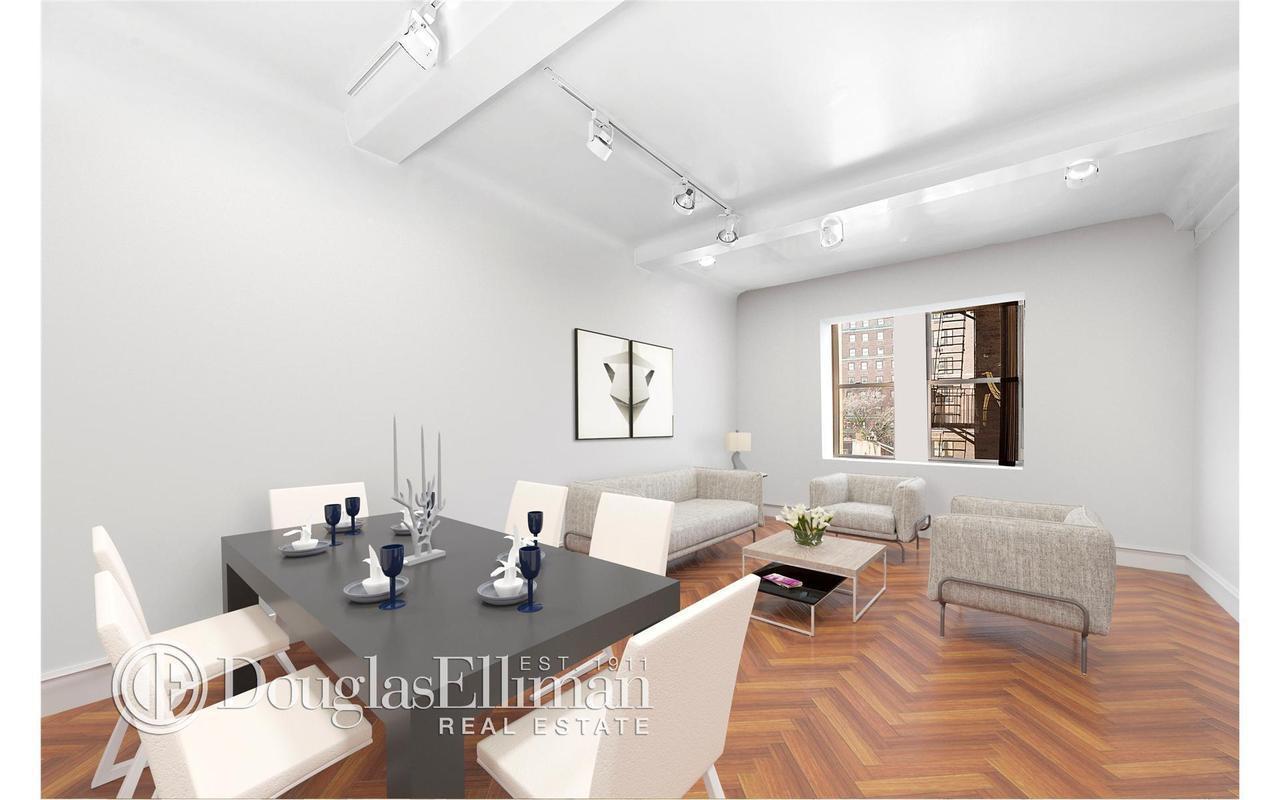 5. $70M 4BR Penthouse in Turtle Bay
Remember the ogling we talked about earlier? Case in point is this 9,700-square foot duplex penthouse (below). It's described as "a breathtaking world of privacy and prestige," which isn't even an exaggeration considering its private outdoor swimming pool overlooking the Manhattan skyline, perched just outside the master bedroom. And if it's too cold for swimming, the apartment's two-story bay windows with panoramic views should suffice.