What is a Garden Apartment in NYC?
In a city as dense as NYC, it's no wonder outdoor space is a hot commodity. Sure, there are plenty of public parks, but those can get incredibly crowded on summer days when the weather is great. Try heading to your local park on the weekend and it feels more like navigating Grand Central during rush hour than it does a peaceful break from the hoi polloi. So for those looking for their own little sliver of green serenity, consider the garden apartment.
In NYC, the term "garden apartment" is applied to any apartment located at ground level (or partially below grade) that features direct access to an outdoor space like a backyard or patio. It is also sometimes referred to as an English basement, but here in the city, garden apartment is more common. Neighborhoods like Harlem, Bedford-Stuyvesant, and Park Slope are known for tree-lined streets with rows of brownstones and townhouses, many of which rent out the bottom floor as garden apartments. Given the footprint of brownstones and townhouses, garden apartments tend to be laid out as one-bedrooms, making them great options for couples or people living solo.
>>See Garden Apartments for Rent
Since brownstones and townhouses tend to be set back from the street, garden apartments offer additional front patio space which can be great for planting or bike parking – the choice is yours! Some New Yorkers, however, take issue with garden apartments claiming they can be dark and dank because of their location on the ground floor of shady, tree-lined blocks.
Even though some potential renters and buyers may recoil at the thought of living below the stoop, increasing the flow of natural light can make all the difference in these types of apartments. Adding French doors to the space similar to those pictured at the  $2,850 one-bedroom on 1st Place in Carroll Gardens (see below), allows more sunlight to pass through the apartment, making it feel larger and brighter.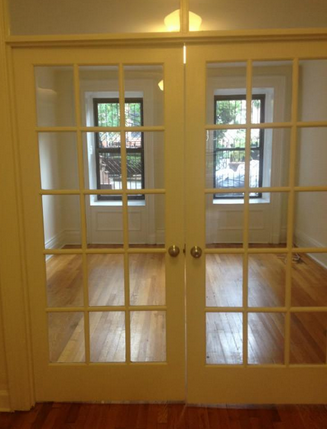 Putting the Garden in Garden Apartment
If you've got a green thumb and some ambition, garden apartments offer you a lot of opportunity to get creative. You could craft your own swank hideout like the one found at this 800-square foot one-bedroom at 51 Strong Place in Cobble Hill. Skip those weekend brunch lines at that trendy restaurant with terrace seating and strict time limits and enjoy your own digs sans the masses.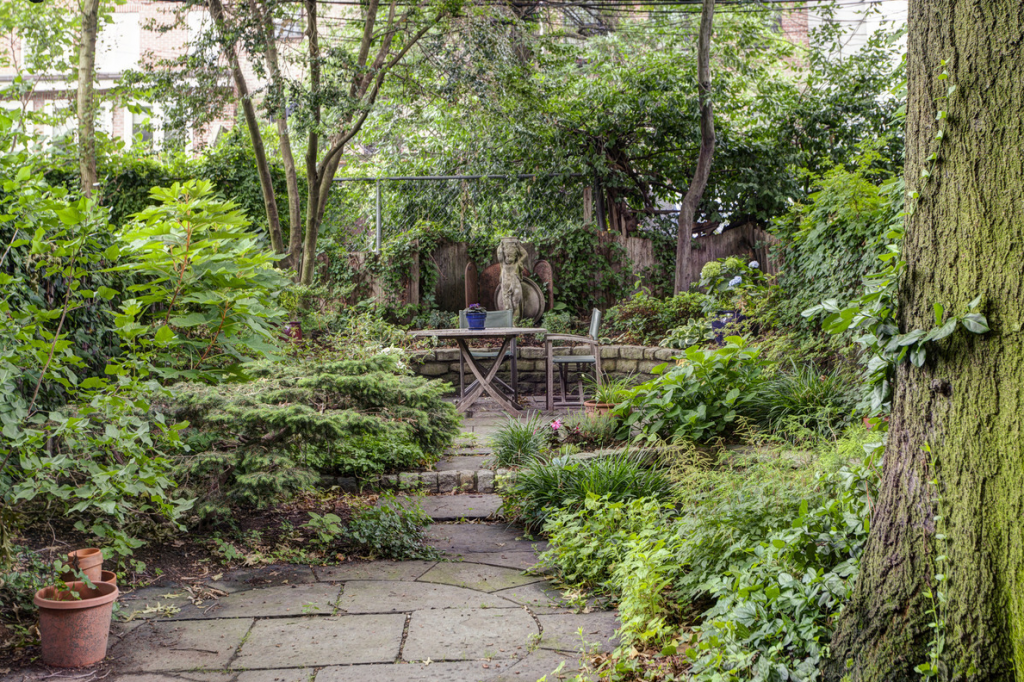 In addition to offering much coveted green space, garden units rid tenants of having to lug groceries up several flights of stairs and make for a much easier move in. However, possible drawbacks include lack of privacy and street noise.
How Much Do Garden Apartments Cost?
While living on a ground floor tends to yield some cost savings, garden apartments don't come cheap. This is especially true if they are located in a highly sought-after neighborhood. This ground floor two-bedroom duplex featured in the New York Observer located at 420 Franklin in Bedford Stuyvesant sold for $859,000. It's quite an increase considering the entire four-unit townhome sold for $549,000 in 2012.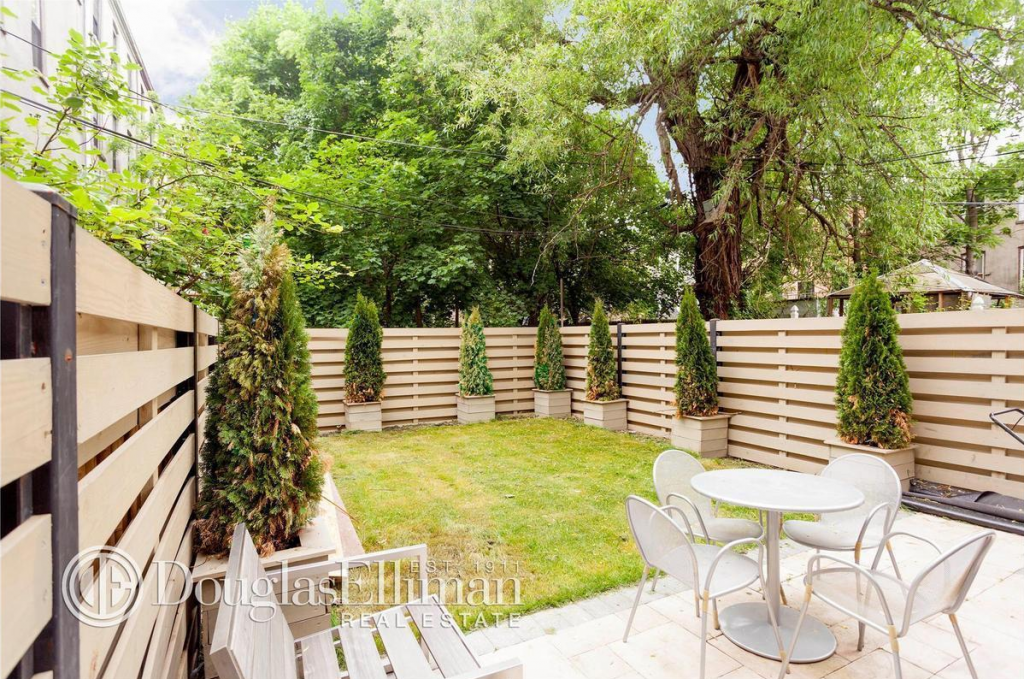 Park Slope is a neighborhood known for it's pricey real estate, but garden apartments tend to go for less than other property types in the area. Take this studio at 268 Berkeley Place listed for $435,000 (see image below). The garden has some fantastic landscaping, as does the front setback plus it's just a block from Prospect Park in case you want a break from your own patch of green space.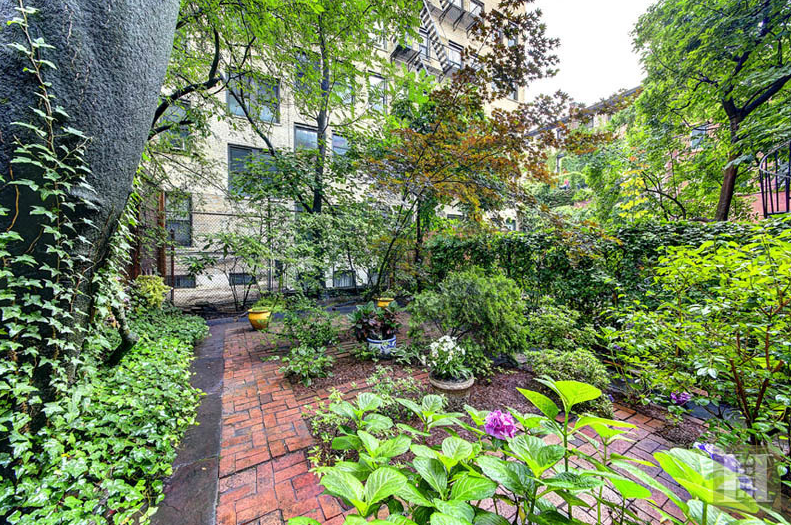 The Downside to Ground Level Living
Since garden apartments are located at street level, noise may be an issue. Most brownstones and row houses are located on residential streets and are likely to attract more foot traffic than loud commercial traffic. Unless you opt to live in a garden apartment that's next door to a restaurant or bar (and there aren't a whole lot of these), your living environment will likely be quiet.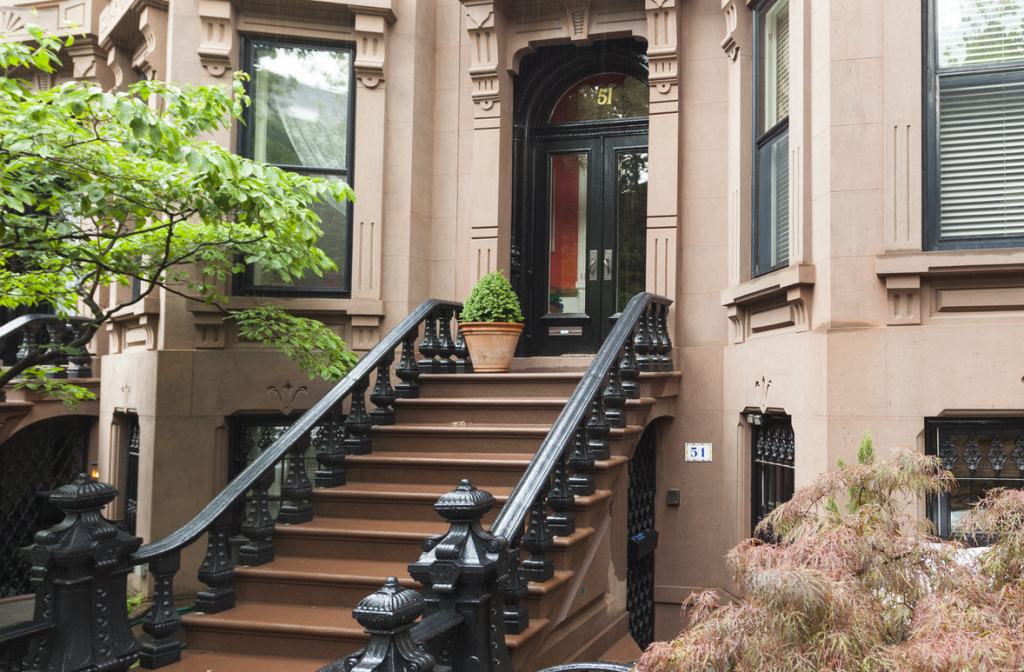 Privacy and Garden Apartments
Another thing to consider is privacy. Remember that if you're people watching from your ground level apartment, chances are pedestrians can see you too. Unless you're the exhibitionist type, window coverings are a must. A basic online search will show you that there are several options that let light in, but still obscure the view from outsiders. Crate and Barrel has some relatively affordable and versatile choices like the Easton curtain that sells for $40.
Another trick is to use outdoor planters to obscure your front windows as well. Planting small shrubs, bushes and flowers in your front patio space will prevent people from being able to look directly into your apartment. Take for example the garden apartment at 51 Summit Street (see above.) The small Japanese Maple tree that was planted out front prevents direct sightlines into the ground level apartments. These sort of plantings are nice work arounds if you're worried about privacy because they let you keep your blinds or shades open without feeling exposed.
Temperature Control
Garden apartments also tend to be cooler in temperature, which is great in the summer, but is not so awesome in the winter. If you're dealing with older windows as is likely to be the case in historic brownstone neighborhoods, putting up heavier curtains in the winter will help insulate from cold air seeping in. Wayfair sells insulated curtains in a variety of colors starting at $48.99. These types of curtains should help reduce drafts that come through improperly sealed windows and through the floor boards around window frames.
Proximity to Pests?
Other concerns regarding ground floor homes are safety and unwanted pests. Most brownstone garden level units will have window gates. Some of these can even accommodate plants and air conditioners. For anyone who has tried and failed installing a window A/C unit on a higher floor, this will be a relief. If garbage is stored in close proximity to your apartment, it may attract rodents and bugs. Try to keep the garbage area as tidy as possible and be diligent in sealing cracks and holes in your apartment where rodents can sneak in.
Despite the minor drawback of drafts in the winter and the potential for pests, garden apartments are a quintessential New York City housing option that has widespread and eternal appeal. The privacy, full-floor layouts and outdoor space offered by garden apartments make them a great choice for couples and small families looking for the perks of brownstone living but on a smaller (and less expensive) scale.
Related