But, just be aware that you will likely pay a broker's commission between 8- to 15 percent of your annual rent, or one month's rent, depending on the broker. If you do not want to pay a fee and you'd rather find your own place, here's how to find no-fee rentals in New York City.
How to find a no-fee rental
Search online
Directly contact a management company in a no-fee building
Search for "For Rent By Owner" apartments (FRBO) online, or by walking around
Sublet an apartment
Find no-fee rentals online
You can search online for no-fee rentals and FRBOs. On StreetEasy, do a rentals search in the neighborhood you'd like, with the price point and other amenities selected and then be sure to select the box "No-fee only" (photo below).  The agents you contact for this search will not charge you a fee. Their commission will be picked up by the landlord or the management company. However, be aware of listings that include the small print "CYOF (Collect Your Own Fee)," which landlords sometimes apply to no-fee apartments.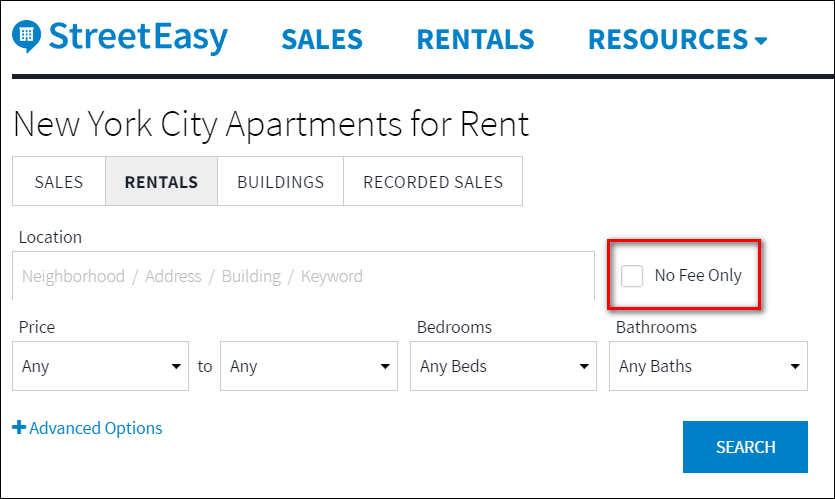 Sometimes no-fee buildings are blatantly obvious (photo below), but sometimes they're not. Typically, no-fee apartments are located in high rises in neighborhoods such as Midtown, Downtown and the Financial District.
Directly contact a management company
If you know the name of the management company you'd like to work with, you can find their available listings on StreetEasy. Go to StreetEasy's "Buildings" tab, enter the name of the management company you're interested in under the "Architect, Developer, Manager" field (photo below). Click through to the building page and find listings that meet your search criteria.  If you don't see any that fit your needs, contact the management company directly (the contact information will be listed at the bottom of the building page) and ask if they have any expected vacancies coming up.
Since most of us don't have a running knowledge of management companies off the top of our head, it's generally easier to set your search filters for no-fee or FRBO listings only.
Find For Rent by Owner (FRBO) apt.
You can also find For Rent by Owner apartments on StreetEasy. Just check the "For Rent By Owner" checkbox in the "Advanced Options" dropdown (photo below). Again, you should not be worried about paying a fee whenever you contact the owner of listings found in FRBO-only search results.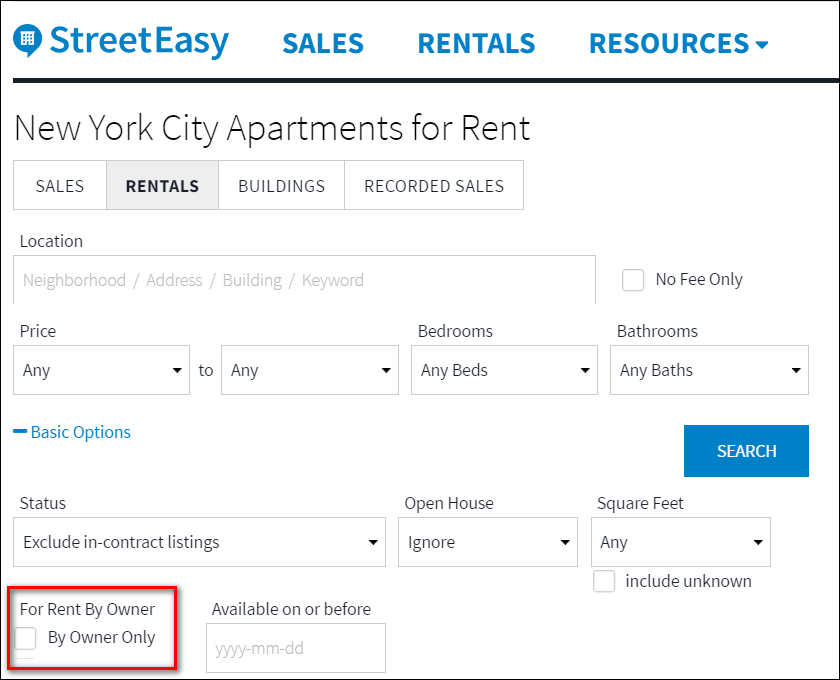 Walk around the neighborhood
Aside from the online search, many try their luck by striking out on their own, boots-on-the-ground style. If you know the neighborhood you're interested in and have the time, walk around the neighborhood and keep an eye out for buildings that have posted signs listing the landlord or management company's contact information (photo below). Call them and see if there are apartments available or if any are coming up.
Tap your personal network
Yup – don't be shy to work your network. Here are a few other ways to reach out:
Social media — Take to Facebook, Twitter, Tumblr, G+, Instagram and announce you're  searching for a no-fee apartment (don't get too detailed — you never know who's watching). You will be shocked how a friend of a friend of a friend knows about an apartment being sublet or coming available through word of mouth through a friend of a friend, of a friend. This is New York and this is how it works.
Your college/work — Send an email to your university buddies, alumni base or to your work colleagues and spread the word. You'd be surprised at how much people want to help and want to share their knowledge!
The Listings Project — For those trying to find sublets and short-term rentals, the Listings Project is a fabulous resource, with an equally compelling story. It was started by an artist who found her own apartment through emailing her network. Even though she landed an apartment, she continued to collect information on available apartments and posts the info in a free newsletter.
Find Your NYC Apartment
StreetEasy has the largest set of real estate listings for New York City