33 Ethel Avenue
---
$575,000
NO LONGER AVAILABLE
ABOUT 4 YEARS AGO
4 beds
2 baths

---
No longer available as of about 4 years ago
25 days on market in StreetEasy
---
Listed at Weichert Realtors NJ by Weichert Realtors
Spacious and bright 4 bedroom, 3 bath home situated at the end of a quiet, residential street. New deck off kitchen overlooks deep, treed backyard. Family room with fireplace and sliders to the outside. Large picture window in the living room and hardwood floors in most rooms. Great opportunity to live in one of the best towns in Bergen county.
---
About the Property
33 Ethel Avenue
ALLENDALE, NJ 07401
in Allendale, Bergen County
Built in 1978

Sales listings
---
Price History
Currently Listed at $575,000
25 days on market in StreetEasy
06/09/2009
About 4 years ago
Listed by Weichert Realtors NJ
$575,000
07/04/2009
About 3 weeks later
Listing is no longer available
$575,000
09/30/2009
About 2 months later
Sale recorded
$(insiders only)
---
---
Become an Insider
to generate reports on comparable listings and sales.
---
---
Nearby
Transportation

Local schools

Local Schools

Schools near this address:
---
On the web
Latest discussions
---
Similar Sales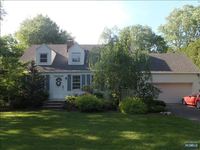 House, Allendale
3 beds
|
3 baths
Listed by Coldwell Banker Residential Brokerage
$619,000
House, Allendale
4 beds
|
3 baths
Listed by Coldwell Banker Residential Brokerage
$619,000
House, Allendale
5 beds
Listed by Terrie O'Connor Realtors
$539,000