A new housing lottery was just unveiled for 17 units available to qualified renters for a brand-new building located at 10 Lexington Ave. in Clinton Hill. The deadline to apply is Oct. 30, 2017.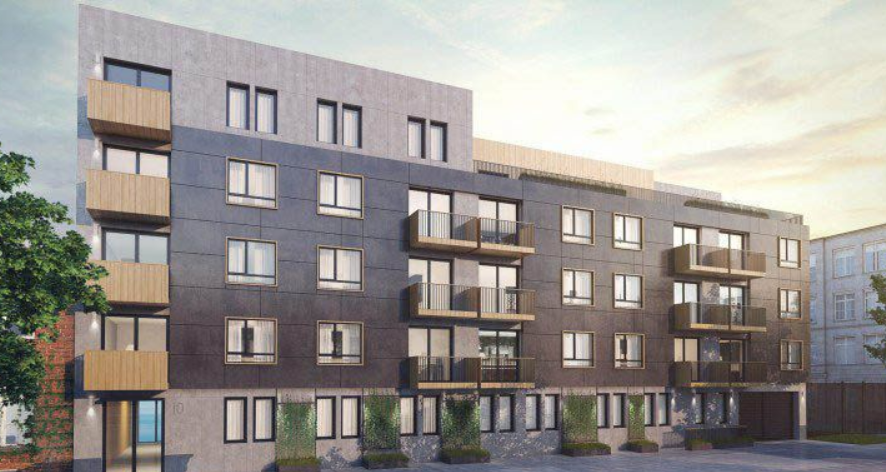 In addition to the lottery, there is a cool piece of Clinton Hill history near this new building. It's adjacent to the former Broken Angel House, which has an interesting backstory that ended in a family's eviction due to the building's unsafe structure. The house was used in the 2005 film "Dave Chappelle's Block Party" before being razed in 2014. It is now a condo building. Here's more on the Broken Angel story from The New York Times and more about the Clinton Hill neighborhood.
Back to the lottery. Qualified applicants need to make 60 percent of the area median income. For a one-person household, that means $34,800 to $40,080 annually, or for two people, $34,800 to $45,840.

Amenities include a gym, rooftop terrace, laundry room and lounge. The building is a few blocks from the Pratt Institute, and Fort Greene Park is about a mile away.
Qualified applicants can apply one of two ways:
By mail: Send a self-addressed envelope to: 10 Lexington Avenue c/o The Wavecrest Management Team, 87-14 116th Street, Richmond Hill, NY 11418.
Online: Go to nyc.gov/housingconnect
Instructions warn to send only one appliction; do not send duplicates or apply both ways (by mail and online) or you will be disqualified.
Deadline to apply is Oct. 30, 2017.
To inspire applicants, take a look at this market-rate unit currently being listed.

—
Hey, why not like StreetEasy on Facebook and follow @streeteasy on Instagram?
Related: