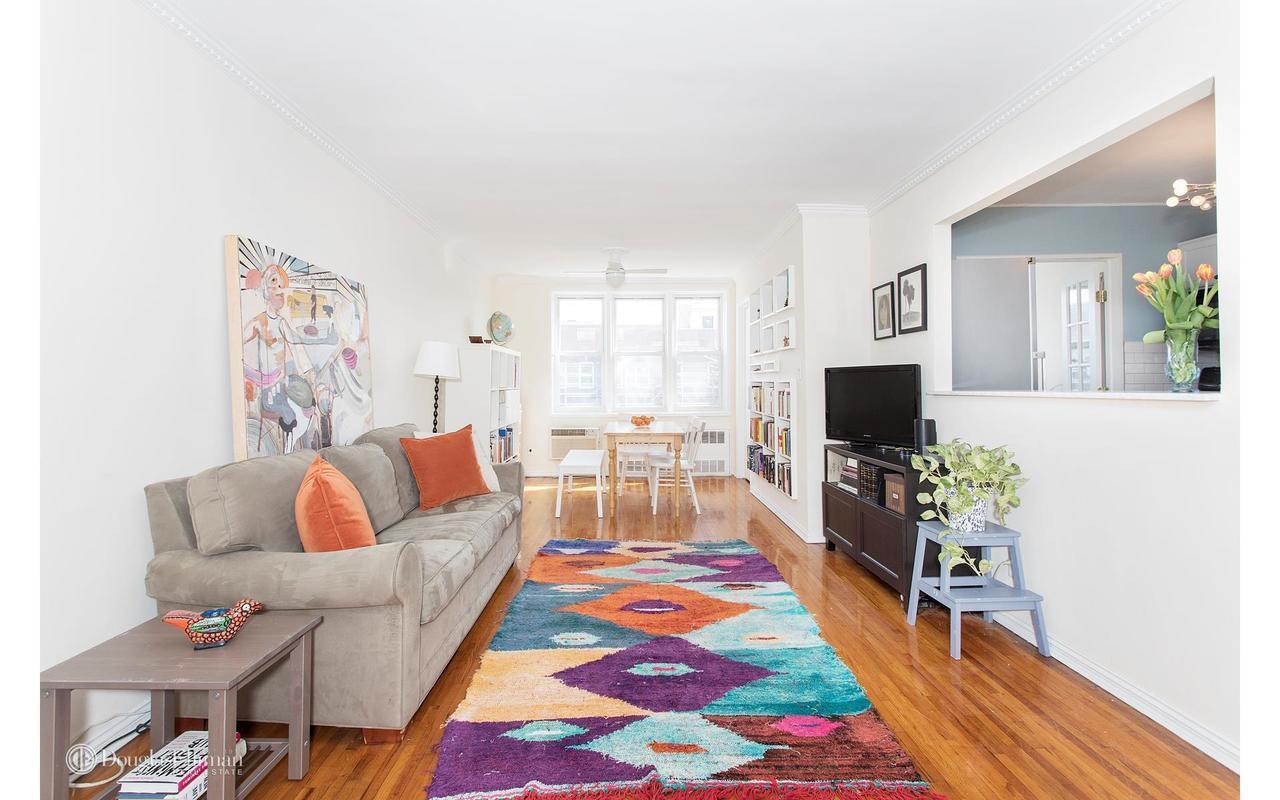 The insanely high cost of housing in New York City creates bizarre ideas of normalcy. Almost anywhere else, a million-dollar home would make you an A-lister. Here, it means bupkis. Anywhere else, a 2-bedroom listed for seven figures would be insane. Here, it's standard. Thankfully, we've found a lovely 2-bedroom at 400 E. 17th St. in Brooklyn's Ditmas Park that looks like a great deal — and not just by the crazy standards of New York City.
The Price: $575,000
Known for its rambling, single-family Victorian homes and large, mid-century apartments, Ditmas Park is one of the best budget-friendly neighborhoods in Brooklyn. The current asking price for 2-bedrooms in Ditmas Park is $807,500 — just over the $788,000 borough-wide median for 2-bedrooms. The current price per square foot for 2-bedrooms in the neighborhood is $703, compared to $781 for 2-bedrooms across Brooklyn.
So what really sets Ditmas Park apart, as this unit shows, is the bang it offers for your buck. At $575,000, this 2-bedroom is way below the going rate both for the neighborhood and the borough. With a price per square foot of just $638, it's winning in that area, too.
To break down the monthly costs, let's assume a 20 percent down payment of $115,000. After that, the buyer is on the hook for about $3,196 per month, which includes a mortgage payment of $2,306 and $890 in monthly maintenance fees. That's nothing to sneeze at, but for a 2-bedroom in Brooklyn, it's certainly not bad.
Why You'll Love It …
This listing's $575,000 asking price isn't the only thing that makes it a good deal. The layout is large, measuring 900 square feet, and has all the things that make a real family home. The two nicely sized bedrooms are coupled with a big living and dining area that opens onto a recently renovated kitchen. Custom built-in bookcases and a home office tucked into a closet offer a welcome blend of character and practicality.
The building has some solid amenities, too, especially considering the reasonable maintenance fees. These include a storage room, a laundry room, a full-time porter, part-time doorman and a garage. (At the moment, there is a waiting list for parking.) Perhaps the best part of the place is its location. It's right in the heart of Ditmas Park, just off Cortelyou Avenue's lively strip of locally owned restaurants and boutiques, and just about 500 feet from the express B and Q station.
… And Why You Might Not
The second bedroom directly adjoins the living room and kitchen, separated from the latter by just a set of French doors. This may create some privacy issues, depending on whether the room is used as a guest bedroom or a child's room. That said, the layout does allow buyers to convert the second bedroom into a home office. And alternatively, with a little work, the French doors could be replaced by a full wall.
Other minuses includes a lack of in-unit washer and dryer, and the fact that the building only allows cats. So for $575,000, you can't get total perfection in NYC — or many other places, for that matter. But you can get a good deal.
—
Hey, why not like StreetEasy on Facebook and follow @streeteasy on Instagram?