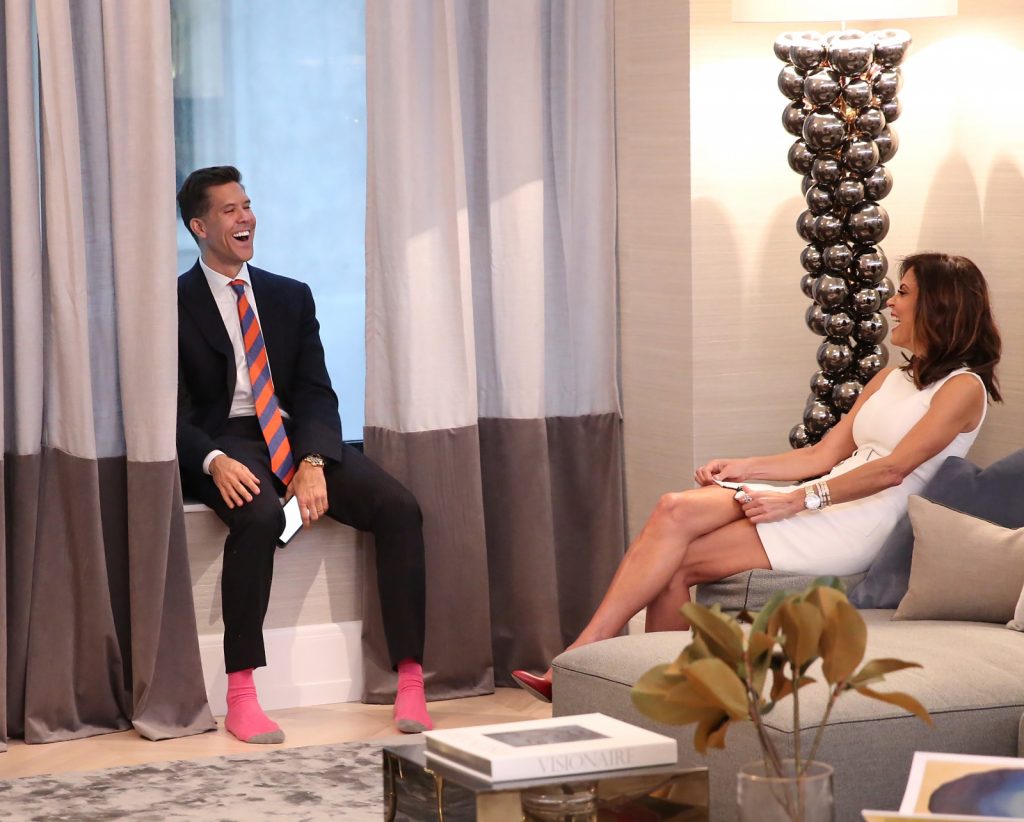 Our third installment of "Bethenny and Fredrik" opens on the duo scouring bathroom fixtures at the tile wonderland Ann Sacks. Last week's episode ended with the introduction of a crisis surrounding the proposed walk-in shower, so we're on to plan B: a luxury tub. From the get-go, we're launched into what appears to be the narrative theme of the season: luxury versus price consciousness for their flip project at apartment #2D in 10 Madison Square West.
Bethenny raises the question of an industry deal – she wants the full "hooker discount." (When Fredrik balks at this terminology, she asks, "Do you think that we wouldn't do a threesome for like a $10 million house in Malibu?") While Fredrik believes the kind of customer they're appealing to will appreciate a $10,000 tub, Bethenny thinks they can do just as well with an $800 option. They leave empty-handed.
Picking up on the Bethenny-gets-back-in-the-dating-game arc, we get an update vis-à-vis a pre-yoga class catch-up with her friend Dan, where she bemoans the Page Six coverage of a recent date. (Did Dan see the story? Yes, 20 people texted it to him.) Bethenny's recent travails with her not-what-he-seemed ex-husband have left her wary of the motivations and intentions of anyone pursuing her.
If she's looking for a man to show her something she's never seen before, Fredrik's up to the job, luring her eastward, all the way to Avenue D. "This isn't the East Village," she declares. "This is the East River." Agent Brian shows them around an 849-square-foot 2-bedroom walk-up listed at $849,000. Fredrik knows it's rare to find a 2-bedroom for under $1 million, but is concerned about the low ceilings and the remoteness of the location. It's clear this is not going to be their next project. They've been eyeing properties between $800,000 and $3 million, but it's looking to Bethenny like they might need to focus on the higher end of that range.
A second option is closer to the heart of the East Village, and the promise of a private garden has Fredrik intrigued. The 2-bedroom, 2-bath apartment measures 926 square feet and is asking $1.61 million. ("This is what $1.6 million gets you in New York, people," Bethenny says wryly.) The messy presentation isn't doing the place any favors, and Bethenny is mystified by the second full bath being located near the kitchen, rather than the bedrooms. Ever the romantic, Fredrik sees potential in the charming garden, but the price is just too high for them to be able to make a profit on a flip.
While Bethenny and Fredrik both agree that what they've seen so far has been overpriced, he believes it's been a worthwhile use of a day to get the temperature of the neighborhood. She considers the trip to have been an utter waste of time. Fredrik recovers with an excursion to Suitsupply, where he meets his husband Derek. They're preparing for a trip to Africa. Derek was born in Zimbabwe and raised in South Africa, and Fredrik's never been. With twins on the way, the timing is right for a big blow-out trip, and in preparation, Fredrik tries on some ridiculous outfits.
While Fredrik is prepping his assistant Jordan to run the office while he's away (Jordan is clearly more than ready to say bon voyage), he's sent Bethenny over to their project at 10 Madison Square West to talk tubs with a Jordan of her own, Jordan Carlyle of the interiors firm Carlyle Designs. Bethenny informs him that Fredrik is into $20,000 tubs, like that's a bad thing. Wrong audience: Ridiculously overpriced bathtubs are something Jordan C. can totally get behind. They flip through images of some more realistic options, landing on a sleek, clean Kohler model that she can have for under $1,000. "It's how you accessorize the tub," she explains. "Then you can have the party around it."
That find has Bethenny feeling great. This is what she signed up for: Bringing her negotiation skills to the table to facilitate a tight renovation while Fredrik helps find the property gems. But a certain vacation-bound someone doesn't seem to be holding up his end of the deal. She lays it all out to him in a phone call that reveals a significant disconnect. He believes he's sent her 80 listings, while she can recall about four. Plus, there's his two-week trip to Thailand, a jaunt to Paris and London, and now the Africa trip. Fredrik doesn't like her implication that he's not doing his job, but Bethenny's not backing down. She wants more listings, gosh darn it!
It's a relief when détente is finally reached, with Bethenny playfully chiding Fredrik about his breezy weekend look as they meet on a downtown sidewalk. "Why are we meeting on a street corner?" she asks him. "I want to talk about the phone call!" Fredrik insists, seeming to believe that's an answer to her question. Bethenny's worried that she entered into a marriage with Fredrik and he's now failing to fulfill any of his vows. You're hitting a nerve, Fredrik warns. And what happens when our Swedish prince gets his button pushed? Fredrik goes bananas.
We close on Bethenny storming away, flippantly telling Fredrik to "have fun" on his trip. "Is this even something I want?" Fredrik asks himself, leaving us to wonder as Bethenny makes her way uptown.
—
Hey, why not like StreetEasy on Facebook and follow @streeteasy on Instagram?