The StreetEasy Monthly Cheat Sheet is a recurring feature that looks at the New York City for-sale market over the last four weeks, highlighting a combination of market data, StreetEasy user behavior and topical trends. This is the report for May 2017.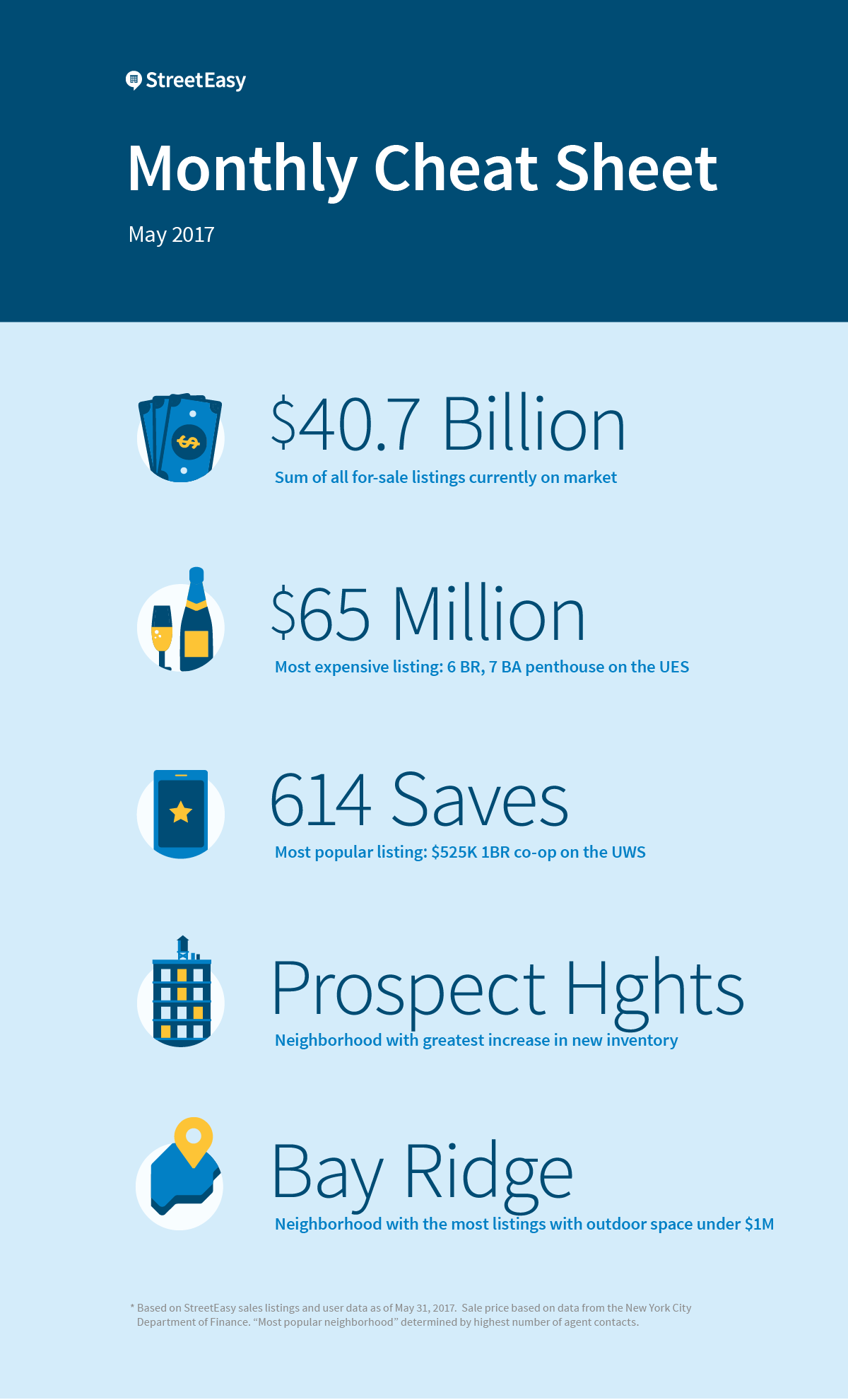 How Big Was the Market in May? $40.7B Big
If you tallied up all of May's for-sale listings to calculate the total size of the market, you'd get $40.7B, up approximately 5.25 percent from the sum of all listings in April 2017.
Asking $65M: Wasserstein PH on 5th Avenue
The most expensive property to be listed in May was a $65M duplex penthouse at 995 Fifth Avenue on the Upper East Side.  Owned by Claude Wasserstein, wife of the late Bruce Wasserstein, the six-bedroom, seven-plus bathroom co-op spans the entire 15th and 16th floors of this classic UES luxury building, formerly known as the Stanhope Apartment Hotel.
Its notable habitués – both in fact and fiction – include Daphne Guinness (fact) and Carrie Bradshaw (fiction) among many well-dressed others. The Stanhope was also the fictional site of the breakup between Mary Wilke, played Diane Keaton, and Yale Pollack, played by Michael Murphy, in Woody Allen's  "Manhattan." The building is also where jazz great Charlie Parker died in 1955 in the suite of his patroness Pannonica de Koenigswarter.
Wasserstein's apartment has five wraparound terraces offering some of the most incredible views of New York City and Central Park. With landscaping designed by Madison Cox, you practically feel like you're on a floating golf course. The interior of the apartment is pretty sweet too, featuring some on-point patterned wallpaper, five fireplaces and a private elevator.
Most Popular Listing: $525K One-Bedroom on UWS
The most popular listing in May was a turn-key one-bedroom on the UWS listed for $525K. The apartment offers some serious value, nice details (exposed brick, good closet space and updated everything) and a really sweet location. The co-op is in a six-story elevator building on West 85th Street, just off of Amsterdam. The block offers close proximity to multiple train lines and to Central Park. The only drawback is that the building is directly across from a high school, which could translate to throngs of students milling around in the mornings and late afternoon. That aside, the listing seems pretty legit and is already in contract after just 25 days on the market.
Where is Inventory Rising the Most? Prospect Heights.
For-sale inventory may be going down around the city, but that doesn't mean new listings have come to a complete standstill. In May, the neighborhood that showed the most month-over-month increase in new for-sale listings was Prospect Heights, which saw a 70 percent increase in new listings from April to May. While inventory in Prospect Heights has historically been comprised of brownstones and apartments in prewar walk-ups, the area has recently been the site of major new development especially in the area directly surrounding the Barclays Center, which could be attributing to its rising inventory.
Best Bet for Affordable Outdoor Space? Bay Ridge.
Summer's upon us and if you're looking to land a place with outdoor space that won't break the bank, your best bet is Bay Ridge. Sure, proximity to Manhattan may be lacking here, but once you get off that 45-minute ride on the R, you're in one of the city's most bucolic and scenic neighborhoods in the city. With direct access to Shore Park, there's no shortage of amazing public outdoor space, but if access to private outdoor space is what you're after, Bay Ridge has you covered.
According to our May numbers, Bay Ridge had the highest density of new listings with outdoor space listed for under a million dollars. Of all the new listings that came onto the market in May in Bay Ridge, 83 percent offered either a patio, garden, balcony or terrace and were under $1M.
Related