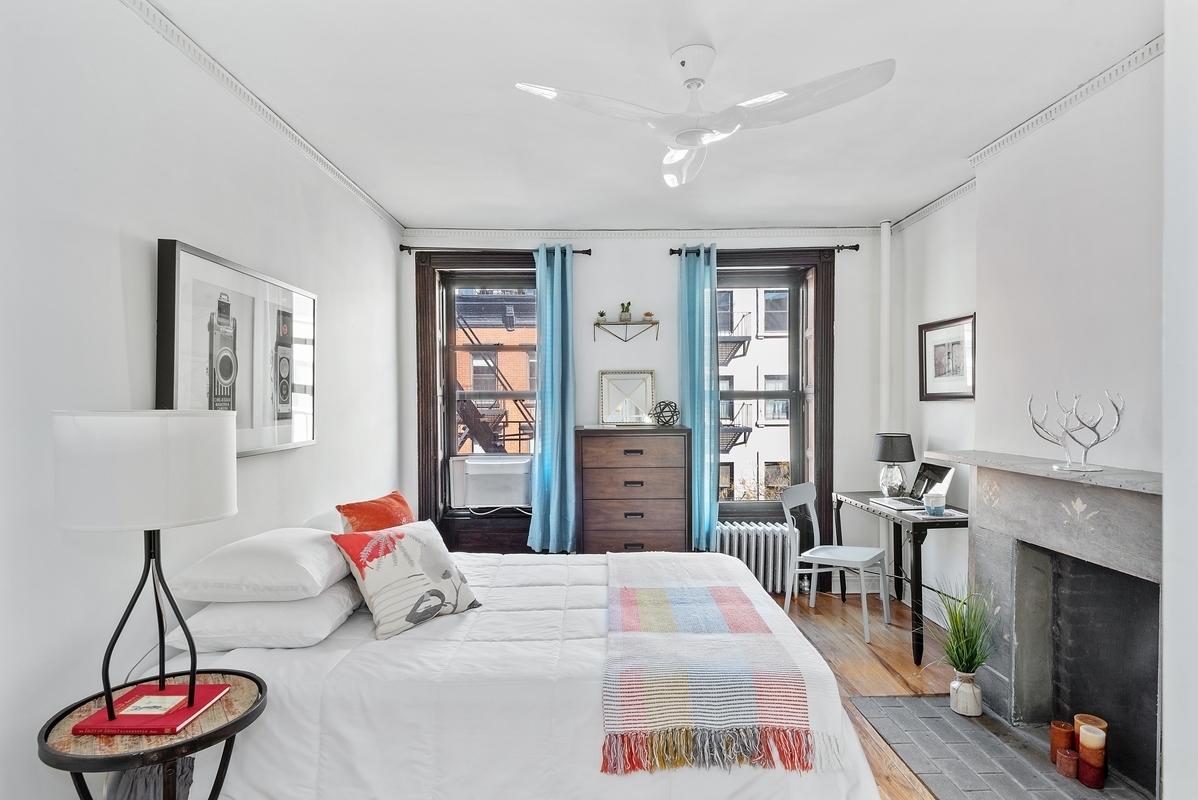 If Chelsea's style and atmosphere are right up your alley, but the high price points are not, take a look at our Deal of the Week. This Chelsea 1BR, 228 W. 16th St. #4A, is located between Seventh and Eighth avenues and boasts in-unit laundry and a king-size bedroom. With a fireplace! You'll have instant access to all the best the neighborhood has to offer, including museums, the High Line, and Chelsea Market. Check out the video walkthrough on the listing, and read on for more.
The Price: $629,000
The median price for a Chelsea 1BR is $1,175,000, putting our Deal of the Week at about half of the average asking price for the neighborhood. It's also less than the median asking price for all of Manhattan, which sits at $850,000.
Buyers who put down the 20% minimum down payment of $125,800 can expect to see monthly payments of $3,658. This includes a mortgage payment of $2,402 and a maintenance fee of $1,256. By comparison, the median rent for a 1-bedroom apartment in Chelsea is $4,299.
Why You'll Love It…
Railroad-style apartments are narrow, but this one has high ceilings and bright windows in every room, including the bathroom and kitchen, which are both outfitted in gleaming white tile. The bathroom has a claw-foot tub, too! And in the kitchen, you'll find two big NYC luxuries: a dishwasher, and a washer/dryer combo.
The living room provides space for a TV and seating area, with built-in shelving to one side. And the bedroom can accommodate a king-size bed with more than enough room left for additional furniture. A decorative fireplace adds classic flair. There's even a separate space off the kitchen, connected by a cute pass-through window, that can serve as a dining room or home office.
Nestled in the heart of Chelsea, this pet-friendly building is convenient to subways and to the neighborhood's numerous bars and restaurants. Subletting is permitted, as are co-purchasing and pied-à-terre use.
Manhattan 1BRs Under $800K on StreetEasy Article continues below
… And Why You Might Not
There's only one closet in the whole apartment, in the dining room. And with very little cabinet space in the kitchen, it might be best used as a pantry, leaving no closet for clothes. Luckily, the bedroom is plenty big enough for a freestanding wardrobe or armoire. Plus, this apartment is sadly a fourth-floor walkup. But if you're looking for an apartment with a stellar location for a hard-to-beat price — and who isn't? — be sure to take a virtual tour of this great Chelsea 1BR.
Check out the listing at 228 W. 16th St. #4A, listed by Jimmi Circosta of Corcoran.
—
Whether you're looking to rent or to buy, find your next NYC apartment on StreetEasy.