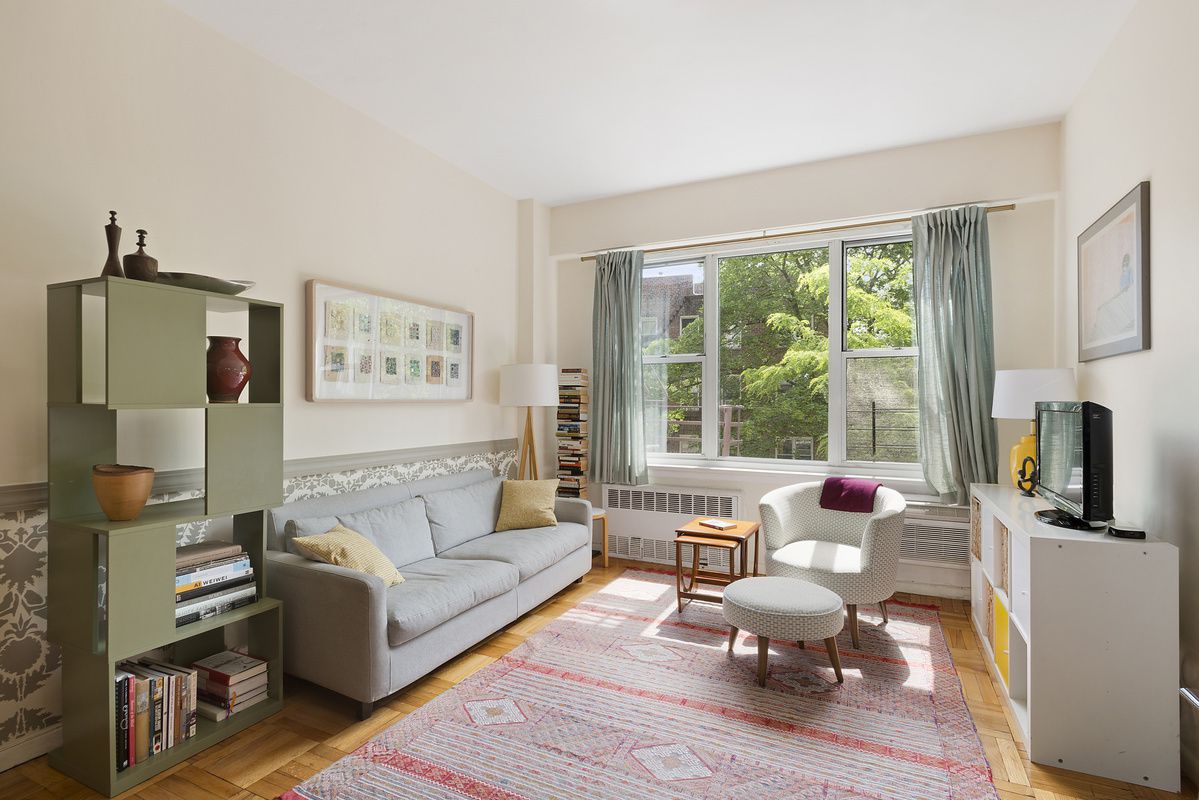 Finding a deal in the New York City housing world can seem impossible, especially when it comes to 2-bedroom apartments. Getting the right mix of space, comfort and style in the six-figure price range is difficult — but it's not impossible. Our latest Deal of the Week is a lovely 2-bedroom co-op at 66 Overlook Terrace #2N in Hudson Heights, priced well below $600K.
The Price: $565,000
As more people flock uptown in search of affordable housing, sales prices in Upper Manhattan have risen tremendously. At $565,000, this apartment sits at exactly the average for the neighborhood, but still far below the Manhattan median of $1,950,000.
While this is a relatively good price, owning this apartment would still be more expensive than renting in the area. The median rent for a 2-bedroom in Hudson Heights is $2,295. Buyers putting the minimum of 20 percent down ($113,000) for this unit can expect to see monthly payments of about $3,113, including a $2,301 mortgage payment and $812 in monthly maintenance.
Why You'll Love It …
This apartment will feel bright and airy, with a large window in the living room, 9.5-foot ceilings and an open living area. A breakfast bar separates the kitchen from the living room, and there's still enough space for a dining set.
Near the entrance, there's space for a home office, with plenty of built-in shelves. There are also three closets in the living area and a walk-in closet in the master bedroom.
The apartment is located in a co-op that features a live-in super, central laundry, part-time doorman, gym, bike room and playground. And as far as location goes, it's close to the A express train and the 1 train for easy transportation downtown, and very close to cute little Bennett Park and larger Fort Tryon Park, home of the Cloisters.
… And Why You Might Not
While the apartment does have 2 bedrooms, the second one lacks a closet. And while the location might work for some, living this far uptown may add a considerable amount of commute time for those who work downtown. Come weekends, convincing friends who live in Lower Manhattan or Brooklyn to make the trek up to Hudson Heights may prove difficult.
The apartment also doesn't allow for pied-à-terres, gifting or subletting, so keep that in mind. But if you're ready to make Hudson Heights your full-time home at a very good value for Manhattan, this Deal of the Week is worth a look.
Check out the listing at 66 Overlook Terrace #2N, listed by Susan Goldman of Compass.
—
Hey, why not like StreetEasy on Facebook and follow @streeteasy on Instagram?