In the past week, two luxury condos at 505 West 19th Street have entered contract, one a 1,700-square foot two-bedroom listed for $4.14M on the sixth floor and the other a 1,500-square foot two-bedroom on the eighth floor listed for $4.06M. Together, they mark the seventh and eighth deals in the past six months at the building designed by Thomas Juul-Hansen. That leaves only six of the condo's 35 total units remaining for purchase, including two four-bedroom penthouses listed for $18M and $22M, respectively.
Although listings didn't hit the market until March of 2014, the building has been the darling of real estate wonks and design fans ever since plans were revealed back in 2013. And with good reason, too.
Juul-Hansen's design for 505 West 19th Street is pretty fantastic, blending innovation, luxury and the industrial aesthetic of the High Line. Two 10-story buildings rise up on either side of the High Line, with the lobby spanning directly below the walking park, connecting the two buildings. This unique layout features a skylight in the lobby that opens to the dramatic underside of the High Line.
Juul-Hansen has made a name for himself in the world of New York City luxury real estate as the mastermind and creative eye behind One57's interiors as well as many of Jean-Georges Vongerichten restaurants.
505 West 19th Street, however, is the first residential building with interiors and exteriors entirely designed by Juul-Hansen. Though it's his first foray, his façade is proving influential as other designs for High Line-hugging condos have become the norm.
The building offers some great views from all sides – especially the penthouses, which offer wraparound vistas of the Hudson and much of the city's downtown skyline. Lower level units directly face the High Line, which is a striking view in and of itself, but more modest types might not love the floor-to-ceiling exposures. However, Juul-Hansen cleverly angled windows 12 degrees to enhance light as well as provide privacy from nearby High Line-goers.
The building is still under construction, but nearing completion quickly. Earlier this fall, StreetEasy got an inside tour of 505 West 19th Street and was able to see all the progress that has been made on the unit. The penthouses still require some finishing touches, but even in the midst of construction, the units are clearly glorious. Check out the pictures from our tour below.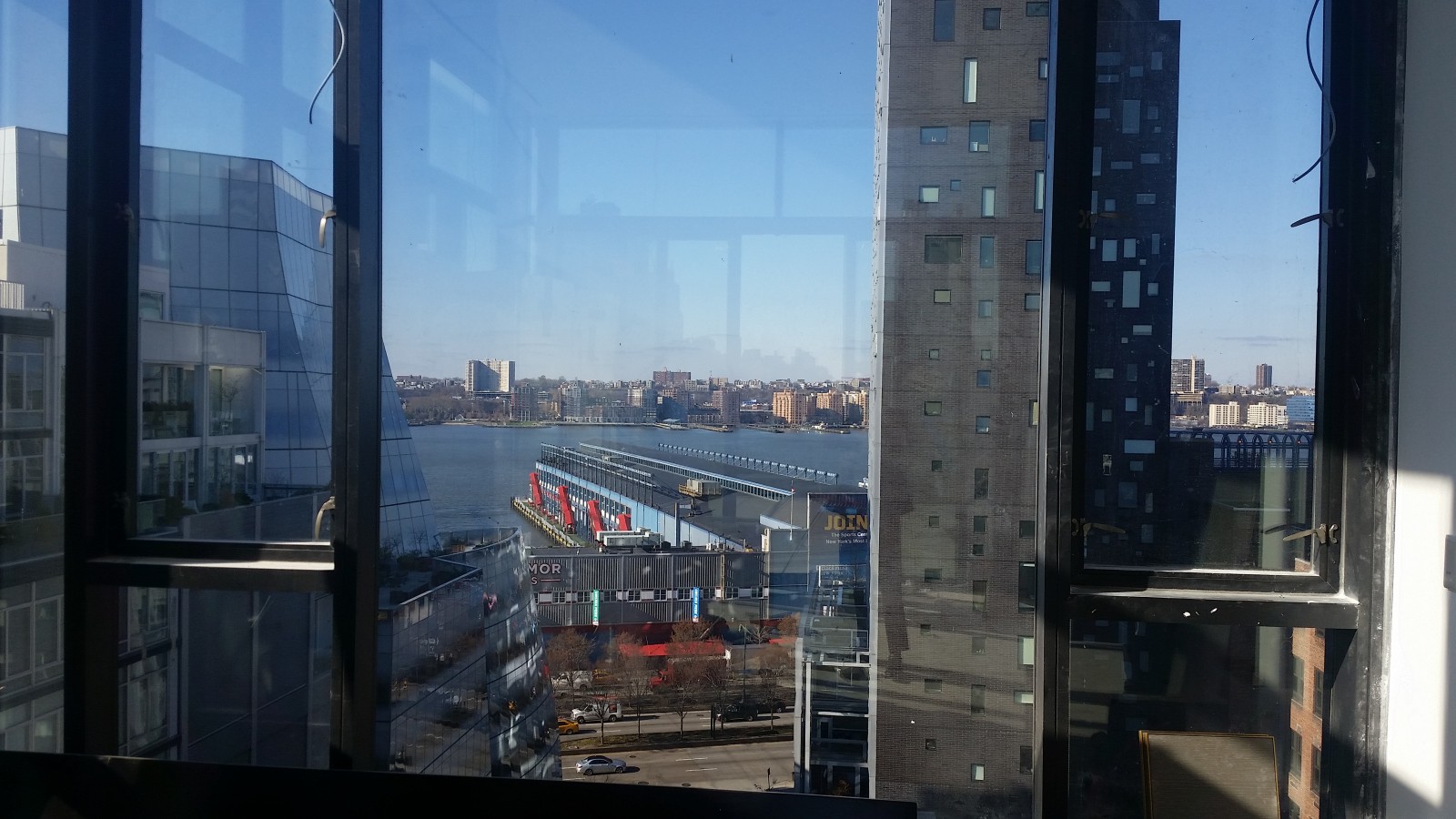 View from the penthouse at 505 West 19th, which is currently under construction.
Related: