With a projected cost of $12 billion dollars — and about $2.5 billion of that needed up front to jumpstart the massive rebuild at 666 Fifth Avenue — Kushner Companies' plan to deliver a 1,400 supertall to the heart of Midtown is not yet a done deal. Financing for the mega-project has been a struggle for the company, which recently lost out when Chinese investment firm Angang Insurance Group pulled out.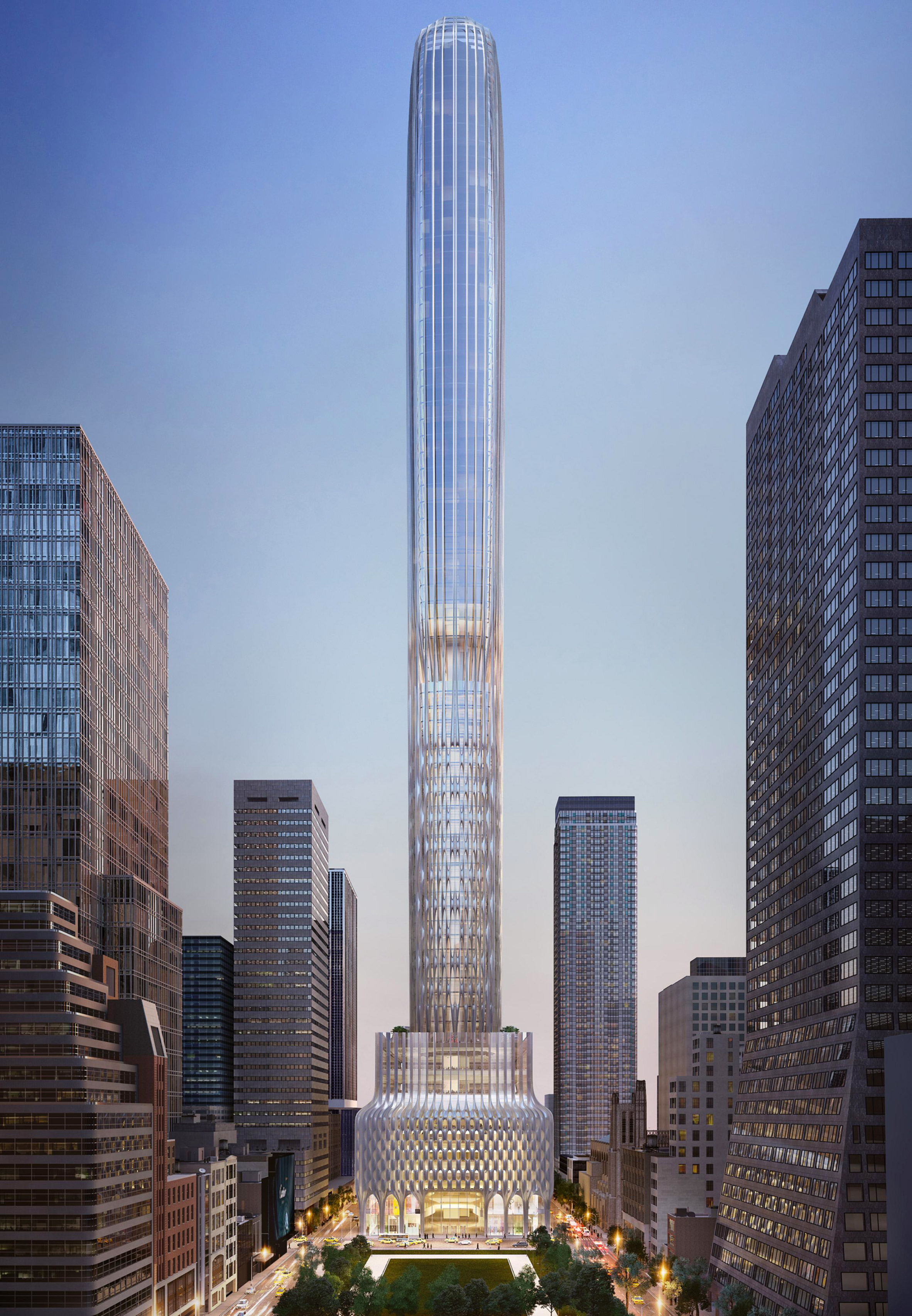 Still, it bears noting that the supertall skyscraper's design from Zaha Hadid Architects does underscore Jared Kushner's grand ambition to make a statement in Manhattan, following in the footsteps of his father-in-law, President Donald Trump.
Renderings from the noted firm of the late Pritzker Prize-winning architect, who died two years ago as her Chelsea High Line gem at 520 W. 28th Street was being completed — show off the ambitious mixed-use rebuild and expansion in Midtown. The plan calls for a complete strip down to the steel frame of the 438-foot-tall building's existing 1958-era 40 stories, with an additional 40 floors to be constructed on top.
That glass addition will bring the building to 1,400 feet that includes retail, residential and hotel space. It would place 666 Fifth near the top of the list of NYC's supertalls, just a few feet under the super skinny newcomer at 111 West 57th Street (1,428 feet) and One Vanderbilt at Midtown East. Another new supertall at 80 South Street near the Seaport has been greenlighted: It will soar 1,436 feet over the New York Harbor.
Jared Kushner made the bold buy in 2007 and has overseen the substantial financing setbacks during his attempt to remake the building. Kushner Properties took on investor Vornado Realty Trust and now has seen Kushner give up his shares in the building as he serves as Trump's main White House adviser.
According to the Times of London, the $1.2 billion in debt owed on 666 Fifth is trouble for Kushner, since the existing debt would have to be refinanced to get the project moving forward."If these deals are able to occur before the end of the year, demolition and construction work could begin as early as 2019, with an estimated completion following in 2025," the paper said.