The bathroom may not be the most glamorous of rooms, but you wouldn't want to be without one. Here, three designers from Homepolish, an NYC-based, end-to-end design service, share how they tackled major bathroom renovation projects, from expansive and luxurious master bathrooms to tiny powder rooms.  Book a free consultation with a Homepolish designer to create your own dream space, too.
It's Easy to Be Green
When designer Pippa Lee arrived at her clients' 19th-century Bed-Stuy townhouse, most of the home had already received a full renovation — but the master bathroom stood out. "It was very outdated, and not in line with the rest of the beautiful renovation," Lee says. Before getting started on such a large project, she established priorities for the space that would guide her design decisions: Ensure clear floor space, use non-toxic materials, and since it's a bathroom in an old home, make sure it's properly waterproofed.
The addition of a concrete i-Faux wall, the removal of large, brown tiles, and the addition of a patterned tile floor went a long way toward achieving those goals, but less dramatic changes were equally important. "Adding greenery to the space helps with air purification and minimizing mold, especially in spaces with no natural ventilation," Lee says, and it also contributes to a spa-like feel. To make sure her new design remained the center of attention, a custom wood vanity was designed with plenty of hidden storage for practical but "less aesthetically pleasing products," while open shelving provided a perfect place to display items "that really make a strong impact," like cacti, a vase, and soap. At the end of the four-month renovation, Lee's clients were thrilled. "They love the minimal look, and how much more seamlessly it ties to the rest of the space," she says.
Keep It Classic
Given the opportunity to redesign not one, but three bathrooms for his clients, Alec Holland created with the future in mind. "Having a strong style that can be tweaked and changed up is imperative for me when designing baths," he says, particularly when approaching a bathroom for his client's children, who ranged in age from 5 to 12. "I didn't want the kids' bath to look too childish, as it can feel dated quickly." He made sure to use sophisticated materials like smoky green tiles for the tub and penny tiles for the floors. By sticking with classic elements, Alec ensured that the bathroom could not only tolerate the evolving tastes of its young residents, but also had strong bones in the event of a future resale.
For the master bath and powder room, Alec took opposite approaches. "I like to keep big baths crisp with paint," he says, while "every and any powder room is appropriate for wallpaper. Big, bold prints or simple grasscloth all work equally well." To ensure that each of the three bathrooms still felt consistent with the design of the home, and with each other, Alec made sure to use the same fixtures throughout. "While each bath is unique, I wanted there to be a cohesiveness," he says.
Be Bright, Be Bold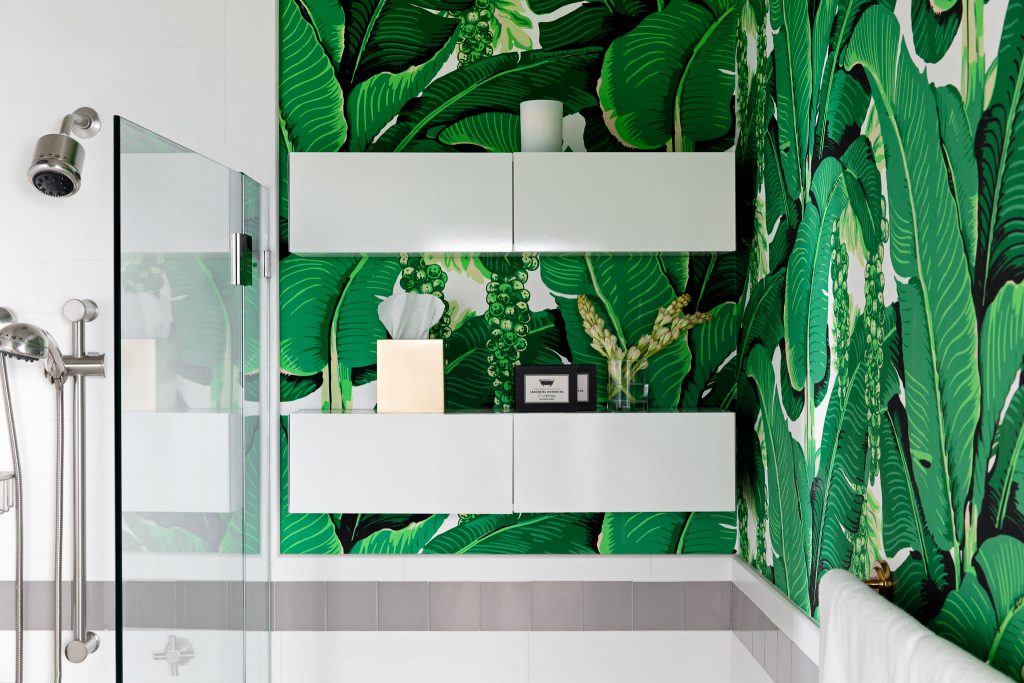 Like many homeowners, Kevin Clark's clients didn't want to spend too much money on their guest bathroom, but still wanted it to feel well-designed and considered when compared to the rest of their home. The room measured only 5 feet by 9 feet, and lacked a window, so making sure the space felt "expansive and bright" were Kevin's top priorities. "We thought the bold color and print would help the space feel larger," he says, so a bright leaf-print wallpaper was sourced from Etsy. Brass fixtures added a colorful touch, and the addition of tiles above the shower "dramatically expanded the space vertically" by providing a sight line to the ceiling. "The clients really loved the transformation," Kevin says. "It's a happy bathroom."
Learn more and book an appointment with Homepolish.
Photography by Sean Litchfield and Lindsay Brown.
—
Hey, why not like StreetEasy on Facebook and follow @streeteasy on Instagram?