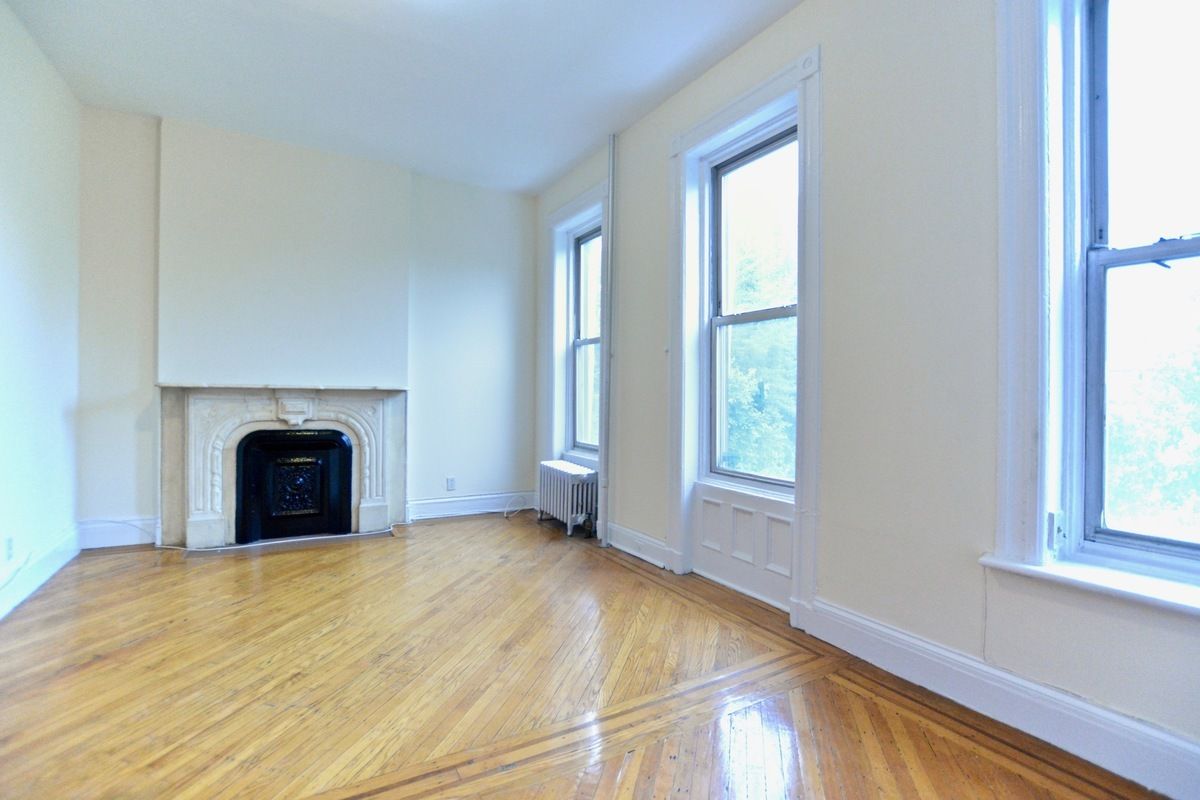 Say good riddance to tiny living with this massive Brooklyn rental. This charming Clinton Hill 1-bedroom offers an incredible amount space at a price point that's below the neighborhood median.
Address: 36 Lefferts Place #3
Price: $2,300
Size: 1-bedroom
Neighborhood: Clinton Hill
Best feature: If you've been on the hunt for an apartment that doesn't skimp on square footage, this unit is for you. Say bye-bye to your tiny settee and hello sectional sofa. Located in a three-story brownstone on a picturesque, tree-lined street, this 800-square-foot unit is the quintessential Brooklyn apartment. It's also the perfect place to entertain thanks to a spacious dining and living room combo. The kitchen is separate, but not completely disconnected from the main space with a wall cutout and breakfast bar.
The unit also boasts wood floors and period details like molding throughout and decorative fireplaces in both the living room and bedroom. The bedroom is in keeping with the unit's spacious theme too, offering room for a king-size bed and ample closet space. Large windows ensure each space in the unit is drenched in sunlight. As a bonus the apartment is right in the middle of the best nightlife Clinton Hill has to offer, plus has easy access the C train at the Clinton and Washington Avenue station.
Why it's a deal: This Clinton Hill 1-bedroom offers a lot of bang for your buck. Priced $357 below the neighborhood median of $2,657 (see StreetEasy's Q1 Market Reports for other price comparisons), it's a great value considering the amount of space potential renters would be getting. Still, if you are a bit short on cash, the unit also accepts guarantors to help secure the rental.
See More Clinton Hill Rentals Under $2,500 Article continues below
Biggest drawback: While it is difficult to find something wrong with a rental offering so much value in a popular nabe, there are a few things left to be desired. Both the kitchen and bathroom are a bit dated with older finishes and fixtures. But for the price, can we really be that picky?
See the listing: 36 Lefferts Place #3, listed by Einav Makover and Joe Bar of Makover Group. 
—
Send your NYC real estate stories and tips to StreetEasy editors at tips@streeteasy.com. You will remain anonymous. And hey, why not like StreetEasy on Facebook and follow @streeteasy on Instagram?