Mike Myers' NYC World Won't Be Based on Mercer Street Anymore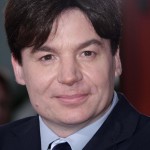 Maybe it was the second baby born to Mike Myers and his wife, Kelly, last year that finally made the sun-filled SoHo penthouse feel a little cramped — although it's tough to imagine anything could make the post-modern duplex feel like anything except the ultimate downtown living space.
Alas, after living in the 4,204-square-foot duplex since 2007, Myers et famille have decided to move on from their three-bedroom penthouse located at 72 Mercer Street. The newly listed residence is being marketed for sale for $16.95 million.
Myers told the Wall Street Journal that he chose the home for its 14-foot ceilings and because the building is one floor higher than most surrounding structures, the penthouse realizes sweeping views. Myers paid $7.9 million for the place not long after he was divorced from his wife, producer and comedy writer Robin Ruzan.
> See more apartments for sale in SoHo
Set atop a boutique condo building with a 24-hour doorman on one of the most famous, cobblestoned streets in SoHo, the penthouse boasts a large living room with a fireplace at one end and a wall of custom-crafted bookshelves at the other. The adjoining kitchen features maple and aluminum cabinets and stone counter tops.
Myers has earned a fortune since moving on from his Emmy award-winning work on "Saturday Night Live" to mega-hit movies as the "Austin Powers" series as well as his voice work in "Shrek."
It's not clear yet where Myers will land in NYC, though it's tough to imagine he isn't looking. In 2014, he told GQ magazine that he has rented separate studio space to work in. Working at home wasn't "a good idea. It's a lose-lose for everyone,'' Myers said. So perhaps the creatively-juiced comedic artist is hunting for a place that accommodate his two kids, Spike and Sunday Molly, as well as work space for Myers.
Meanwhile, the native Canadian purchased a $1.65 million estate on Lake Champlain in Colchester, VT last year. The 5,000-square-foot residence is situated on a very secluded bluff outside of Burlington.
Related: