Renting in NYC: The Ultimate Guide
More than 65% of New York City residents are renters, so whether it is your first time searching for an apartment or the 10th, you are not alone. Our guide to renting in NYC shares everything you need to know about the ins and outs of renting, from how much rent you can afford to tips for breaking a lease (hey, it happens!). Other topics covered in this guide to renting in NYC include how to go about finding the best apartment for you (and roommates if you need them), what to expect at a lease signing, paperwork and fees you'll need to rent a place, whether you should use a broker, and much more.
Ready to search for your new apartment? Start here.
See the full series
If you're looking for information about affordable apartments, you've probably heard the terms "rent-regulated," "rent-controlled," and "rent-stabilized." But you may be wondering, what do these terms mean? Our guide to rent-stabilized apartments in NYC walks you through the history of rent regulation, the difference between rent control and rent stabilization, and recent changes to the New York rent laws. And most importantly, it gives you actionable tips on how to land a rent-stabilized apartment in NYC. Pssst, at the end of the article, we share how to find rent-stabilized units on StreetEasy.
Manhattan Rentals on StreetEasy Under $2,500 Article continues below
A Brief History of Rent Regulation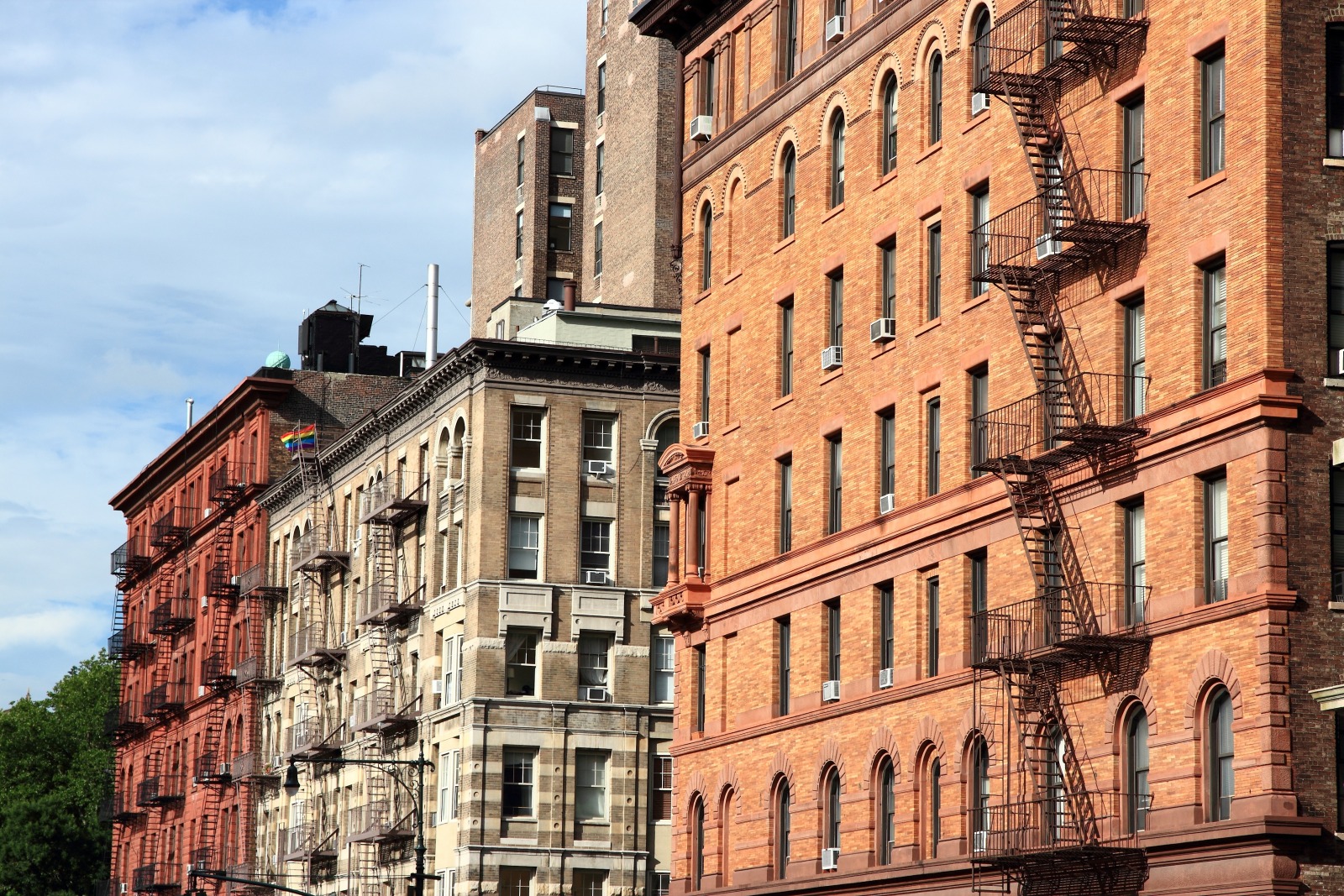 Rent-controlled and rent-stabilized apartments have been an important part of New York City's housing stock for decades. Rent regulation dates back to the 1940s when President Franklin D. Roosevelt enacted the Emergency Price Control Act to prevent landlords from imposing "intolerable" rent increases on tenants. Over the years, however, rent-regulation laws have changed substantially. Now, state and local governments oversee their regulation, rather than the federal government. And despite frequent — and sometimes contentious — changes to the law, housing advocates continue to support rent regulation as a means to ensure a fair and affordable rental market.
Manhattan Rentals Under $2,700 on StreetEasy Article continues below
Are Rent Regulated Units Different From Other Types of Affordable Housing?
Put simply, yes. Unlike housing lotteries, rent-regulated tenants are not subject to income restrictions or household size requirements. So, in a nutshell, any tenant who can find a rent-regulated unit can rent it as long as they meet standard income requirements (40 times rent rule) for leasing. Find out how much rent you can afford.
Brooklyn Rentals Under $2,500 on StreetEasy Article continues below
What Is a Rent-Controlled Apartment?
Rent regulation protects tenants from exorbitant increases in rent. In New York state, there are two forms of rent regulation: rent control and rent stabilization.
Rent control applies to apartments in buildings built before 1947 — and there's a twist. The tenant, or legal successor, must have continuously lived in the unit dating back to July 1, 1971. The only way a rent-controlled unit changes hands is through family members or successors. When the tenant of record dies, a family member or successor who has lived in the apartment with the tenant for the two years (or one year if the successor is over 65 years old) before the tenant's death may be entitled to their own tenancy.
Queens Rentals Under $2,500 on StreetEasy Article continues below
What Is a Rent-Stabilized Apartment?
Rent-stabilized apartments are typically in buildings built before 1974 and have more than six units. Also, there are buildings constructed after 1974 that are rent-stabilized thanks to certain tax abatements. Occasionally you may hear of a rent-stabilized unit in a co-op building. Apartments like these are rented by tenants who lived in the building before the conversion.
Rent Increases in Rent-Controlled Units
Every rent-controlled apartment in New York City has a maximum base rent, increasing every two years to factor in the landlord's operating costs. The Division of Housing and Community Renewal (DHCR) determines a maximum base rent and a maximum collectible rent for rent-controlled apartments, with adjustments made every two years to reflect changes in the landlord's operating costs. To qualify for the rent increases, a landlord must demonstrate that there are no outstanding violations on the building and provide all essential services to the tenants, including but not limited to heat and hot water.
Reasons to justify increases in operating costs could include the cost of fuel, additional building services, and improvements in the building's or apartment's infrastructure. Tenants in rent-controlled apartments may challenge the proposed increases if the building has outstanding violations or proves the costs of the building improvements do not merit the increase.
Rent Increases in Rent-Stabilized Units
Tenants in rent-stabilized apartments have several rights that those in market-rate apartments do not. For example, rent increases are set each year by the Rent Guidelines Board, which means a landlord can raise the rent only by a certain percentage when renewing the lease. For leases starting on or after October 1, 2022, and on or before September 30, 2023, the increases are as follows:
1-year lease: 3.25%
2-year lease: 5% 
Guidelines are updated each year. Additional benefits afforded to rent-stabilized tenants are the right to a lease renewal each year and protections against arbitrary evictions.
Bronx Rentals Under $2,500 on StreetEasy Article continues below
Recent Changes for Rent-Stabilized and Rent-Controlled Apartments
Previously, a rent-stabilized unit could become a market-rate unit once its legal rent exceeded the deregulation threshold (most recently $2,774), and either the tenant vacated the apartment (High Rent Vacancy Deregulation) or the landlord could demonstrate that the tenant's income surpassed $200,000 for two consecutive years (Luxury Deregulation).
In 2019, things changed. Under the Housing Stability and Tenant Protection Act (HSTPA), both High Rent Vacancy Deregulation and Luxury Deregulation were repealed. The new law also modified the use of preferential rents. Historically, some tenants in rent-stabilized apartments in NYC paid a preferential rent, essentially a rate lower than the full legal rent that a landlord could legally charge. The problem for tenants was that landlords could eliminate these lower rents upon lease renewal. As a result, tenants could face severe rent hikes. The HSTPA mandated that landlords could no longer eliminate the preferential rent on renewal. Alternatively, the preferential rent remains the base rent for that tenant until they vacate the apartment. The preferential rent can be increased annually pursuant to the rent increases set forth by the Rent Guidelines Board.
Additionally, the HSTPA eliminated mechanisms for the landlord to increase legal rent up to 20% between tenancies.
Financial Impact of Renovations on Rent-Stabilized Apartments
Landlords can increase tenants' rent by making capital improvements to the building. The rent increase is calculated by DHCR based on the total cost of improvements and the number of rent-regulated tenants in the building. Prior to the HSTPA, landlords were able to increase legal rent by as much as 6% however the increase is now capped at 2%. Landlords can also increase the legal rent by making improvements to the individual apartment. Before the HSTPA, this increase was calculated as 1/60 (or 1/40 in buildings with less than 35 units) of the total renovation cost. Now, landlords can only charge tenants fees of up to approximately $89 per month for improvements and renovations to individual units.
Tips on How to Find a Rent-Stabilized Apartment in NYC
Although there are roughly more than a million rent-stabilized apartments in New York City, they can be very hard to find. The reason is simple: Once someone lands one, they are unlikely to give it up. Here are some ways to find rent-stabilized apartments:
Get a list of rent-stabilized buildings. The Rent Guidelines site has a list for all five boroughs.
Search a specific neighborhood. Although you can find rent-stabilized apartments all across the city, some neighborhoods have more than others. These include Washington Heights, Inwood, and Crown Heights.
Search on StreetEasy using the advanced search options. You can search for rent-stabilized apartments in NYC on StreetEasy by entering "rent-stabilized" into the description field.
Benefits of Rent-Stabilized Apartments in NYC
In addition to the locked-in affordability factor, there are some other benefits of rent stabilization as well. These include:
Updates and improvements: As a tenant of a rent-stabilized apartment, you have the right to occupy a working, updated apartment. If your landlord fails to make proper updates to your apartment, you can file a complaint with the New York State Office of Homes and Community Renewal and ask for a reduction in rent until your landlord makes the required modifications.
Subletting: Tenants of rent-stabilized apartments may sublet their apartment, as long as the apartment is their primary residence.
Lease renewal rights: You can renew your lease every year or every two years.
Protection against bankruptcy: Even if they go bankrupt, tenants of rent-stabilized apartments still have rights to their units.
[This post has been updated and republished.]
Article continues below
More Explainers and Tips for Renters