No Closet in Bedroom? No Problem!
A bedroom without a closet might be a bummer, but it should by no means deter you from signing a lease on an apartment you love. There are plenty of ways to make do without closet space, and some of them can even add a pop of color or an interesting design element to your room.
Get an Armoire, Bureau or Trunk
The most obvious solution to a closet-less room is to buy a piece of furniture that will fit all your clothes – a one-stop solution, although one of the priciest. An armoire has the added advantage of drawers and hanging racks (plus the word armoire will be added to your daily vocabulary), but a bureau will work just fine if you prefer to fold your clothes. A trunk is great to put at the foot of your bed, has enough space to hold bulky winter clothing, and is just really cool-looking.
Clothing Racks
A clothing rack is a cheap and easy solution: either a standing or mounted rack will do. Add a shelf to the bottom of a standing rack for more storage for shoes, or mount some floating shelves on the wall next to the mounted rack. If you don't like having your clothes exposed to the world, cover the rack with a throw or invest in a standing screen.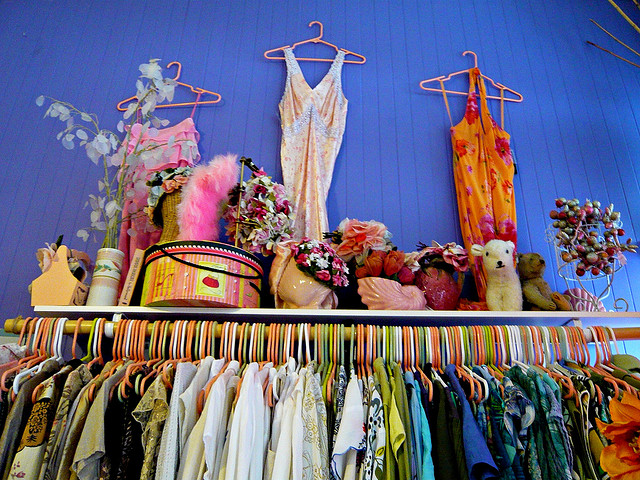 Bookshelves
Bookshelves can also double as clothing shelves, and mixing clothing among books will make you seem eclectic and erudite. A beautiful curtain tacked across the bookshelf allows your clothes some privacy and can add some oomph to your roomscape.
Raise Your Bed
Raising or lofting your bed will free up some space underneath for drawers or winter clothing storage, and maybe a hamper or your shoe collection. The possibilities are endless!
Repurpose a Hallway Closet
Inexplicably, some apartments don't have closets in the bedroom but offer an overabundance of storage space in the common areas, like hallways or living rooms. If that's the case, take advantage! And as always, get comfortable with the roommates – there will inevitably be those mornings when you won't be bothered to go back to your room to change. Naked hallway encounters will ensue.
Related: