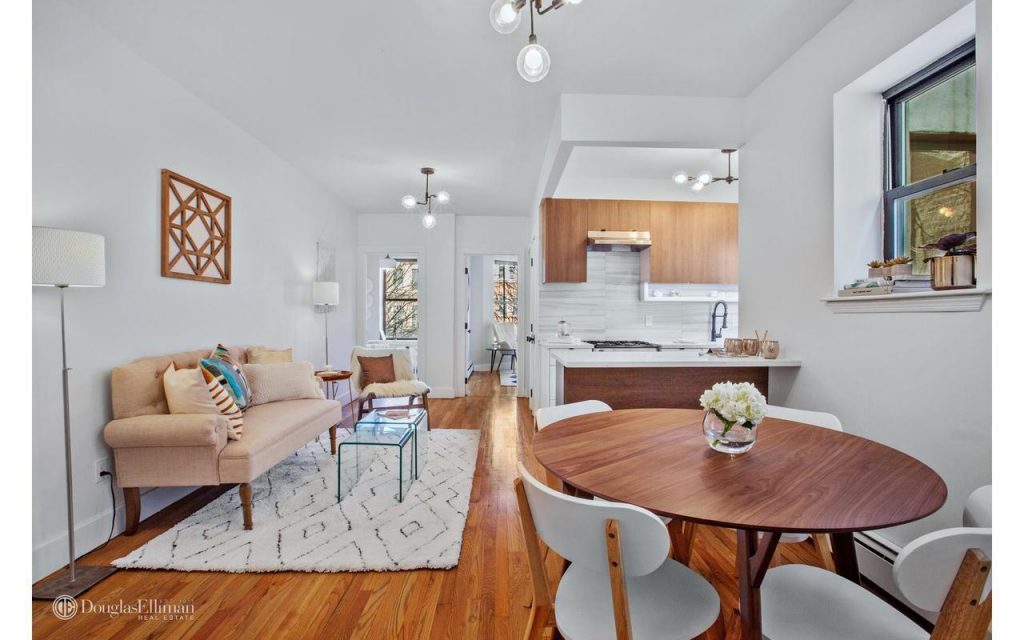 For many of us, the dream of home ownership in New York City is just that — a dream. But here comes an updated prewar gem at 1062 Bergen St. in Crown Heights that will restore your hopes of finding an affordable apartment suitable for a small family. The place has classic prewar bones, a Central Brooklyn location and a lovely renovation. Although the price clearly steals the show, there's a whole lot more about this place to love.
The Price: $635K
Asking a perfectly reasonable (OK, by New York City standards) $635,000, this 3-bedroom condo will appeal to any aspiring homeowner looking for a place with space for themselves or a family.
>> Join us for StreetEasy's First-Time Home Buyers Seminar on March 3. Register for free here.
If you're currently renting in the area and are in the market to buy, take a look at these numbers: With 20 percent down ($127,000), your monthly mortgage payment will come to approximately $3,101. Compare that with a 3-bedroom rental in Crown Heights for $2,795 a month. The $3,101 monthly payment also includes low taxes ($233) and common charges ($354). Sweet!
Why You'll Love It
Unassumingly polished and immediately homey can be hard to pull off, especially when you're on a tight budget. This apartment, however, perfectly mixes practicality and livability with design choices that come together for a classy, comfy and uncluttered effect.
The apartment is a classic Crown Heights prewar condo, retrofitted into a contemporary open floor plan. Whether you prefer a traditional aesthetic or a contemporary look, you'll get a bit of both. The finishes offer an eclectic sampling of favorites. You get your white-washed exposed brick in the second bedroom, and hexagonal white tile and matte-black finishes in the bathroom. In the kitchen, modern fixtures blend with brand-new Caesarstone counters and custom cabinetry.
Added perks include stylish light fixtures and lots of windows. The master bedroom is lovely and spacious and has a set of three bay windows. It has a great location on a charming, tree-lined block. Add to the mix that this building is close to the A and C express stop at Nostrand Avenue, and you're in Brooklyn starter-home heaven.
And Why You Might Not…
This apartment, while a true 3-bedroom, is also truly a starter apartment. Measuring only 655 square feet, a family may outgrow the apartment quickly. Since the traditional living room space was converted into a master bedroom, the open area near the kitchen serves as both the dining area and living room. Also, there is only 1 bathroom.
—
Hey, why not like StreetEasy on Facebook and follow @streeteasy on Instagram?