In the Bronx, eligible applicants can now apply for 120 affordable housing units at Compass Residences 2A. This Crotona Park East development is located at 1524 Boone Avenue in the Bronx and expects to welcome lottery winners by this summer.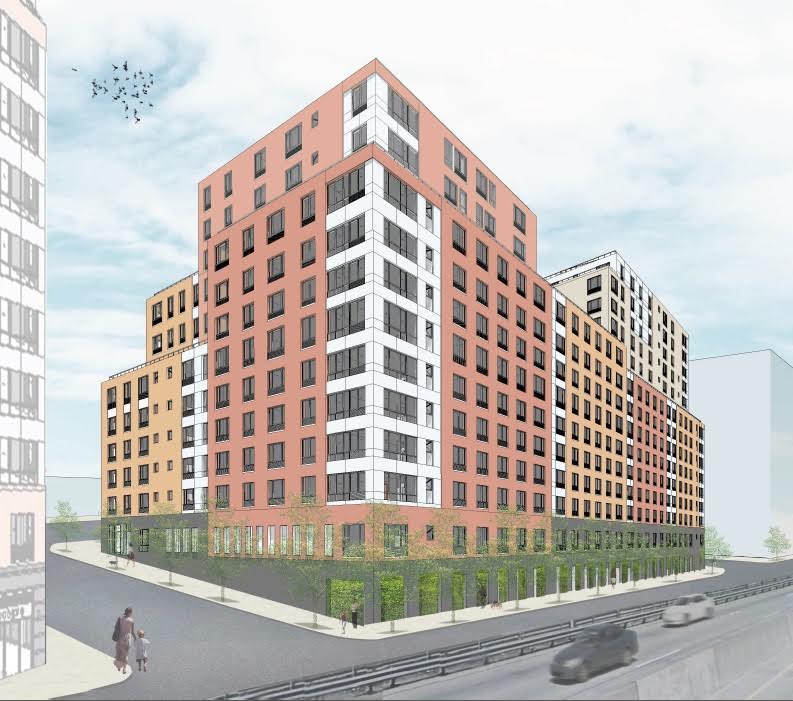 A breakdown of apartments available through this NYC Housing Connect lottery calls for 19 studio apartments, 39 one-bedroom apartments, 49 two-bedroom, and 13 three-bedroom apartments. Rents will range from as low as $822 a month for a studio apartment to $1740 a month for a 3-bedroom apartment.
> Read how this woman won a housing lottery
"We are pleased to join HPD in announcing the lottery for the latest 120 affordable homes to come online at Compass Residences," said NYC Housing and Development President Eric Enderlin. "As this multi-phase development progresses toward completion, we are seeing a thriving, new community emerge in Crotona Park East. We look forward to receiving applications for Compass Residences 2A by the April 24, 2017, deadline and welcoming future residents to their new homes this summer."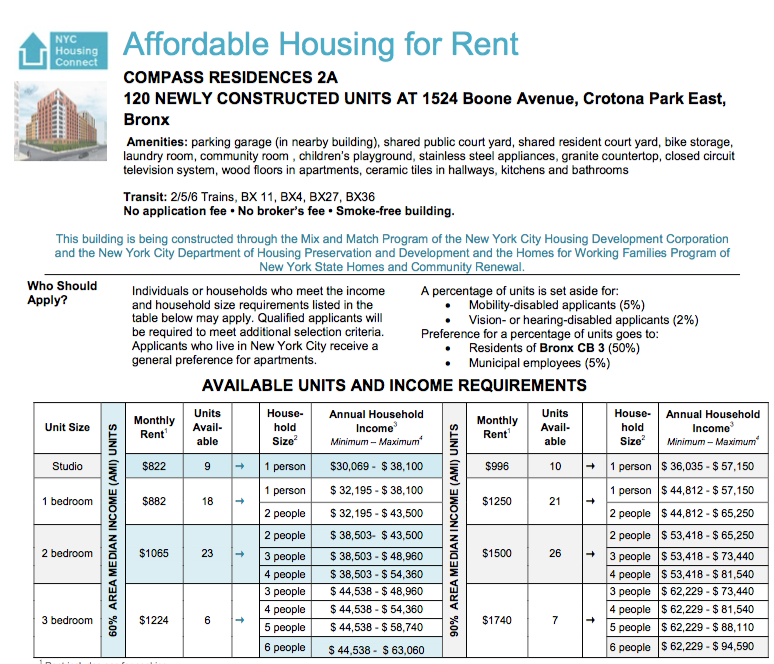 Apartments will be affordable to low and moderate-income households, with eligible incomes ranging from as little as $30,069 annually for a single person and 2-person households earning a minimum of $32,195 annually. Households with 3 to 4 members can be eligible with annual incomes as low as $38,503, while households with 5-to-6 total members can earn as low as $44,538 annually.
Additional units will be made available to applicants making 90 percent of the area median income.
Eligible applicants who have been selected can expect to start moving into their new homes by July 2017. Some units will be set aside for hearing impaired and disabled applicants. Preference for 50 percent of the units will be given to residents of Bronx Community Board 3. Municipal employees will get preference for 5 percent of the units.
Amenities for this Bronx development include parking garage; shared public courtyard; shared resident courtyard; bike storage; laundry room; community room; children's playground; stainless steel appliances; granite countertop; closed circuit television system; wood floors in apartments; ceramic tiles in hallways, kitchens, and bathrooms.
Related: