Heads up buyers: Here is an opportunity to purchase a brand-new condo for far below market price. Located at 70 West 139th Street in Central Harlem, 25 condos are being made available for those who qualify. The units are priced at $440,381 for a 1-bedroom and $508,786 for a 2-bedroom. This opportunity is being offered through the NYC Housing Partnership Development Corporation and Parkadon Development LLC.
How to Apply and Qualify
To qualify for one of the units, applicants will need to earn 150 to 165 percent of the area median income (AMI), or have an income between $84,000 and $176,055 annually. The chart below outlines the eligibility requirements. Click here to view more details.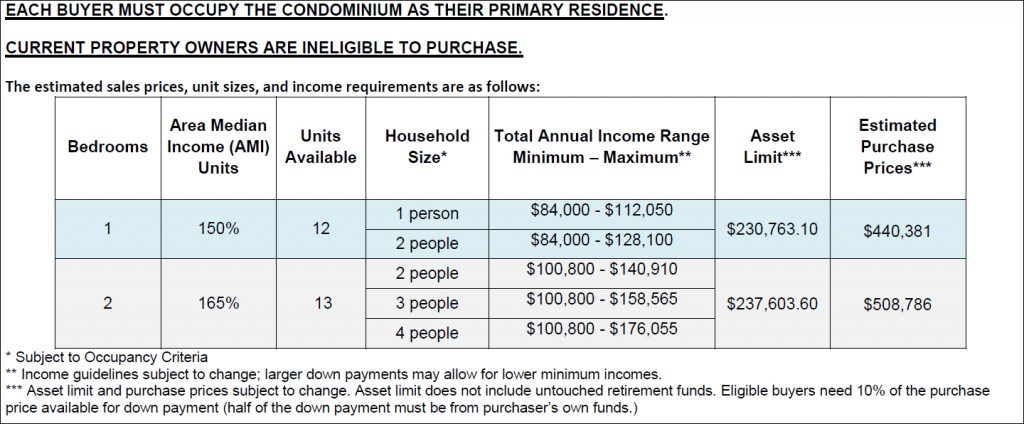 Where to Get an Application
Interested buyers can pick up an application at one of the open houses at 70 West 139th Street, third floor on the following dates:
Thursday, May 16, 6 p.m. to 8 p.m.
Sunday, May 19, 1 p.m. to 3 p.m.
Completed applications can only be submitted in person to the Housing Development Corporation at 253 W. 35th St, third floor on Wednesday afternoons between 11 a.m. and 2 p.m.
To see future open houses, go to the Housing Partnership site.
Applications Accepted Until All Units Are Sold
There are some strict guidelines for these bargain prices:
Buyers must use the condos as their primary residence.
Anyone who currently owns property is ineligible to purchase.
These 25 units were part of a previous housing lottery, but failed to sell. The NYC Housing Partnership is making them available on the open market at their previous affordable lottery prices on a first-come, first-serve basis. Applications will be accepted until all apartments are sold.
See Listings in Manhattan Under $520K Article continues below
As a price comparison:
Also, the median recorded sales price in Central Harlem is $893,750 – considerably above the asking prices for these units.
This 8-story, limestone and brick building has a total of 64 condos and was built with green living in mind. The interiors have thoughtful layouts and boast energy efficient appliances, and the onsite parking has charging stations for electric cars. Amenities includes a fitness center with yoga and meditation space, plus a furnished rooftop perfect for entertaining or sunning solo. The new complex is conveniently located a few blocks from the 2 and 3 trains at 135th Street Station, in addition to the M7, M2, and M102 buses.
—
Don't stop there! See more housing lotteries here!