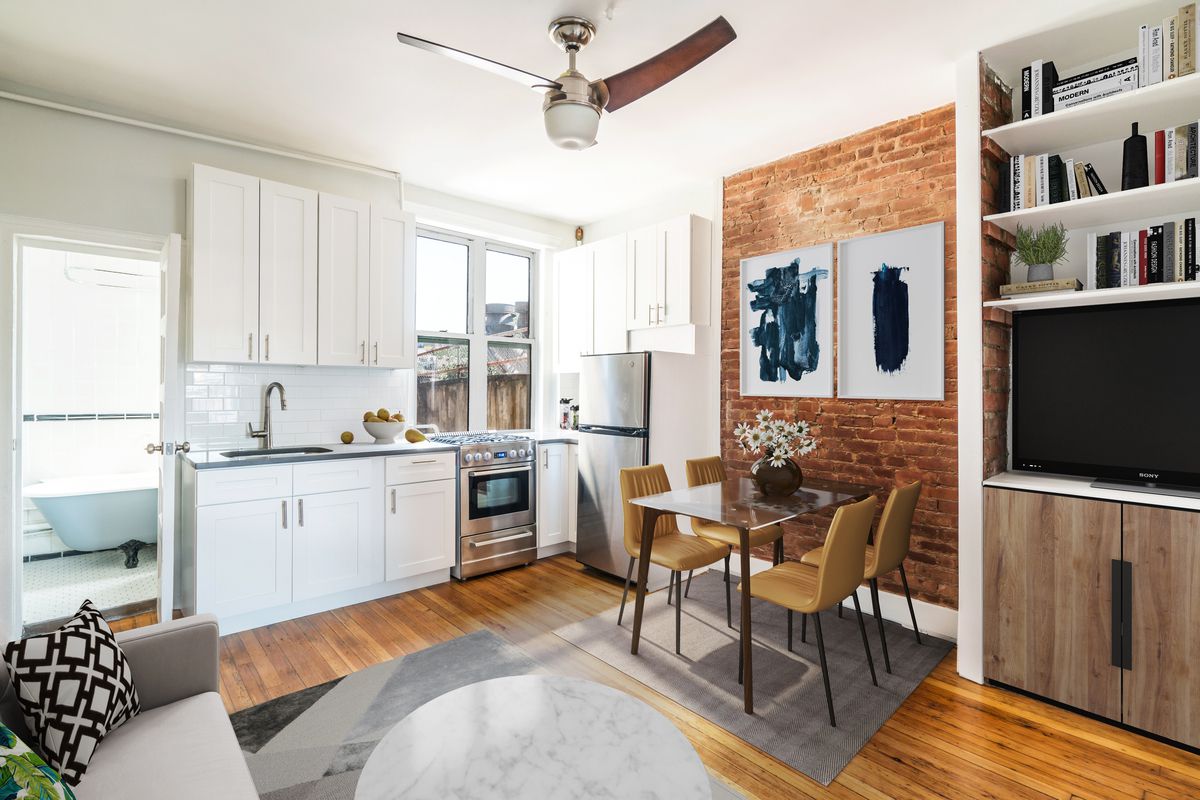 SoHo, one of Manhattan's hippest neighborhoods, might be teeming with celebrities, but that doesn't mean it's out of reach to all but the very rich. This 2-bedroom co-op at 149 Sullivan St. #6D is priced way below the average for both Manhattan and the ever-fashionable neighborhood of SoHo. This apartment has charm for days, plenty of space, and a prime location, making it a no-brainer pick for our Deal of the Week.
The Price: $725,000
SoHo (South of Houston Street) isn't easy to break into, as it's one of the most expensive neighborhoods in Manhattan. According to the latest StreetEasy Market Reports, the current median asking price in SoHo is $3,567,500.  At $725,000, our Deal of the Week sits more than $2 million below that figure, and more than $1 million below the Manhattan median of $1.875 million.
To calculate the monthly costs, let's assume the minimum 20 percent down payment of $145,000. After that, buyers can expect to see monthly payments of $4,045, which includes a mortgage payment of $2,915 and a monthly maintenance fee of $1,130. While that's certainly not cheap, keep in mind that the median rent for a 2-bedroom in SoHo is $7,500 a month.
Why You'll Love It …
In addition to everything everyone loves about SoHo, the apartment itself is a real charmer. Original details, such as the hardwood floors and the clawfoot tub, are mixed with newer features — like the fully renovated kitchen — to provide a classic, clean look. Add in high ceilings, built-ins, and exposed brick, and there's a real homey feel here.
Located just beneath Houston Street, this apartment sits right amid the hustle and bustle of Soho, while still offering easy access to the quieter, quainter streets of the nabe. Trendy restaurants, theaters, art venues, and more are all around. Plus, the building is right next to the gorgeous Shrine Church of St. Anthony of Padua (pictured above).
Transportation couldn't get much easier, either. The apartment is less than 0.4 miles away from the C, E, N, R, W, B, D, F, M, 1 and 6 trains. With all those options, the city would be yours for the taking. And with subletting, co-purchasing, gifting, guarantors, parents buying and pied-à-terre use all allowed, this apartment can fit pretty much any buyer's desires.
… And Why You Might Not
Since this is a sixth-floor apartment with no sign of an elevator, you're probably going to have to climb a whole lot of stairs to reach the place. But hey, at least you'll feel better skipping the gym.
The other main problem we foresee is that the second bedroom doesn't have a closet. If you're not opposed to a clothing rack and some drawers, it won't be a problem, but without a closet, we can't say that it's a true second bedroom.
But if you're okay with a little extra exercise and a little less storage space in exchange for a great location and great price, this place could make a great entry to SoHo living.
—
Hey, why not like StreetEasy on Facebook and follow @streeteasy on Instagram?