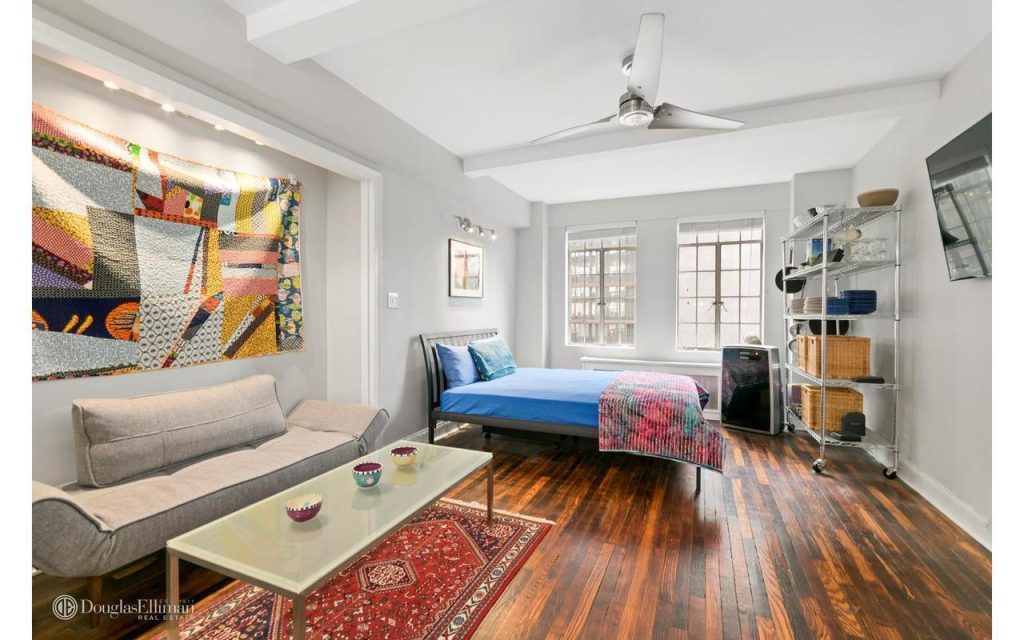 Murray Hill gets a bad rap as a haven for bros and sports bars, but perhaps this recently listed studio at 320 E. 42nd St. will change some minds. Offering a very reasonable price tag, a great package of amenities, and a solid layout, this classic studio checks all the boxes for buyers on a budget. It just had to be our Deal of the Week.
The Price: $355,000
Asking $355,000, this studio is a good deal by both the standards of both the neighborhood and the borough. According to StreetEasy data, the going rate for studios in Murray Hill right now is $414,000; for Manhattan at large, it's $579,000.
A price tag of $355,000 won't be too onerous when it comes to monthly payments, either. With a 20 percent down payment of $71,000, you'll be on the hook for about $2,200 in mortgage and maintenance fees each month. For some context, that's lower than what you can expect to pay for a studio rental in Murray Hill. They're currently clocking in at a median of $2,500 per month.
Regardless of your point of comparison, $355,000 for a studio in Murray Hill is a good deal. But it's a studio in Murray Hill, you're thinking. Right? Don't judge a listing by its address. You might really like this place.
Why You'll Love It …
Some Murray Hill apartments can feel like glorified college dorms. This studio, however, is not that kind of place. Tucked into the northern pocket of the neighborhood, where Tudor City meets Midtown, this home is close to Grand Central, making it a great find for Westchester- or Connecticut-based commuters looking for a convenient pied-à-terre. Naturally, the building policies are amenable to pied-à-terres, gift purchasing and co-purchasing with parents.
The layout will work just fine for permanent residents, too. The place offers a recent renovation, newly polished floors, an efficient (and complete) kitchen, a comfortable bathroom, and plenty of room in the living area for a couch, dining table, and queen-size bed. The building amenities include a full-time doorman, gym, laundry in the basement, and a lovely shared courtyard. So you might want to check your Murray Hill misgivings and give this sophisticated studio a try.
… And Why You Might Not
If you've gotten to this point in the article and are still waiting for the gotcha, simply revisit the headline. This Murray Hill studio's main drawback is self-evident: It's a studio (on 42nd Street) in Murray Hill.
—
Hey, why not like StreetEasy on Facebook and follow @streeteasy on Instagram?