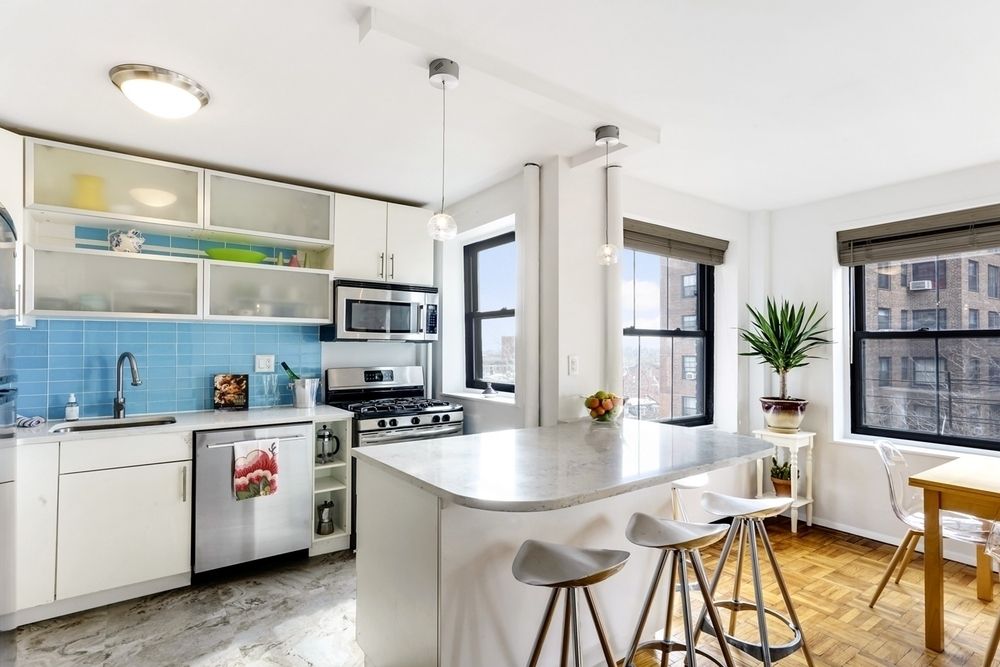 This week, we have a 2-bedroom at 352 Clinton Ave. that mixes mid-century bones with a light and airy feel. On paper, it's an objectively good deal in a great location. What happens when you scratch the surface? Let's explore our latest Deal of the Week.
The Price: $675K
If you are looking for a Brooklyn neighborhood with bargain-basement prices, Clinton Hill is not it. This effortlessly cool Central Brooklyn nabe often surprises outsiders with its tony housing stock and equally tony prices. The gracious architecture, the wide, calm streets, and the refined restaurants appeal to a discerning set — a mix of creative types, long-time homeowners, and increasing number of A-list celebs.
That's all to preface the incredible price of this Deal of the Week. Listed for $675,000, this co-op is nearly $324,000 below than the median asking price of a 2-bedroom in Clinton Hill, which is shy of $999,000. The typical 2-bedroom in the area rents for $3,050, which is close to the roughly $3,017-per-month mortgage payment this Clinton Avenue co-op would incur (after a 20 percent down payment of $135,000, of course). You'll have to tack on an extra $900 in monthly maintenance fees, which is certainly not nothing — but perhaps it's a worthy surcharge for owning in one of Brooklyn's best neighborhoods.
Why You'll Love It …
This sun-filled co-op hearkens back to an earlier era of Brooklyn living, when buyers came seeking bigger skies and more space. The apartment is perched on the sixth floor of the south campus of the Clinton Hill Co-ops, a 12-building residential complex located just off Lafayette Avenue. The complex has a striking similarity to StuyTown, with uniform brick buildings rising around manicured lawns and winding paths. The Clinton Hill Co-ops were designed in the 1940s to house workers at the Brooklyn Navy Yard. The architect was Wallace K. Harrison, who helped design Lincoln Center, Rockefeller Center, and the U.N. Building — so there's an interesting pedigree here.
Although the complex reflects turn-of-the-century Garden City aesthetics, the unit itself feels thoroughly fresh and modern. A full wall of south-facing windows defines the large main living area and offers unobstructed views. The kitchen adjoins this space directly, and has been recently renovated with stainless-steel appliances and new finishes. A stylish island doubles as a breakfast bar. The sense of openness carries into the master bedroom, where ample storage space and lots of natural light keep things functional and cheery.
… And Why You Might Not
You know something is amiss when the listing description refers to a unit as both a 2-bedroom and a 1-bedroom — and such is the case here. The apartment has a railroad layout, with a compression wall carving out a small second bedroom accessible only through the master.  As a result of the compression wall, both bedrooms are not legal. Although this setup is not ideal, the second bedroom has great light, and would work fine as a child's room or a nursery. There's also plenty of space in the living room to carve out a proper second bedroom, as a proposed floor plan shows.
—
Hey, why not like StreetEasy on Facebook and follow @streeteasy on Instagram?