The COVID-19 situation upended so much about daily life and business in New York City, but one thing it forced was the pivot to showing homes virtually. While in-person tours can make all the difference, sometimes the right technology can still help you show your listings to clients and work toward closing deals.
Zillow 3D Home virtual tours is a free mobile app that enables you to create virtual home tours right from your iPhone, and incorporate them into your StreetEasy listing. Here's a step-by-step guide to using this tool.
Getting Started
Equipment you'll need:
iPhone 6* or higher or iPad*, device needs iOS 11.3 or higher installed
*iPhone camera capture is only supported on iPhone 7 & up
*iPad and iPhone 6 need a connected Ricoh camera
Installed Zillow 3D Home app on your iPhone/iPad
[Optional] Ricoh Theta V or Z1
[Optional] Freestanding monopod
Before you start:
Ensure you have the newest version of the app (update via the iOS App store).
Ensure your Ricoh camera is up to date — see how here.
Fully charge the Ricoh camera. Attention: only use the supplied cable and a laptop to charge (see also Ricoh manual for details).
Fully charge the iPhone or iPad.
First-time connect:
Sign in / Sign up

Have your Zillow credentials (login and password) ready
If you have not created a login and password, you may do so from the app
[If using the Ricoh camera] Connect your camera

Tap Create 3D Home and then Connect 360 Camera.
Follow the instructions in the app to pair your iPhone or iPad to the Ricoh camera.
Either scan the QR code at the bottom of the camera or type in the serial number.
Capturing the Tour
Get ready:
Keep your goal in mind — you want to capture all spaces (every room, as well as potentially walkable spaces behind doors, e.g. walk-in closet, utility room).
Make sure all lights are on, fans are off, and blinds are adjusted to the light situation (you have likely already done this for the still capture).
Set your monopod to the desired height (about 4 to 5 feet from the ground) and keep this setting throughout the capture process.
Start capture:
Open the Zillow 3D Home app.
Tap Create 3D Home and then Use 360° Camera or iPhone camera.
Optional: Enter listing address to attach the tour to the listing.

If the app can't add the address at this time, choose Apartment Building or Single Family home.
Choose if you want to create a tour for a unit or amenities/common spaces.

Capture panoramas of all desired rooms and spaces (rooms, hallways, closets, basements — including the entry to the unit and balconies or terraces).
When you've finished capturing:
Make sure all panoramas you captured have processed successfully (no processing message on thumbnails).
Once your panoramas have uploaded, tap the "All panoramas complete" button (you will no longer be able to add additional panoramas after this point).
On the next screen, you will finish the tour; choose finish and publish.
You'll receive an email from Zillow once your tour is complete.
Once you receive an email that your tour is ready, you'll be able to see it in the My 3D Tours tab.
Click the three dots on the tour that you would like to put on your StreetEasy listing.

Click 'Share'.
Send the tour share link yourself or copy it.
Add 3D Home Tour to a StreetEasy Listing
Log into your StreetEasy Agent account.
Navigate to 'My Listings'.
Select 'Edit' on the listing to which you'd like to add the tour.
Visit the Photos & Media tab.

Scroll down to the 3D Tour field.
On Web: click on 'Add 3D Tour Link' and paste the link into the modal that pops up, then click 'Add'.


On Mobile: Paste the link directly into the field.
Save your changes.

Navigate to your listing page to see the 3D tour in action!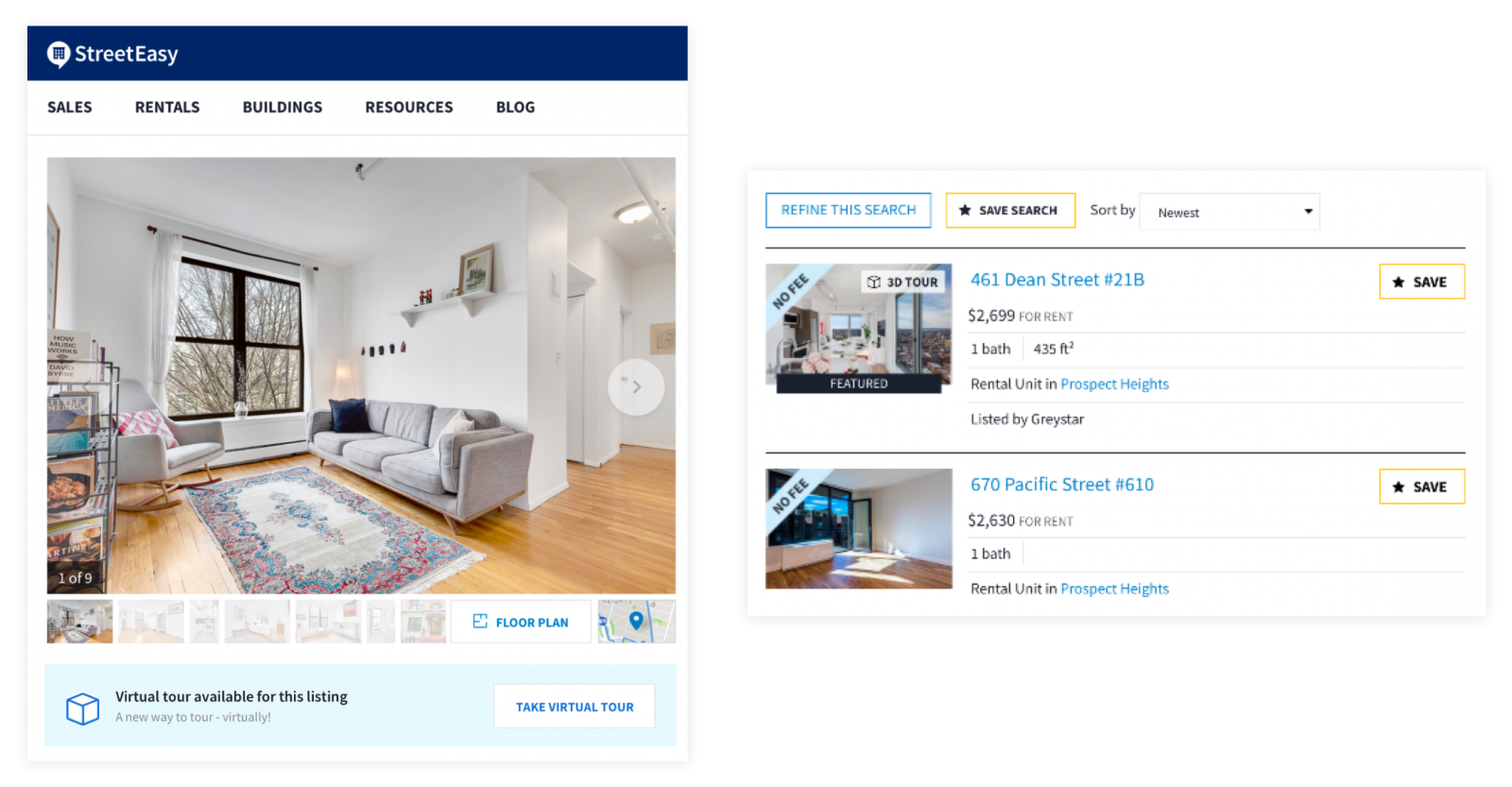 Tips for Capturing a Successful a 3D Tour:
Make sure you are not in the shot.
Take panoramas within line of sight. For each room, take a panorama outside the door and inside the door. Establish a flow through the house and ensure there are enough panoramas that are within line of sight of another.
Line of sight is established by choosing camera placements that overlap or are consistent with the previous camera placements, creating consistency across each panorama. Imagine a straight line along the captures that offers unobstructed vision.