More for your money — that's a great reason to hitch a ride through the Holland Tunnel. These fabulous five Hoboken homes for under $700K show that luxury and space have a lower price tag across the river than Manhattan or Brooklyn. But those who come for the value fall hard for Hoboken's vibe and bustling waterfront. See if these homes tempt you to crossover!
Jersey City Homes Under $700K on StreetEasy Article continues below
We hit the ground running in Hoboken, literally. This ground-floor condo has a private entrance and is renovated to perfection. The open floor plan is stylish and inviting: New tile flooring, breakfast bar, dishwasher, and the dream, in-unit laundry! There's plenty of room to roam, including a private patio and backyard. Heads up, pet owners! Four-legged creatures are allowed.
View Listing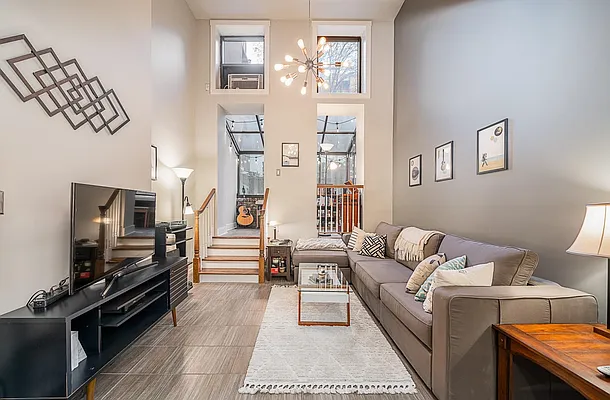 Here's a fabulous place near the Hoboken waterfront. It's well under $700K, too! It's a lofted 1-bedroom/1.5 bathroom condo. It gets its oomph from an array of goodies: Spiral stairs, skylights, a solarium, and access to the rear yard. Bold, beautiful, and right where you want to be near parks, stores, and transportation options, including the ferry. Get sailing!
View Listing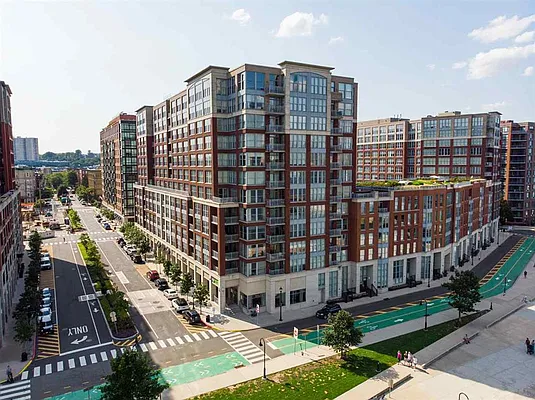 We head to Maxwell Place (not to be confused with the defunct venue, Maxwell's, Hoboken's version of CBGB) for this compelling 1-bedroom. The open kitchen and big living room front a wall of windows. Let the sun pour in! Here you will find all of the must-have appliances, from a dishwasher to in-unit laundry. Bonus! Monthlies include utilities. Amenities at this waterfront condo development are equally impressive: A big gym, a rooftop swimming pool, and shuttle service to transportation options.
View Listing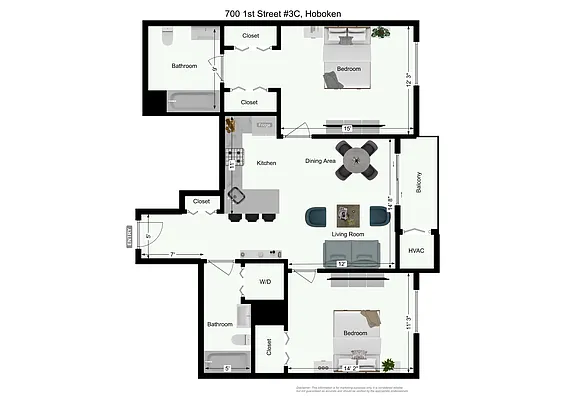 Do you dream about having more square footage? Check out this sprawling 2-bedroom/2-bathroom condo. At 1,144 square feet, it offers a vast living room, open kitchen with breakfast bar, and a private balcony to boot! A dishwasher and an in-unit laundry add convenience. Another good to know the building, Sky Club, is a full-service condo with a swimming pool, gym, and train shuttle.
View Listing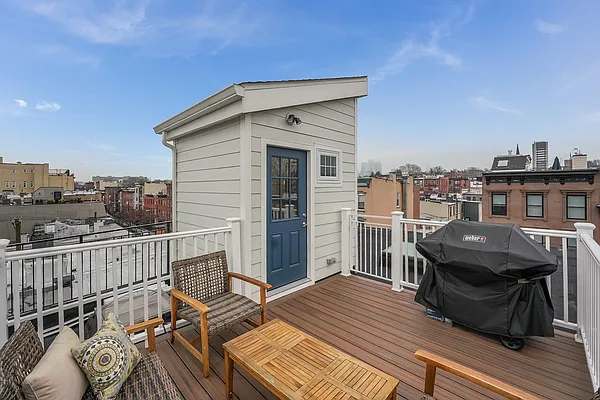 We end our tour of Hoboken homes under $700K on a high note. This sumptuous 2-bedroom/2-bathroom is topped with a lovely roof deck. Yup, the backdrop is the Manhattan skyline. A tasteful remodel boosts the original charm of this historic townhouse unit. You got to love that wood-burning fireplace, skylight, and custom tile in the pristine kitchen and bathrooms. Central air and dishwasher, too. Forget the West Village!
View Listing
Hoboken Rentals Under $3,000 on StreetEasy Article continues below