Many buildings in NYC go unnoticed — unless it's one of these luxury megawatt buildings. From their eye-popping interiors to glitzy amenities, they certainly grab attention. And it's no wonder, since they are the schmanciest luxury buildings in NYC. Here we share all the sparkling details. And for giggles, we also included the median asking rents and median sales prices in their neighborhoods. Grab a Dustbuster! We're about to do some serious name-dropping.
Midtown Homes Under $750K on StreetEasy Article continues below
Luxury Buildings in NYC: 220 Central Park South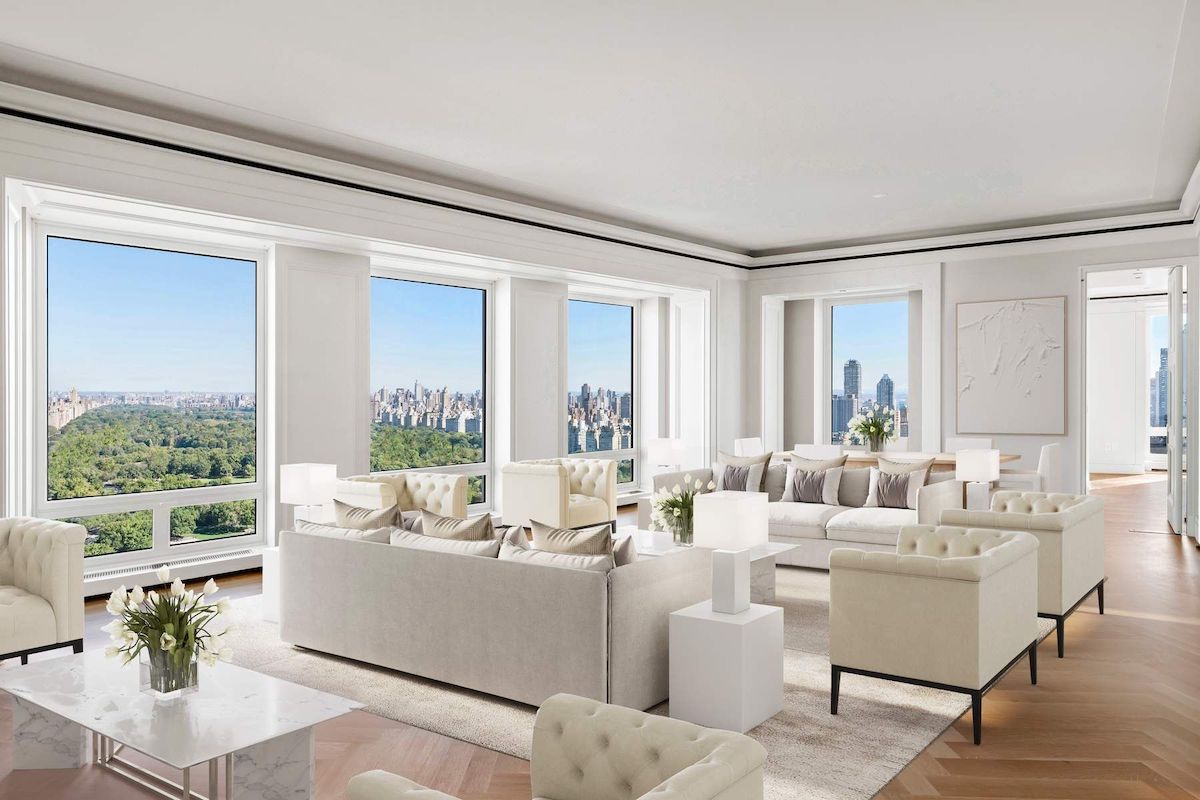 "Central Park South is the location where everyone wants to be, and it's almost a developer competition for who is going to build the newest, and the best, and the highest," says Brandon Abelard, a licensed real estate salesperson for Compass. This particular jewel in the crown of luxury buildings in NYC has made significant headlines lately for a good reason. Unlike other high-priced properties, the values of condos in 220 Central Park South have not only held steady. They've skyrocketed. Alibaba co-founder Joe Tsai plunked down $157.5 million for two units, up from $102.3 million only a year earlier. Billionaires flock to the building for its classical architecture by Robert A.M. Stern meant to summon the great days of Old New York. (Note the Alabama limestone facade and Juliet balconies that peep out over the rolling verdant Central Park.) Interiors are famously hush-hush, but this rental listing found on StreetEasy shares pristine herringbone floors and Art Deco-inspired millwork. Oh, did we mention amenities include a squash court, screening room, outdoor terraces, and an 82-foot saltwater pool? Aaaah.
How much does it cost to live near this swanky building in Midtown?
Median asking rent as of July 2021: $4,000
Median sales price as of July 2021: $1,587,500
Midtown Rentals Under $3,000 on StreetEasy Article continues below
30 Beekman Place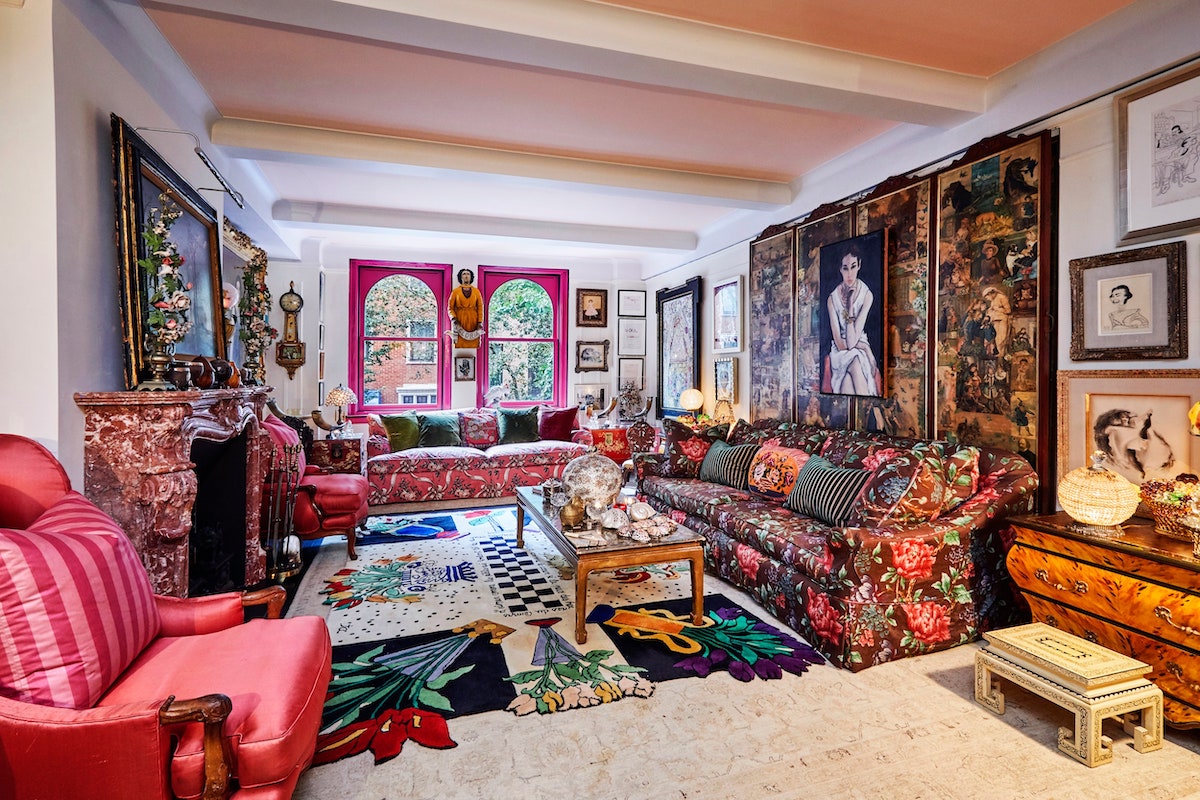 Heiress and socialite Gloria Vanderbilt was renowned for her top-notch taste throughout her life. (She even famously developed her own line of blue jeans, still being sold everywhere from Macy's to Kohl's.) Vanderbilt passed in 2019 after 95 glamorous years, leaving behind her vibrant Midtown East apartment — recently put on the market by her equally famous son, CNN anchor Anderson Cooper. Here is the listing for the three-bedroom, 2.5 bath home in one of the most storied luxury buildings in NYC. An absolute steal at $1,125,000, especially given the provenance.
Manhattan Rentals Under $2,500 on StreetEasy Article continues below
Wondering why this address was fit for American royalty like Vanderbilt? The 1931 apartment building is chockablock with charm, including high ceilings and amenities like a brand new on-site gym and bike storage (handy when the promenade along the East River is just half a block away).
Heads up, living near this building in fabulous Midtown East may cost less than you think!
Median Asking Rent as of July 2021: $3,305
Median Sales Price for the same period: $782,000
Upper West Side Homes Under $750K on StreetEasy Article continues below
Luxury Buildings in NYC: 432 Park Avenue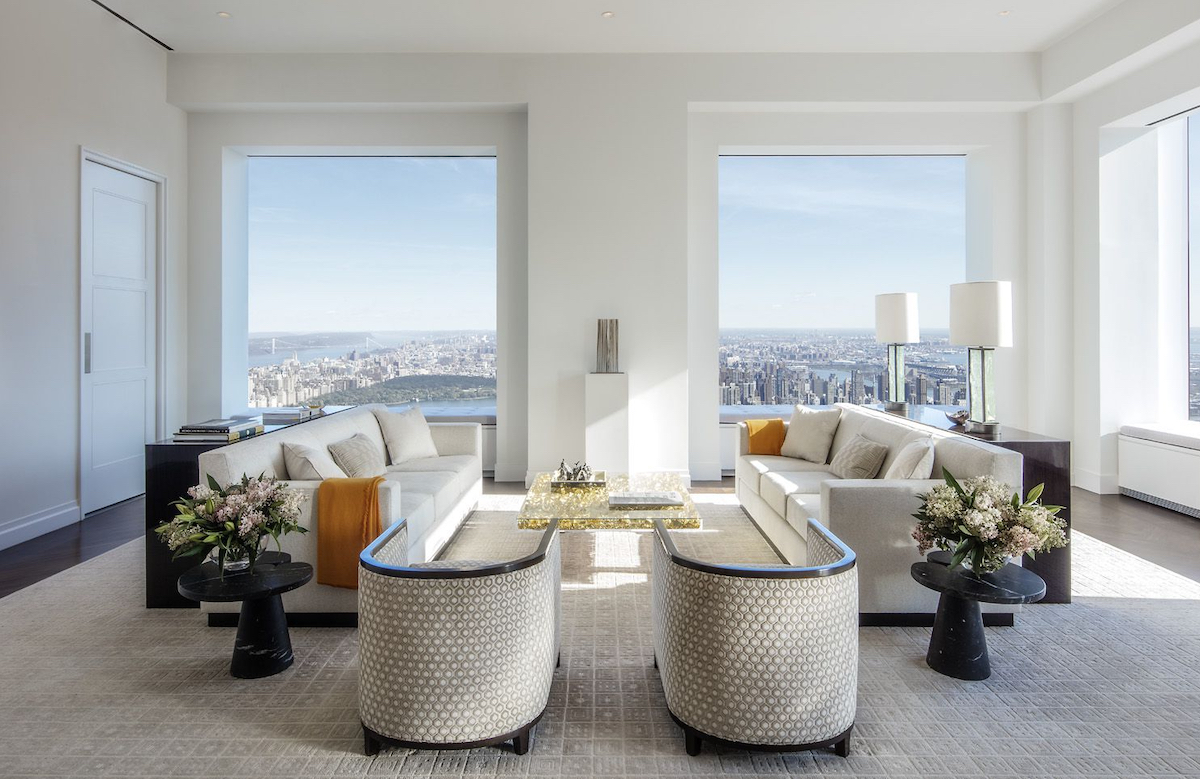 Want to stand apart from the pack? Behold one of the top luxury buildings in NYC. Literally. When it was built, it was touted as the most sky-scraping residential tower in the Western Hemisphere — thanks to its 1,397-foot-tall structure. (For comparison, the top floor of the famously teetering Empire State Building is 1,250 feet tall.)
It lives large, too. Amenities include temperature-controlled wine cellars befitting the most refined Michelin-starred restaurants. There's also a curated library, yoga studio, sauna, pool with steam room, plus a screening room that would put most Manhattan movie theaters to shame — you get the gist. Among the top luxury buildings in NYC, 432 recently made headlines because its penthouse was listed for a whopping $169 million. That's nearly double what it was purchased for in 2016, $87.7 million. Within its 8,255 square feet, the next homeowner will be able to roam a 93-foot long living and dining space and take in a panorama over Manhattan (from the 96th floor!) that stretches 360 degrees. The property includes the art and furniture inside, including pieces by Hermes and Fendi. It's real estate, "but make it fashion."
Of course, like many other expensive properties, this one, too, is in Midtown:
Median Asking Rent as of July 2021: $4,000
Median Sales Price as of July 2021: $1,587,500
Upper West Side Rentals Under $3,000 on StreetEasy Article continues below
118 Riverside Drive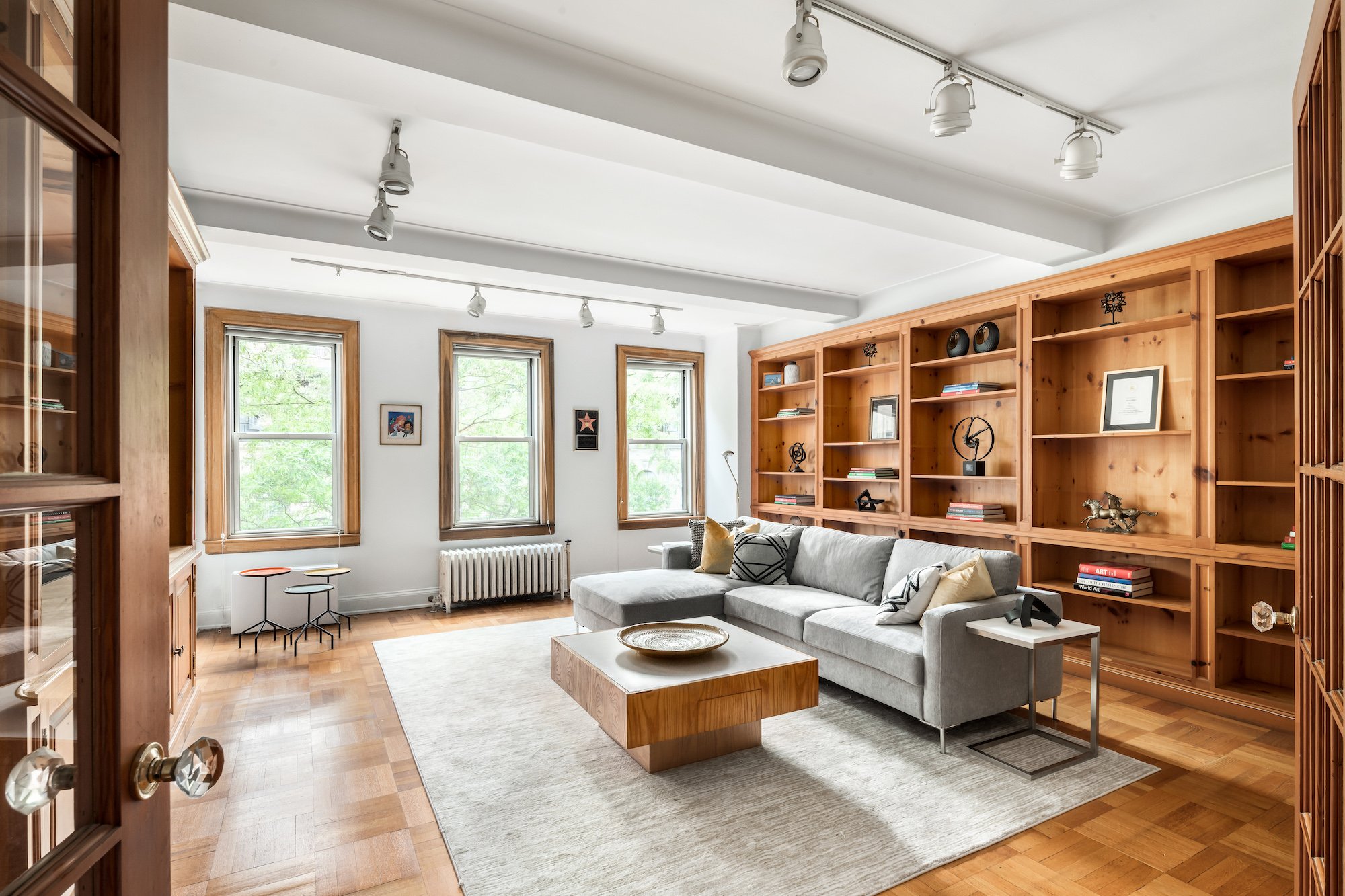 If your dream real estate amenities include "funny business," pay attention. Ben Stiller's Upper West Side childhood home — owned by his comedic parents, Jerry Stiller and Anna Meara — hit the market in July to the tune of $5 million. Tucked in a 1929 Renaissance Revival building where Babe Ruth once lived, the 3,700 square foot property combines the original unit they bought in the 1960s and an adjacent apartment the duo treated themselves to in the 80s. (Translation: it has not one but two kitchens, a salivatory perk for foodies). Herringbone floors and blonde oak built-in shelves have a Nordic feel. And windows in the fifth floor home overlook leafy treetops of 84th Street.
If you plunk down your hard-earned duckets for the property, which was still for sale as of September 2021, you may see it featured in an upcoming documentary project of Ben Stiller — who also used to own his own digs in the building. Call it a night at the Stiller Museum.
Here's what it may cost you to live in this uptown neighborhood:
Upper West Side Median Asking Rent: $3,195
Upper West Side Median Sales Price: $1,297,500
Lower East Side Homes Under $750K on StreetEasy Article continues below
One Manhattan Square
The water-facing condo tower on the Lower East Side is a true wonder: it's a jaw-dropper sheathed entirely in glass. Amenities are equally sleek and resort-worthy. Sunken tranquility garden, hammam and saltwater pool? Check. Bowling alley, basketball court, and golf simulator? Check. Alfresco grilling overlooking the Brooklyn Bridge? Le Duh. And it's all only the beginning of the pampering here.
Fans of The Bachelor will recognize the luxury building in NYC's most famous roomies, Tyler Cameron and Matt James. Combined, they have more than 3 million Instagram followers and counting, not to mention major fans for their nonprofit food tours for low-income students, ABC Food Tours. *Like.*
And YES, you will find more affordable places to live in this downtown neighborhood:
Lower East Side Median Asking Rent: $3,219
Lower East Side Median Sales Price: $900,000
Lower East Side Rentals Under $3,000 on StreetEasy Article continues below
Luxury Buildings in NYC: 15 Central Park West
Another Robert A.M. Stern-designed retreat, this tower was once home to Sting (who reportedly moved to its younger, flashier sister, 220 Central Park South, when it opened). Emily Ackerman, a licensed real estate salesperson and principal and founder of The Catalyst Team at Compass, says it's an incredible building. "It has a ton of amenities. It also is very 'white glove'; the minute you set foot in there, there's people on you to assist." she says. "It's very exclusive; you have to have a high net worth to live there, so there's a lot of security in addition to really high amenities."
Ackerman loves the classic motor court — a cinematic welcome home rare in luxury buildings in NYC. Other amenities include manicured gardens, a gym with a 75-foot-long lap pool under skylights, and even an in-house chef option if you feel like a perfectly executed dinner without stepping out. Proof it's topnotch: Denzel Washington, Robert De Niro, Mark Wahlberg, and Kelsey Grammer have called it home.
Luckily, you don't have to be an extremely wealthy celebrity or CEO to call this neighborhood home:
Upper West Side Median Asking Rent: $3,195
Upper West Side Median Sales Price: $1,297,500
Here are more Central Park neighborhoods to know.
15 Hudson Yards
Designed by starchitect David Rockwell and Diller Scofidio + Renfro, this sculptural 88-story tower seems to flow directly from the arts center The Shed and the Vessel. You're likely to have a postcard-worthy peek from any unit (yup, that's the Statue of Liberty). But we won't blame you if you keep your eyes indoors. Amenities include a de facto spa that spans the entire 50th floor, with floor-to-ceiling glass walls and a 75-foot-long swimming pool (plus a gym, sauna and steam room, natch). Need a blowout for a hot date? Proceed directly to the in-house salon. If you want the feeling of going out without hailing an Uber, you'll delight in the sky-top terrace and lounge. It has all the glam factor of a five-star hotel bar but none of the jostling for a seat.
Plus, pampering here is among the best of all luxury buildings in NYC. It includes a 24-hour concierge, pet spa, and underground parking garage. But all of this goodness will cost you. A four-bedroom, five-and-a-half-bath unit recently sold for a cool $22 million. Which honestly, compared to some of the rest of the residences we've mentioned here? Not bad!
Midtown West Asking Rent: $3,431
Midtown West Sales Price: $1,200,000