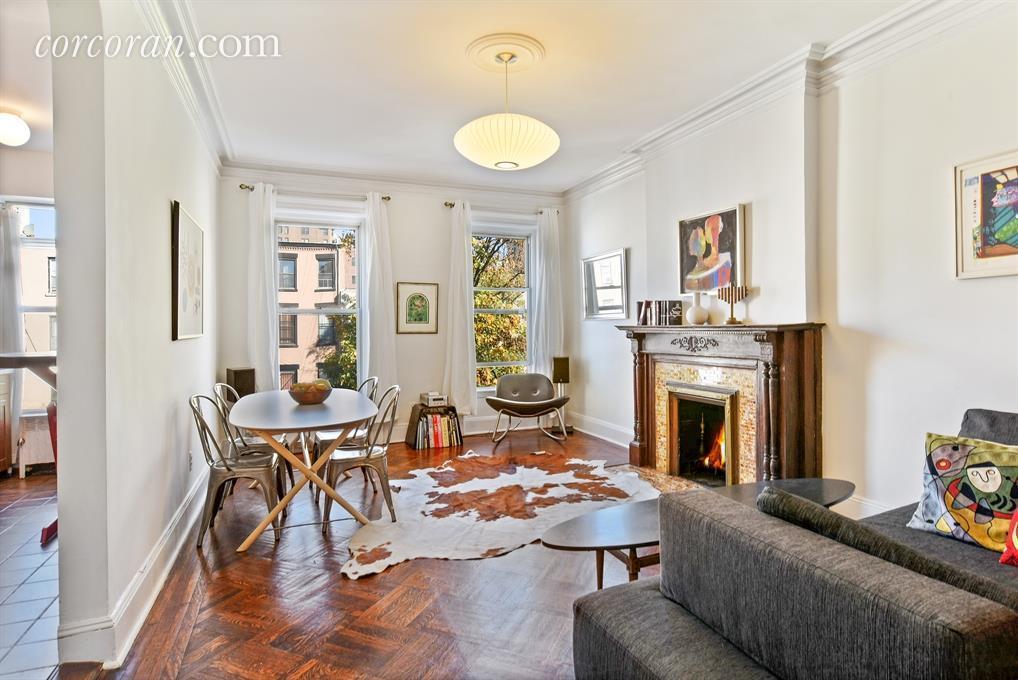 This $899K two-bedroom at 849 Carroll Street in Park Slope came on the market less than a week ago and has been a huge hit among StreetEasy users. In just five days it has been saved 119 times and has gotten over 1,300 views. It's clearly quite popular and there are some strong indications why.
The listing images are without a doubt stunning and the location is pretty unbeatable. Of the many fine blocks in Park Slope, this apartment is arguably on one of the nicest.
Located on Carroll Street, between 8th and the Park, it's on a block lined with lovely limestone townhouses, wide sidewalks and Greenwich, CT-caliber planters and window boxes. (Jennifer Connelly and Paul Bettany's former townhouse is on the corner and recently sold for $12.5M, laying claim to the most expensive home ever sold in Brooklyn.)
So does this two-bedroom merit the hype? Is it a steal? Here we offer a list of pros and cons. Check them out and you be the judge!
Pros
The location. Really, this block is one of the Slope's best. It's less than a block away from Prospect Park and a short walk from Grand Army Plaza where you can sate all your local, organic produce needs at the weekly Saturday Farmer's Market.
The co-op is in mint condition. No need to invest in fixing windows or repolishing floors. This place is turnkey.
All the kitchen and bathroom appliances are new and high-end.
The living room offers a characteristic Park Slope mantel and legit, working woodburning fireplace.
The master bedroom is huge and offers south-facing bay windows.
The building is zoned for PS 321, one of the most coveted public elementary schools in the city.
The apartment offers great transportation access – the 2/3 at Grand Army Plaza is less than five minutes away.
The apartment offers private rights to the roof
The building is pet-friendly
There are only four units in the building
The co-op charges low maintenance fees – $861/month
Cons
The unit is a fourth floor walk-up.
The roof deck is not finished and requires landscaping and the construction of safety rails.
There is only one bathroom.
The second bedroom is small.
The second bedroom is directly off the master bedroom and offers no private entrance.
There are no closets in the second bedroom
There is only one main living space so the living room serves as the dining room as well as a TV room and playroom
The washer-dryer is shared and in the basement
Related: