A new apartment development in the West Farms section of the Bronx has just opened an affordable housing lottery for nine apartments at 866 E. 178th Street. Nine of the building's total 40 units are being made available to qualified applicants whose incomes are at 80 percent of the area median income.
Four 1-bedroom units will be priced at $1,348 per month and an additional five 2-bedroom units will lease for $1,521 per month. Income levels of qualified applicants can range from $46,218 for a single person up to $76,320 for a 4-person household.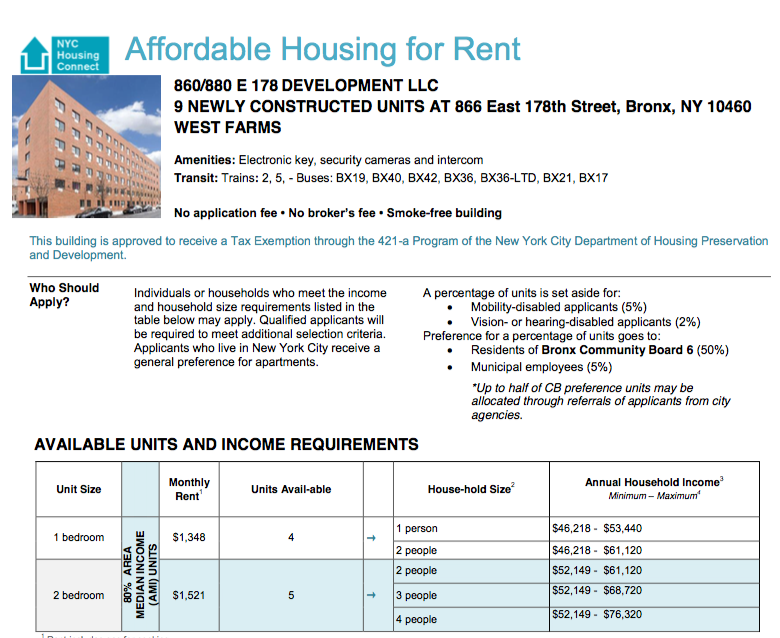 The building is accessible with an electronic key with security cameras and intercom surveillance. Accessible public transportation includes the 2 & 5 subway lines and buses: BX19, BX40, BX42, BX36, BX36-LTD, BX21, BX17.
The 6-story building was developed by Kim Tasher with Badalay Architects as the design group. The building redeveloped a corner lot once occupied by a frame house in a section of the Bronx that is seeing a number of mid-sized multi-family buildings being developed.
The lottery is open now through June 7. To apply online, visit NYC Housing Connect. To request an application by mail, send a self- addressed envelope to: 860/880 E 178 Development, LLC, PO Box 2041 New York NY 10159.

Related: