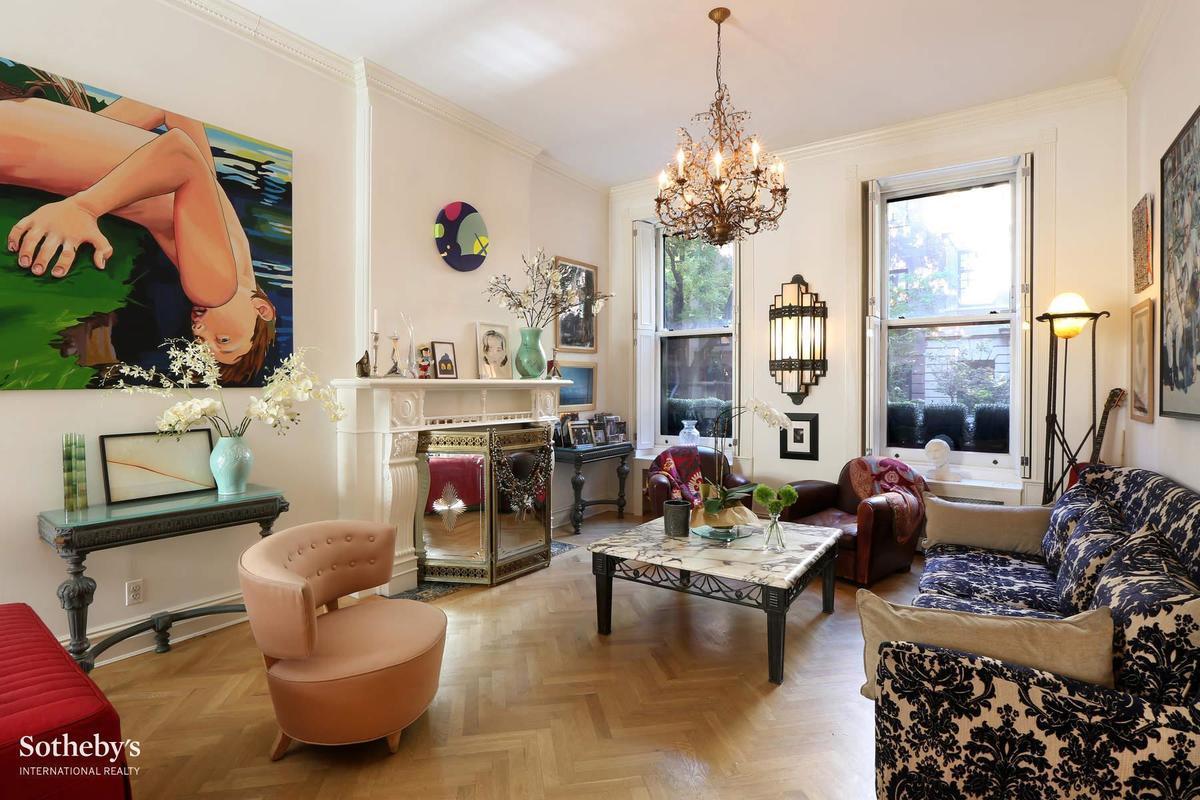 Ann Dexter-Jones, the ex-wife of Foreigner guitarist Mick Jones, is selling her Greenwich Village duplex and moving in with her new husband, Foreigner guitarist Mick Jones. Yes — you read that right. According to the New York Post, the couple remarried this spring after divorcing in 2007. Her 2,000-square-foot, 2-bedroom, 2-bathroom home hit the market today for $4.995 million.
After the couple's break-up, Dexter-Jones, a jewelry designer and downtown socialite, purchased the duplex at the Portsmouth — an upscale, Gilded Age-era building at 42 West Ninth Street — for $1.795M. After nine years, the apartment is back on the market for a substantially higher price.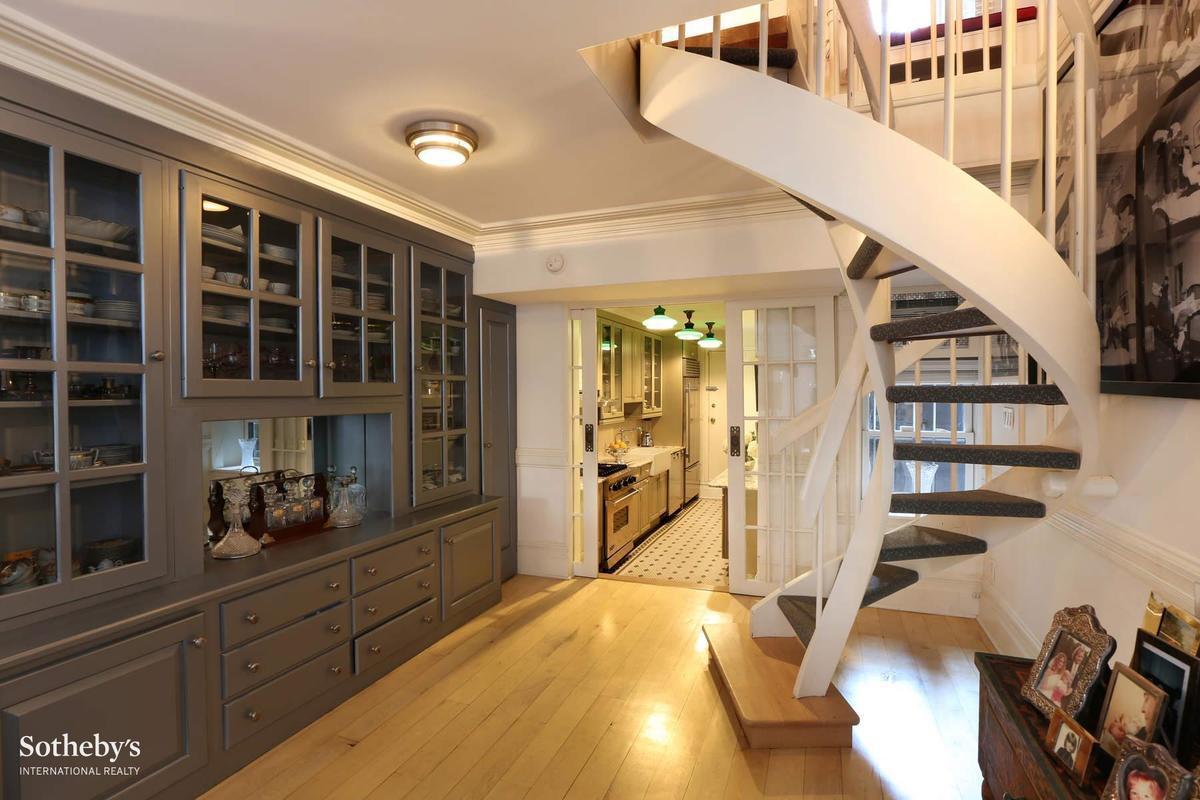 Although the duplex belonged to Dexter-Jones during her stint as a rock 'n' roll ex, it looks like it could easily appeal to a current band frontman, or perhaps some rock offspring.
In fact, Dexter-Jones herself has raised some badass children. With Mick she had two kids: the actress Annabelle Dexter-Jones and the DJ Alexander Dexter-Jones. She has three more kids from a previous marriage: Grammy-winning music producer Mark Ronson, designer Charlotte Ronson, and DJ Samantha Ronson.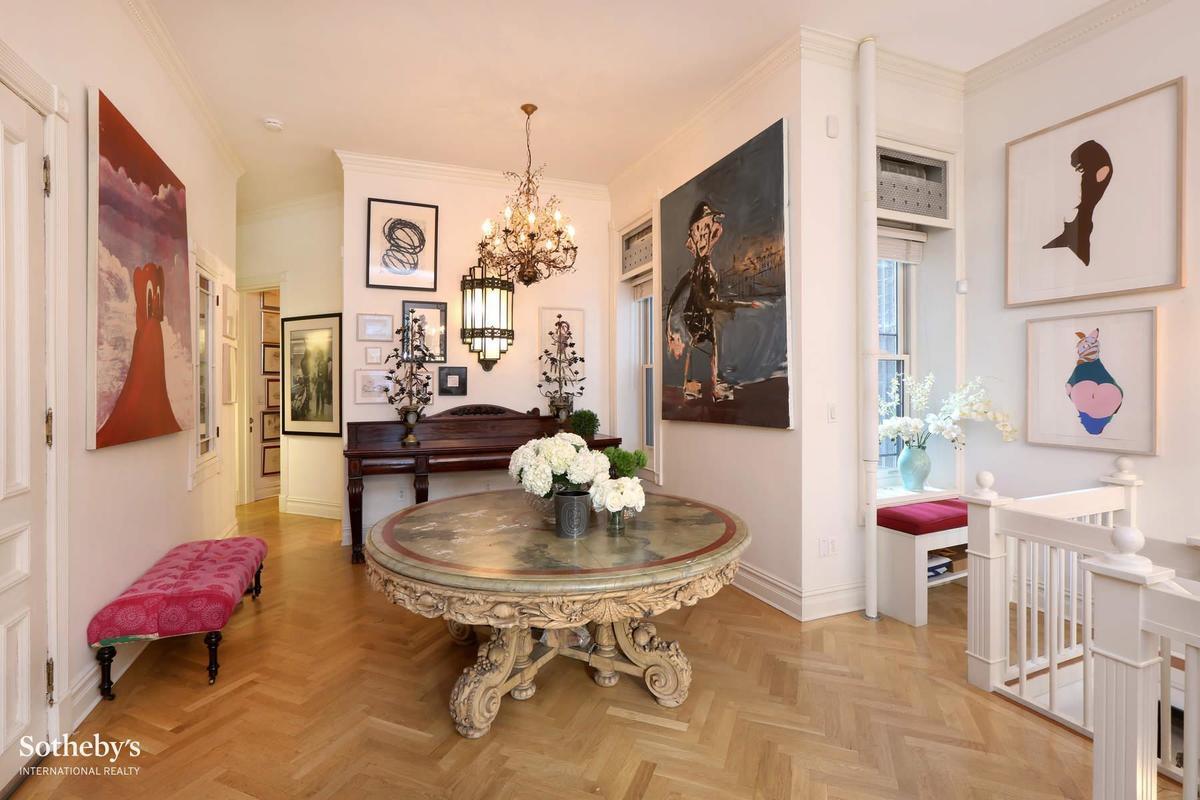 The duplex is a 2-bedroom, with a design ethos that could be defined as "bohemian pastiche." Leather upholstery, red velvet and baroque-inspired tapestry all are thrown together with free-spirited disregard for homogeneity.
An eclectic collection of abstract and figurative art is stacked right to the top of the 11-foot ceilings. Pendant lamps dangle throughout, giving the duplex an intimate feel that's aided by four wood-burning fireplaces.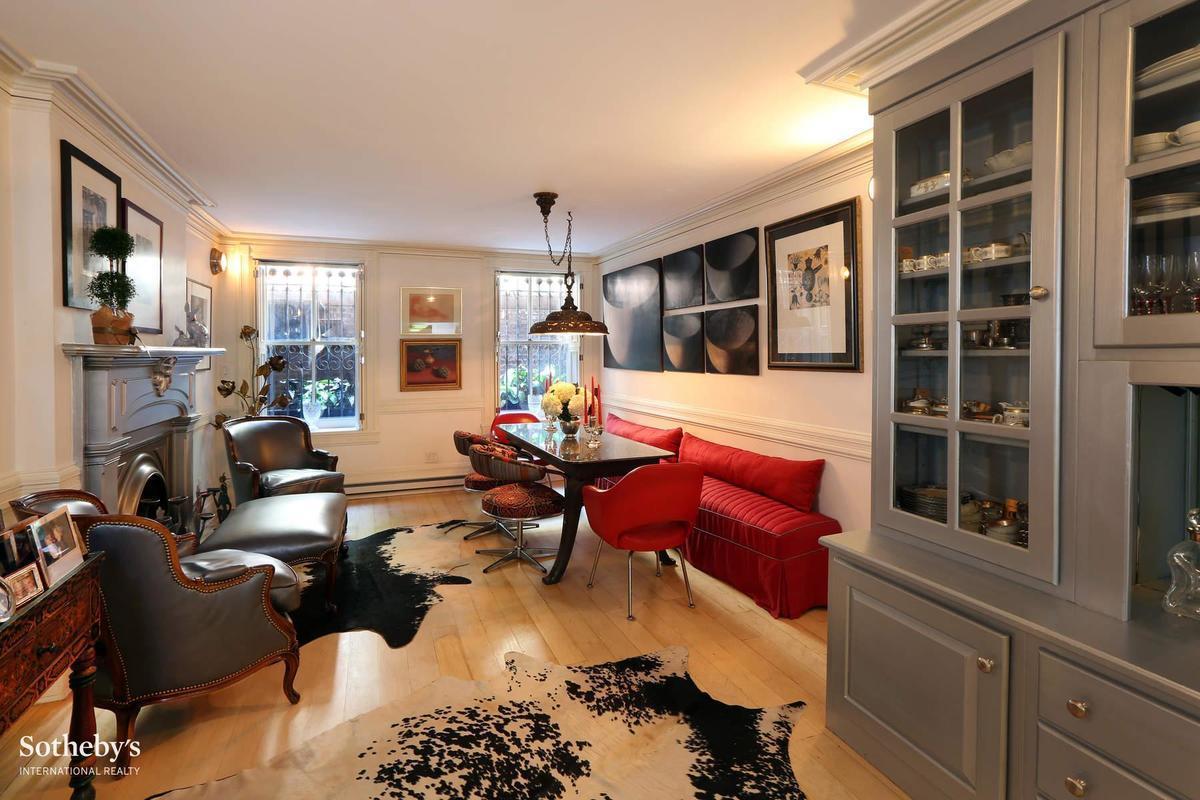 What truly takes the cake here is the marble-clad master bath — the stuff of rockstar fantasy. It's not clear exactly what purpose that golden chair serves, but we'd guess it's more than a place to toss your towel.
The lower level has been remade into something between a home office, rec room and lair. It features low ceilings, exposed beams and brick, and a super-comfy-looking couch. The cumulative effect is of the perfect post-concert crash pad. Couldn't you imagine sleeping off a nasty hangover in this little nook?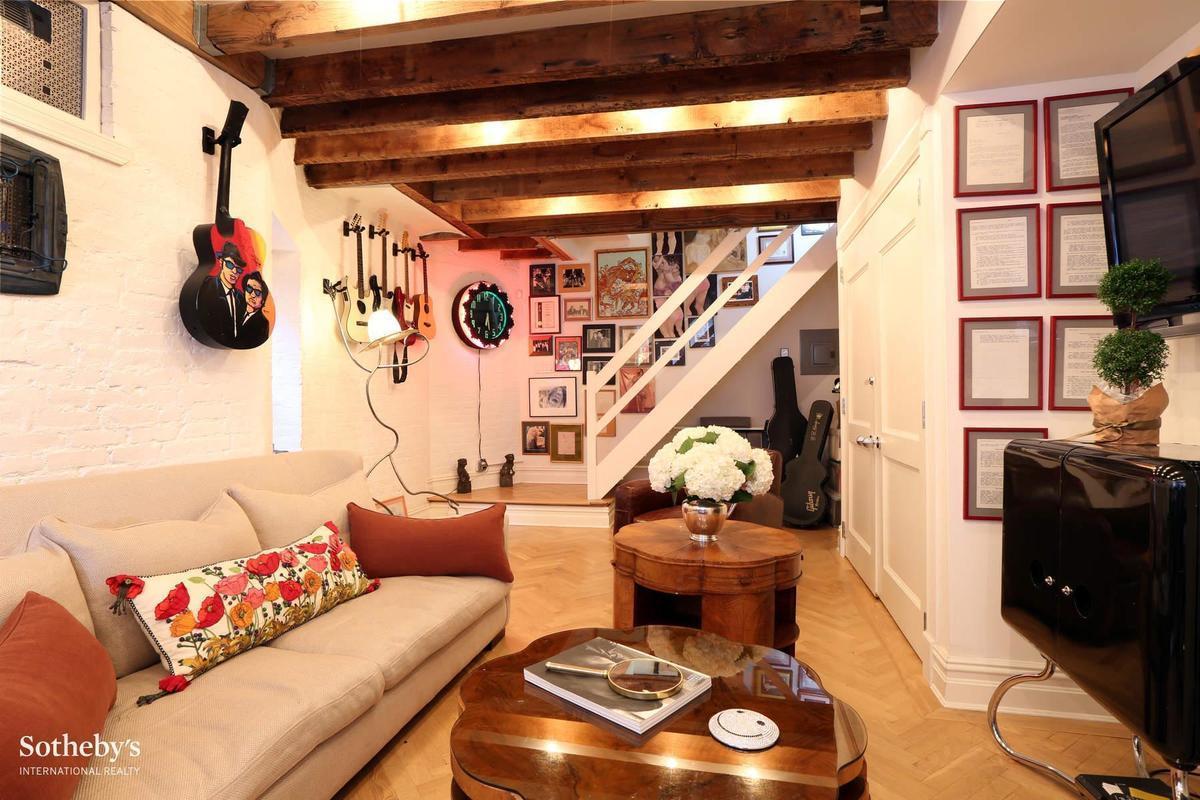 On quieter nights, the upstairs master bedroom offers slightly more elegant accommodations.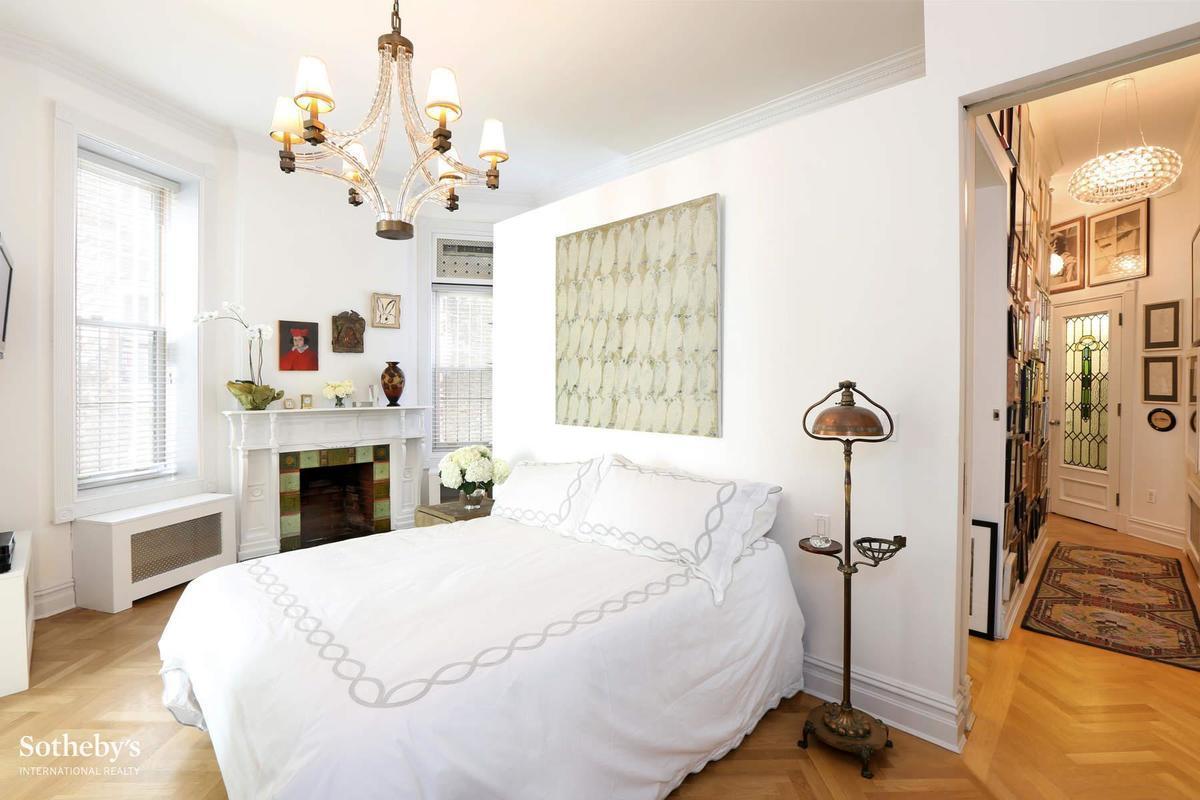 Dexter-Jones' listing of the duplex marks the second major blow to the Village's roster of rockstar residents. Earlier this week, Keith Richards listed his $12M duplex just around the corner at One Fifth Avenue. There goes the neighborhood!
—
Hey, why not like StreetEasy on Facebook and follow @streeteasy on Instagram?
Related: