NYC apartment hunting often comes down to trade-offs, especially when it comes to apartment amenities. According to a recent StreetEasy poll of our Instagram followers, 90% of New Yorkers said they had to compromise on at least one amenity during their apartment search.
To provide greater flexibility during the search process, StreetEasy recently launched StreetEasy Flexible Search, which enables renters and buyers to specify which unit and building amenities are essential versus those that are nice-to-have. Now, apartment hunters can be confident they're seeing all the possible listings that meet their criteria within a single search.
For example, a renter or buyer might feel private outdoor space is a nice-to-have, and would be willing to forgo this if their other search criteria are met. The video below shows how StreetEasy Flexible Search works!
Brooklyn Homes Under $750K Article continues below
And we know New Yorkers are benefiting from all the new listings they're uncovering.. Since StreetEasy Flexible Search launched, we've found home searchers are 20% more likely to save and 34% more likely to contact an agent on listings that don't include all of their nice-to-haves, but include their must-haves.
So what apartment amenities are New Yorkers not willing to compromise on? Check out the top ten list below!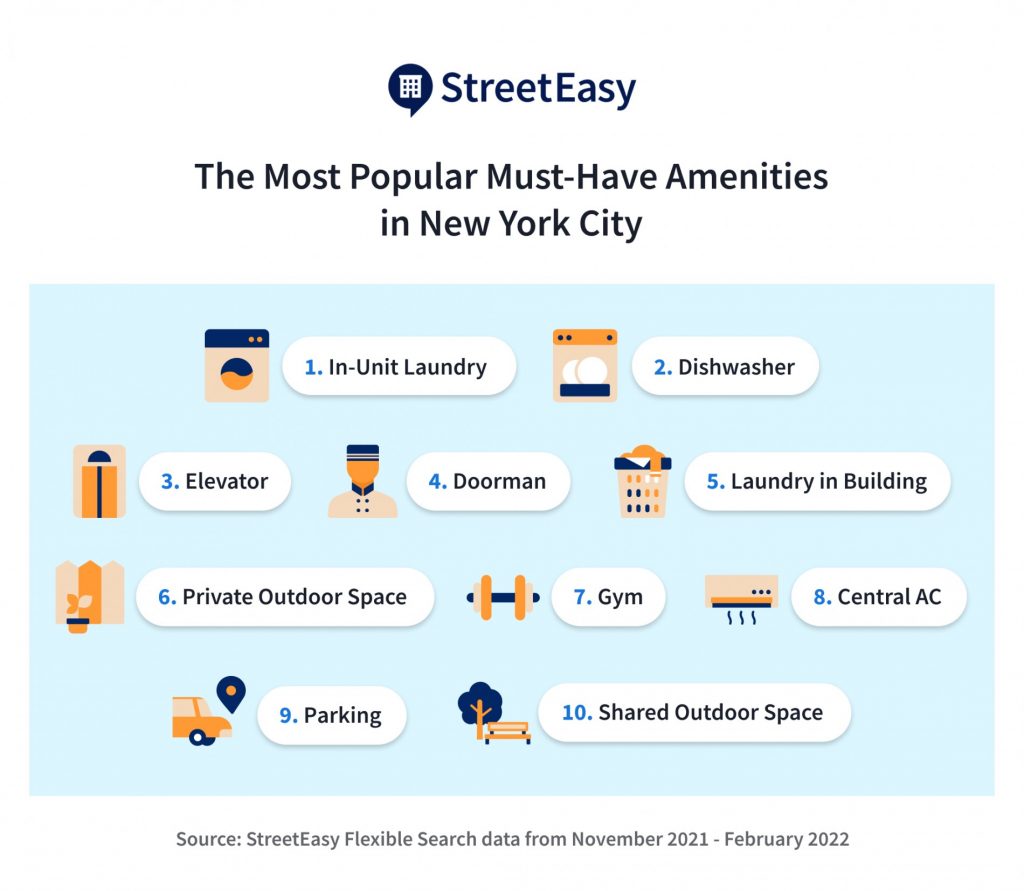 Renters and Buyers Have Slightly Different Priorities
For the most part, renters and buyers have the same list of must-haves. The order of which the amenities are ranked is the only difference. For both groups of searchers, in-unit laundry comes in at number 1.
For buyers, an elevator, doorman, and dishwasher come in 2nd, 3rd, and 4th place. For renters, a dishwasher comes in 2nd, elevator is 3rd, and doorman is 4th, so the rankings are slightly different.
Focusing on the top of the must-have lists for these two groups, the differences in ranking likely comes down to expectations. When it comes to a dishwasher, those with a budget to purchase a home in New York City may expect that their future home will already offer a dishwasher, especially if they are looking in buildings with a doorman and elevator. For renters, this may not always be the case, so marking a dishwasher as a must-have is a safe way to ensure they are getting what they want.
Manhattan Rentals Under $3,200 Article continues below
New Yorkers Want Washers and Dryers
In-unit laundry is the holy grail of New York City real estate. Since the pandemic, it has become the top must-have for more and more renters and buyers. Further down in fifth place is laundry in building — likely because if a renter or buyer does not prioritize in-unit laundry, they may require communal laundry rooms so they don't have to haul their belongings to the laundromat down the block.
Searchers who would love a washer and dryer, but are willing to give it up if an apartment has everything else on their list, can simply mark it as nice-to-have to widen their search. When looking at the data for the top nice-to-have amenities, in-unit laundry also came in at number one, meaning it takes the top spot across the board.
City Dwellers Want Outdoor Living Space
At six on our list is private outdoor space, an apartment amenity that was added as a StreetEasy search filter last year amid the pandemic. Many people are spending much more time at home than they used to if they're working remotely. So, of course, having your own slice of the outdoors is a game changer. Homes with private outdoor space can be more expensive, so renters and buyers can also require that the apartments they're searching for at least have access to shared outdoor space, which came in at ten on our list. Our data shows that the outdoors – whether public or private – is a clear priority for New Yorkers.
On our list of the amenities most marked nice-to-have, private outdoor space nabbed third place which tells us that many New Yorkers would love access to some fresh air, but are willing to let it go if another unit has everything on their must-have list.
NYC Homes With Outdoor Space Under $1M Article continues below
Parking Spots Have Become a Necessity for Some
Car ownership in New York City has risen significantly since the pandemic, and outdoor dining has made finding street parking even more difficult. That combination could be the reason for parking sliding into the number 9 spot on our list of must-haves for New Yorkers .Before searching by must-haves and nice-to-haves was available on StreetEasy, parking did not land on our list of top amenities for New Yorkers.
Whether you're a renter, buyer, or are daydreaming of a wrap-around private terrace with water views, it's a good idea to get smart about the market while also learning about all of the search tools available at your fingertips. The rentals and sales markets are in the midst of a resurgence, and understanding the data is a great way to get ahead of the competition. For a neighborhood by neighborhood breakdown of prices, inventory, and so much more, the StreetEasy Data Dashboard will be a great resource.
How We Did It
This analysis consists of anonymized user searches from both buyers and renters from November 2021 – February 2022. An important note on pets: pets allowed is not an amenity that can be marked as a must-have or nice-to-have, because if a dog, cat, or other furry friend is involved, we all can agree they're always going to be the #1 must-have.