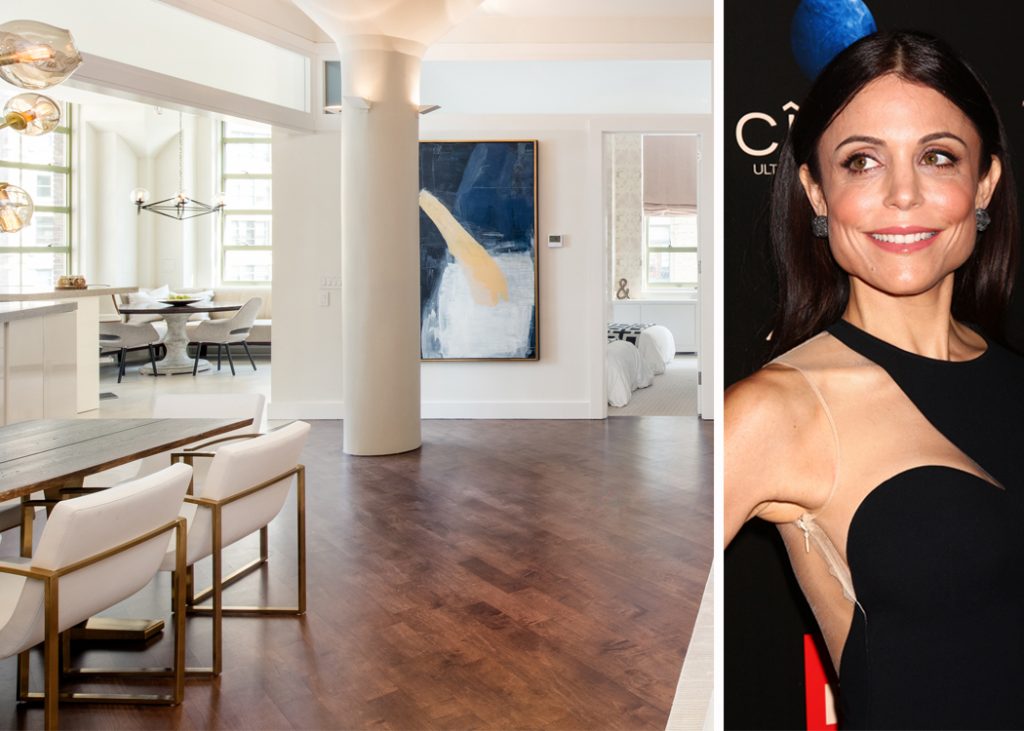 With more than 3,600 square feet, a brand-new renovation, and an incredible walk-in closet, it might seem like Bethenny Frankel's Tribeca loft could sell itself. But the Real Housewife and founder of the Skinnygirl empire knew to bring in the pros: "Million Dollar Listing New York" broker team Fredrik Eklund and John Gomes, plus designer Cheryl Eisen of the luxury staging and design firm Interior Marketing Group. The result? The home sold for full asking price ($6.95 million!) one day after hitting the market.
Below, Eisen shares the design tips that made Bethenny's home ready to sell.
What were your initial impressions of the home?
It was a great space, but was too taste-specific. I could tell that the main challenge was trying to convince Bethenny to let me completely refurnish it. Selling a home is all about broad appeal, not about showcasing taste-specific design choices. Unique furnishings, famous works of art and overly quirky accessories are all great when personalizing a home, but they can distract a buyer from the actual selling features of the property.
What was it like working with Bethenny to redesign her home?
Bethenny knows what she likes, and what she doesn't — probably why she's so successful. This was the first time we've worked together, so she was understandably hesitant to hand over such an important and valuable asset and tell us to run with it. The first time we walked the unit together, she, like most homeowners, still had an emotional connection to the space she had helped design, as well as to the things in it. It was initially hard to convince her to let us remove all of the perfectly nice furnishings that were already populating the space — things she chose and had lived with. Fredrik and I were able to convince her to give us a clean slate and let us do what we do … and she finally did just that.
What parts of the home were you most interested in showing off and why?
The living room had a great open loft feel, which is hard to find, and it's usually the most important space to buyers. That said, the youth rooms we designed happened to be unusually adorable.
Which parts of the home presented the greatest challenges, and how did you fix them?
The master bedroom had a very taste-specific wallpaper that we weren't allowed to remove. The fix was building a custom oversized headboard, flanked by two large mirrors.  This disguised the pattern, while our signature color palette neutralized the room and created a calm that's essential for a master bedroom.
What were some of the major changes you made to the apartment?
We replaced every piece of furniture with lighter, lower-profile items, to accentuate the ceiling height and create a more "sellable" and cohesive scale. We created the feeling of additional light and space using our strategically placed, signature oversized mirrors. We neutralized two rooms which had very taste-specific wall paper by working with it — not against it — to tone it down and make it less of a focal point. Lastly, we updated the lighting and artwork to create an aesthetic with broad appeal without taking the focus off of the great bones of the space.
What were some minor changes you made that had a major impact?
We removed the large, custom Skinnygirl-branded bar from the living room. It was a very cool piece — but it would have been a distraction to buyers. 
Are there any other special considerations when designing a well-known or celebrity apartment?
Celebrity appeal can be a selling point to some extent. We have to reflect some of the unique personality and character one would expect that specific celeb's apartment to have.  Overall, Bethenny's no-nonsense personality was reflected in our bold yet modern design.
Did Frederik [Eklund] or John [Gomes], the listing agents, have any feedback on the design of the apartment? 
Fredrik and John know buyers, branding, and how the two intersect to quickly attract their target demographic. When they have specific input and a unique strategy in mind, we listen. Most brokers play a role in the strategic direction the design will take. In this case, they wanted to make sure we created a brand-new look, which would appeal to the hip, SoHo family buyer. That's exactly what we did.
What was Bethenny's reaction to the apartment?
Bethenny has very high standards, and she was very hesitant to let a stranger completely redo her loft.  While I was 100 percent sure that she was going to love the finished product, it wasn't easy getting her to completely trust the process and not even look until it was completed. I knew she had finally seen the reveal when I got a message from her that simply read " You're very talented." It totally made my day!
—
Hey, why not like StreetEasy on Facebook and follow @streeteasy on Instagram?
Related: