We recently featured this 2-bedroom, 2 bathroom Park Slope condo as one of our weekly Most Popular listings. With its bright and airy interiors and dual outdoor spaces, it was easy to love! So, we were surprised to learn that the apartment didn't start out that way. Rather, agent Eric Sidman called on Porter and Hollister Hovey, sisters and the duo behind Hovey Design to give the home a refresh before placing it on the market. Learn how their changes helped this apartment become one of StreetEasy's Most Popular listings and sell 2 percent above the asking price!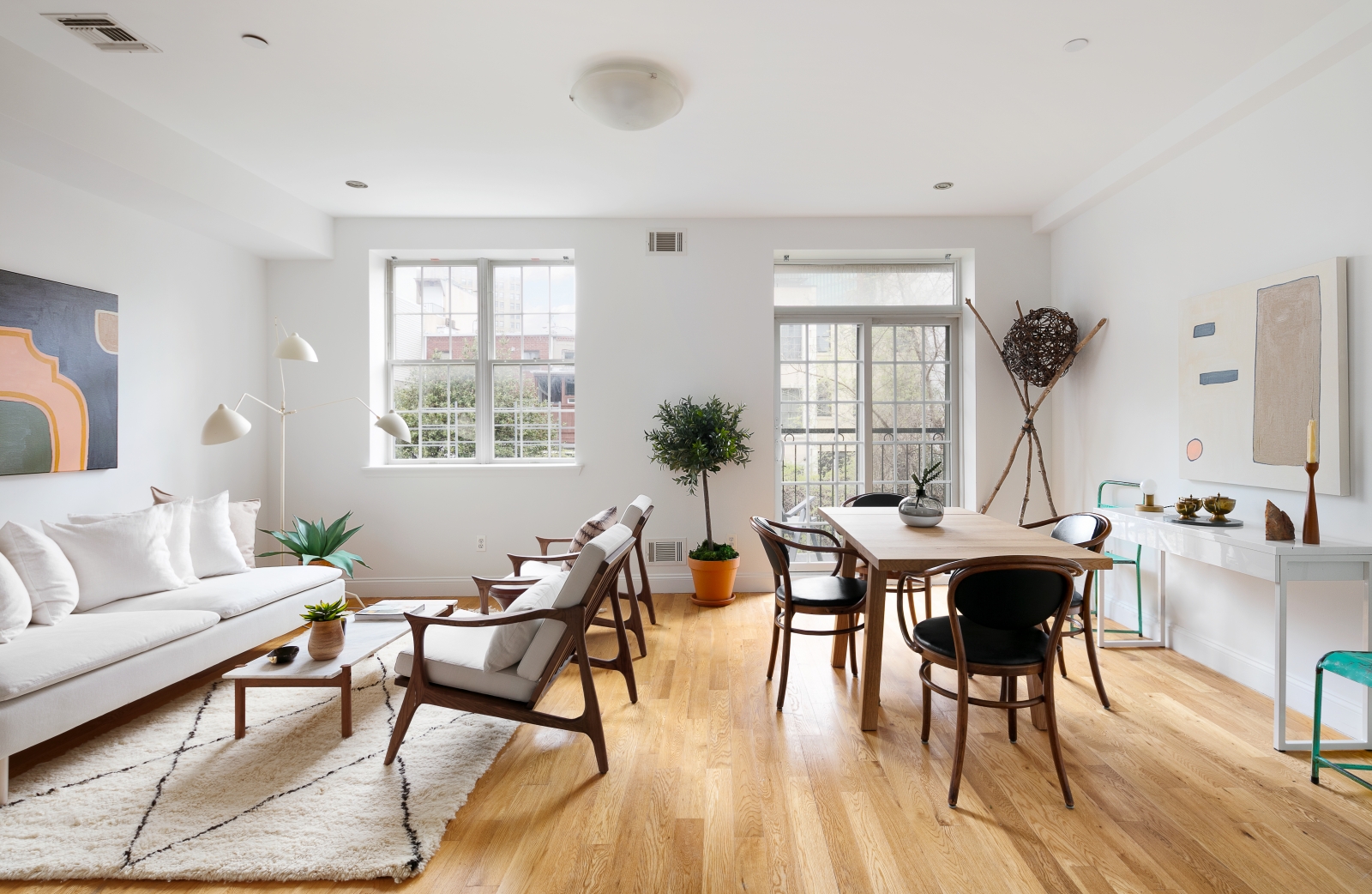 A FRESH COAT OF PAINT IS EVERYTHING!
Upon seeing the apartment for the first time, Porter and Hollister knew a few small changes could go a long way: "The space seemed fantastic and really livable. However, a few out-of-date light fixtures and yellowish-oak kitchen cabinets dated the overall aesthetic tremendously."
Thankfully, the quickest and most impactful change was easy to come by: A fresh coat of paint (they favor Benjamin Moore's Decorator's White).
They warn: "This is not the time to be creative. Buyers are looking for a fresh start with a clean slate, free of the clutter and baggage that was bogging them down in their old home. Nothing helps create this illusion more than crisp white walls."
For $1,500 the cabinets were repainted, which allowed the space to "flow." The results were "immeasurable" says Hollister, "and looked as if the owner had invested thousands in a renovation."
Kitchen BEFORE:
Kitchen AFTER: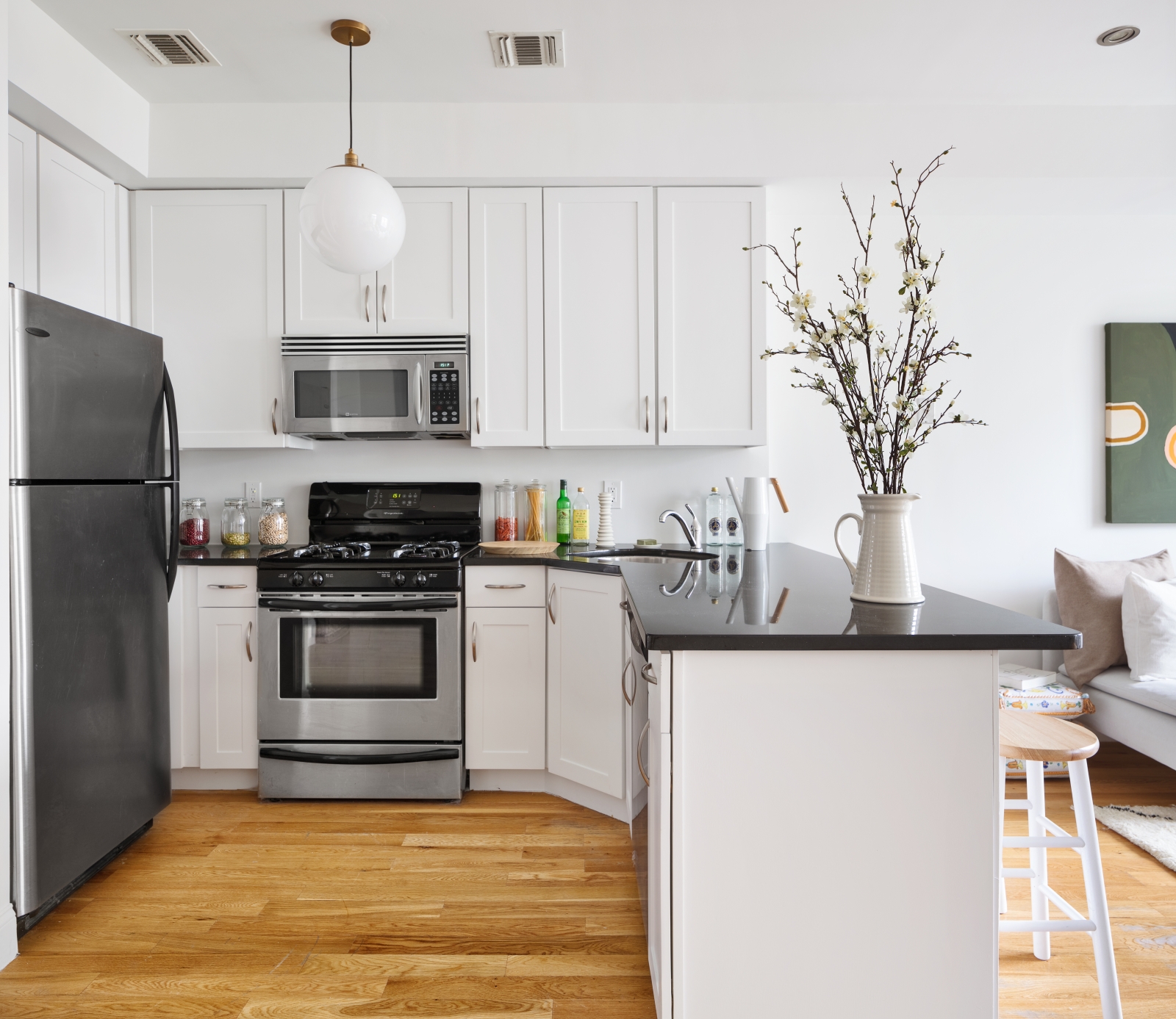 LIGHT THIS WAY:
After tackling the kitchen, Porter and Hollister turned their attention to the apartment's lighting fixtures. "This is a really quick fix," they say, advising to "swap out anything ornate or with a faux metal finish."  The kitchen's stainless steel track lighting was swapped for a solid colored, glass milk shade pendant while simple sconces with 4 to 5-inch incandescent round bulbs are reserved for bathrooms.  The added changes from the lighting changes helped give the home a more "contemporary" feel, Hollister says.
Living Room BEFORE:

Living Room AFTER: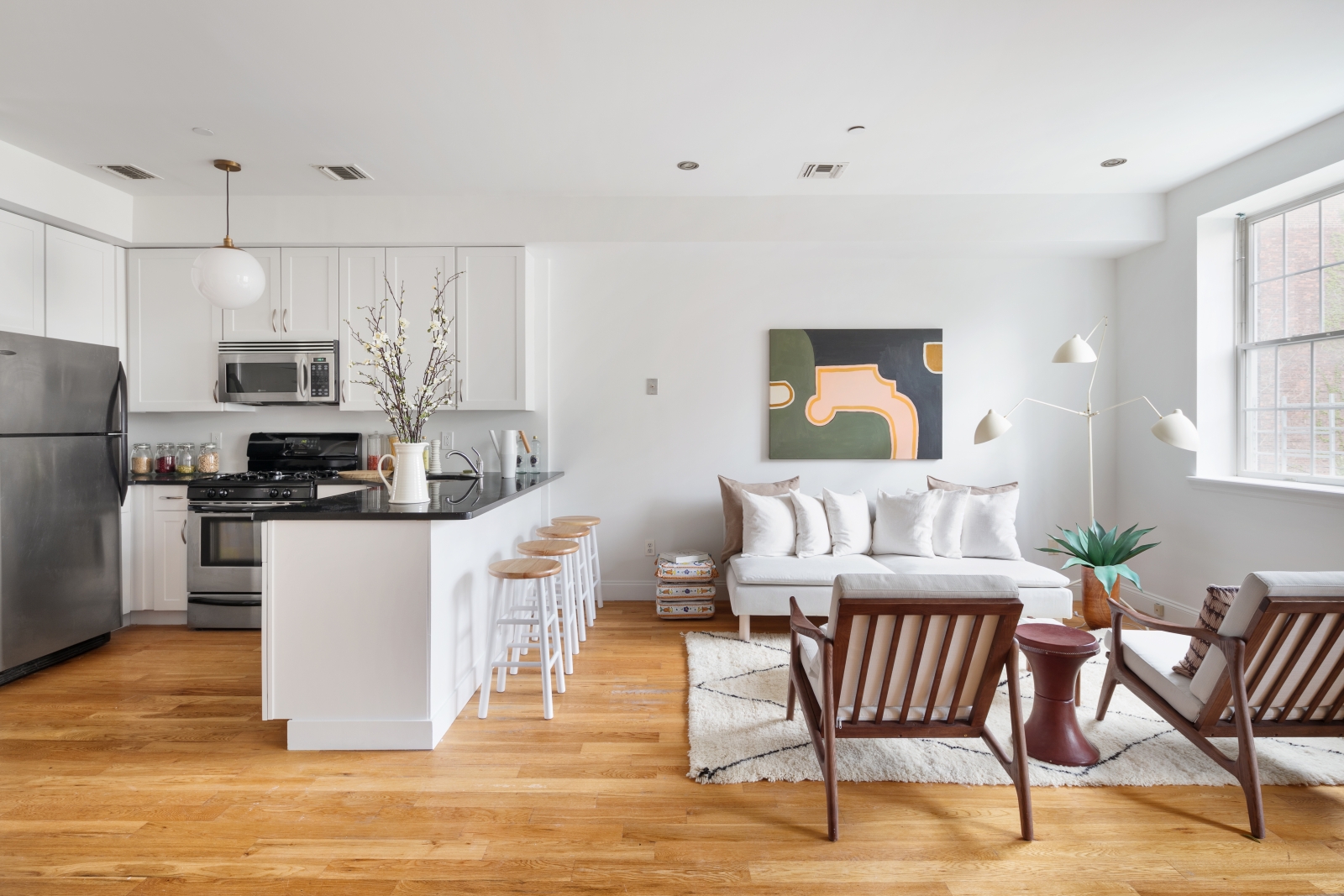 MAKE YOUR BUYERS FEEL AT HOME:
The final step to getting the space ready for the market, required Porter and Hollister to envision who the new homeowner might be. "We want buyers to feel like they've come to the best version of their own home. For most people, it's going to be the most important and expensive purchase of their life."
To help accentuate the space's freshly painted and updated feel, the designers brought in modern, light-colored and streamlined artwork and furniture. The key was to select the "right combination of furniture that would appeal to that Park Slope buyer." Most importantly, the goal was to highlight the apartment's amazing space. "We never really want to hide anything. It's more about putting the apartment's best foot forward.
Bedroom BEFORE:

Bedroom AFTER:
Photography: Donna Dotan Photography