The New York City apartment checklist usually includes some combination of washer-dryer, closet space, central A/C and maybe if you're really ambitious, a bit of outdoor space. But a kitchen big enough for entertaining? Ha — in your dreams! Well, not so fast. Apartments in New York City can have great kitchens for hosting friends and entertaining guests, just don't expect to find a pizza oven or a wine fridge. Here are our picks for the best kitchens for entertaining.
Are Your Guests Cool Enough for This Color Coordination?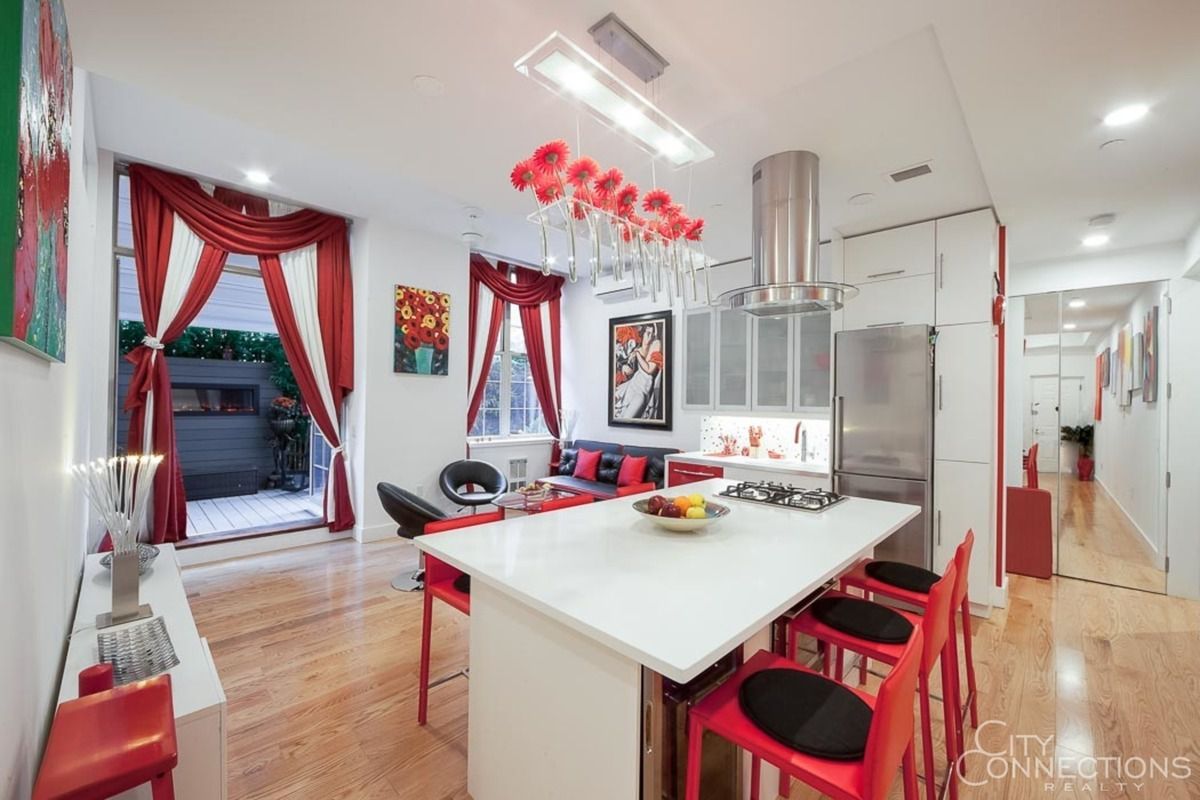 Entertaining is a must in this two-bedroom condo at 310 West 120th Street in Harlem. Not only does the kitchen open directly onto a private patio, but it is decked out with — yes, a wine fridge — and a huge quartz island that can seat eight guests. The only question is – can they handle the intense color coordination?
This Garage Was Converted Into Perfect Entertaining Spot

There's a lot to be said about this Bed-Stuy garage converted into a multi-level, family home, but the kitchen takes the cake. It's right in the heart of the sprawling, open floor layout and connects directly to dining and living areas. Just pull up a stool at the Carrara marble island and mix yourself a cocktail.
Exposed Beams and Brick Make for Cozy Entertaining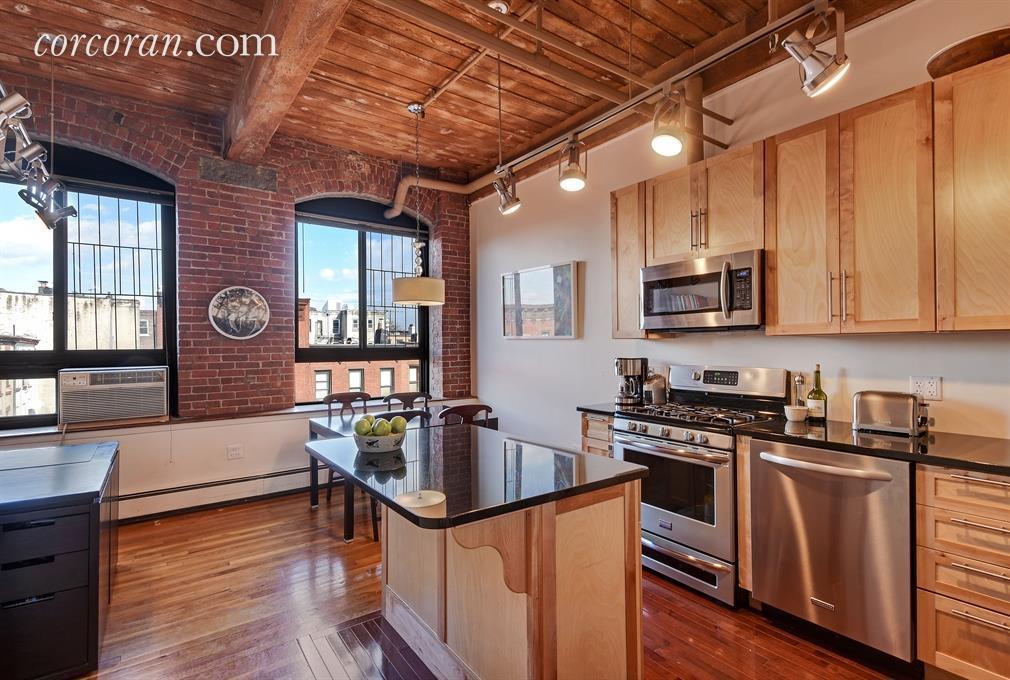 This loft-style duplex in Park Slope nails it all. The eat-in kitchen offers a cozy vibe with all the exposed brick and beams. Plus, the center island is a gathering spot for you and your guests to chat and chop. The space gracefully opens out to the dining area where you can easily host a dinner party for 12.
You Won't Miss the Party From This Centrally Located Cobble Hill Kitchen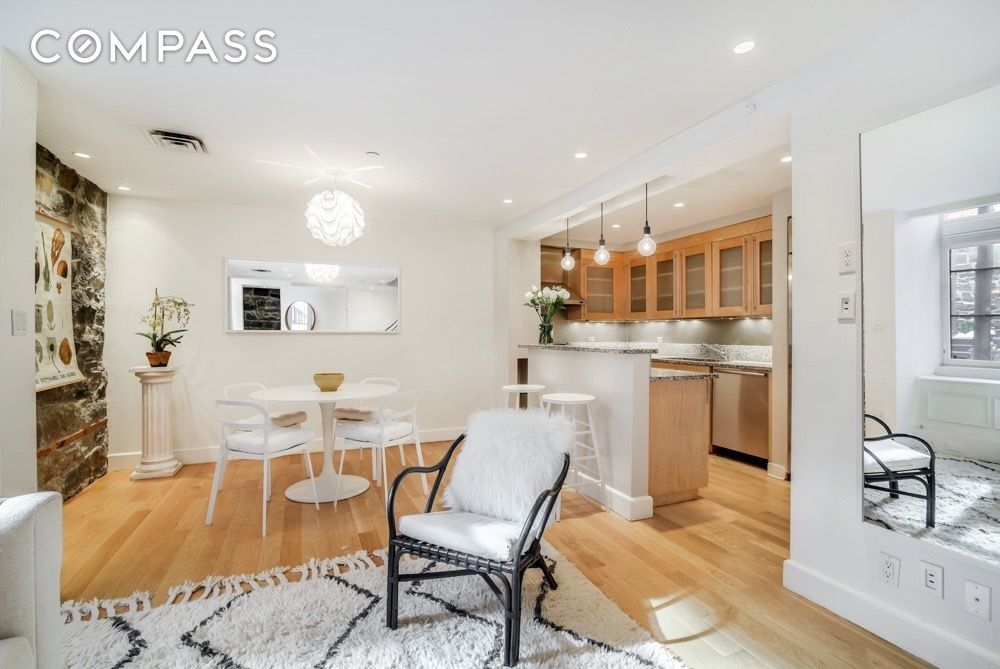 Who doesn't love a good duplex? This duplex condo in Cobble Hill has a rustic-meets-renovated aesthetic featuring rough-hewn stone walls and bright, blonde wood finishes throughout the open floor plan, including the kitchen, where the host has easy access to the party without missing a beat preparing food and drinks.
Imagine the Buffet Possibilities…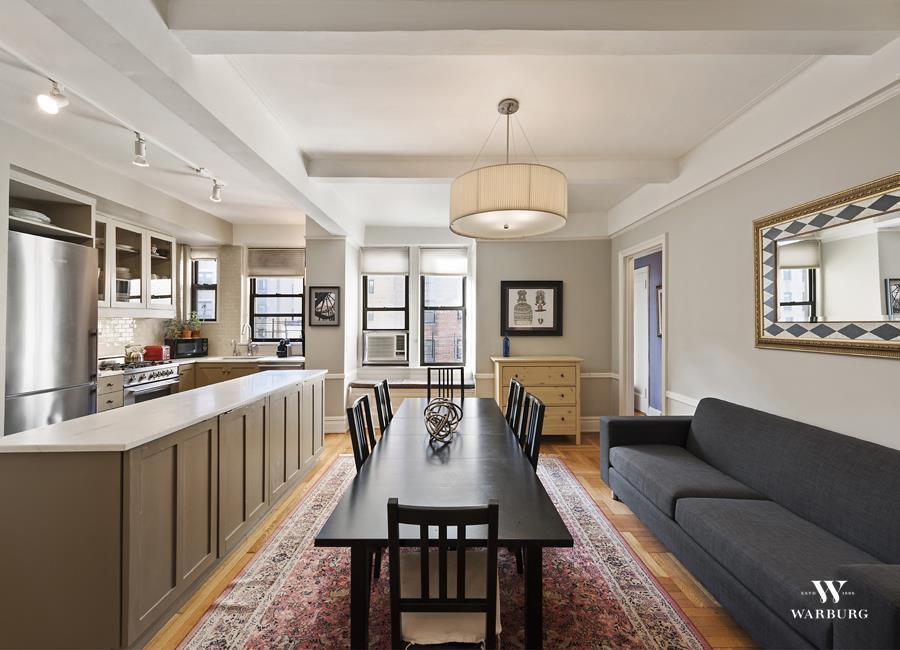 The kitchen in this prewar, classic six on the Upper West Side features a massive island counter that faces the central living area, which is perfectly proportioned for a long dining room table and couch. At the rear of the kitchen, there's even a little window nook for guests who want a more intimate space for private conversation.
Who Says You Can't Entertain in a Small Kitchen?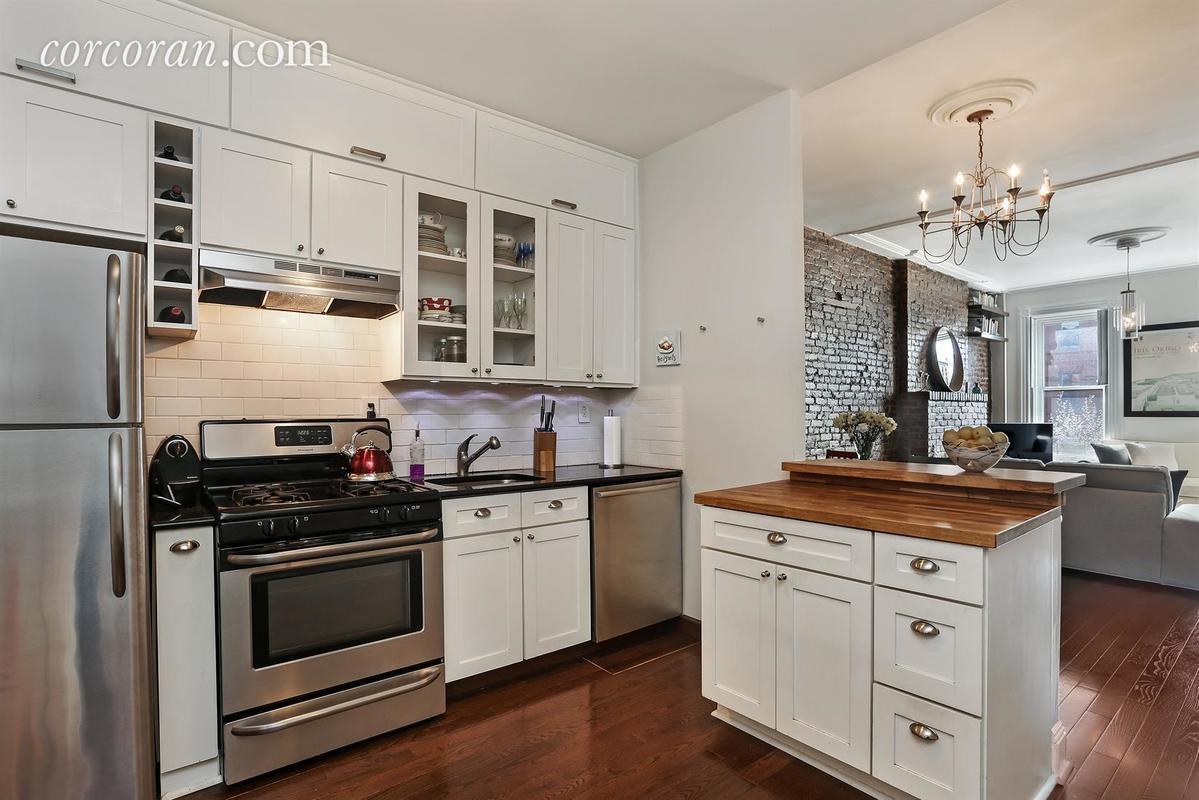 Yes, most kitchens are tiny in New York City, but that doesn't mean they can't be good for entertaining. This Park Slope three-bedroom apartment is spread across an entire floor of a brownstone and the open kitchen is located in the heart of the action, making it a great spot to casually entertain.
Bed-Stuy Loft Does the Modern Open Kitchen Look Right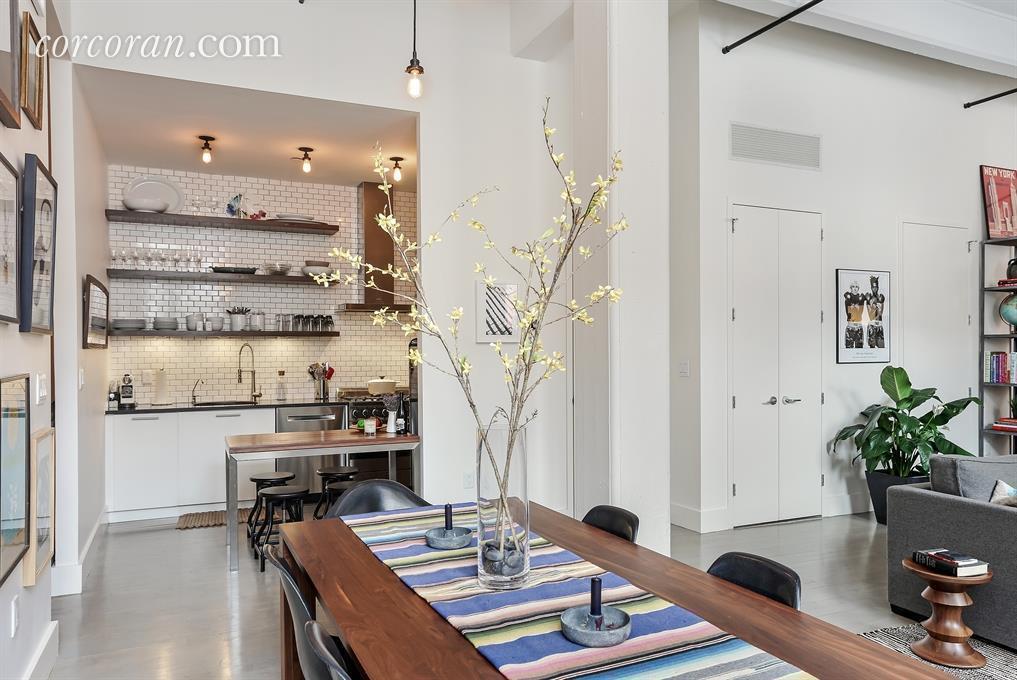 The kitchen in this Bed-Stuy condo may not be large, but the apartment's open floor plan is ideal for hosting a crowd.  The kitchen's restaurant-style subway tiling and open shelving enhances the small space. Adding to its practicality and warmth is the wood and steel table with stools tucked underneath.
Ever Wanted to Have a Dance Party in Your Kitchen?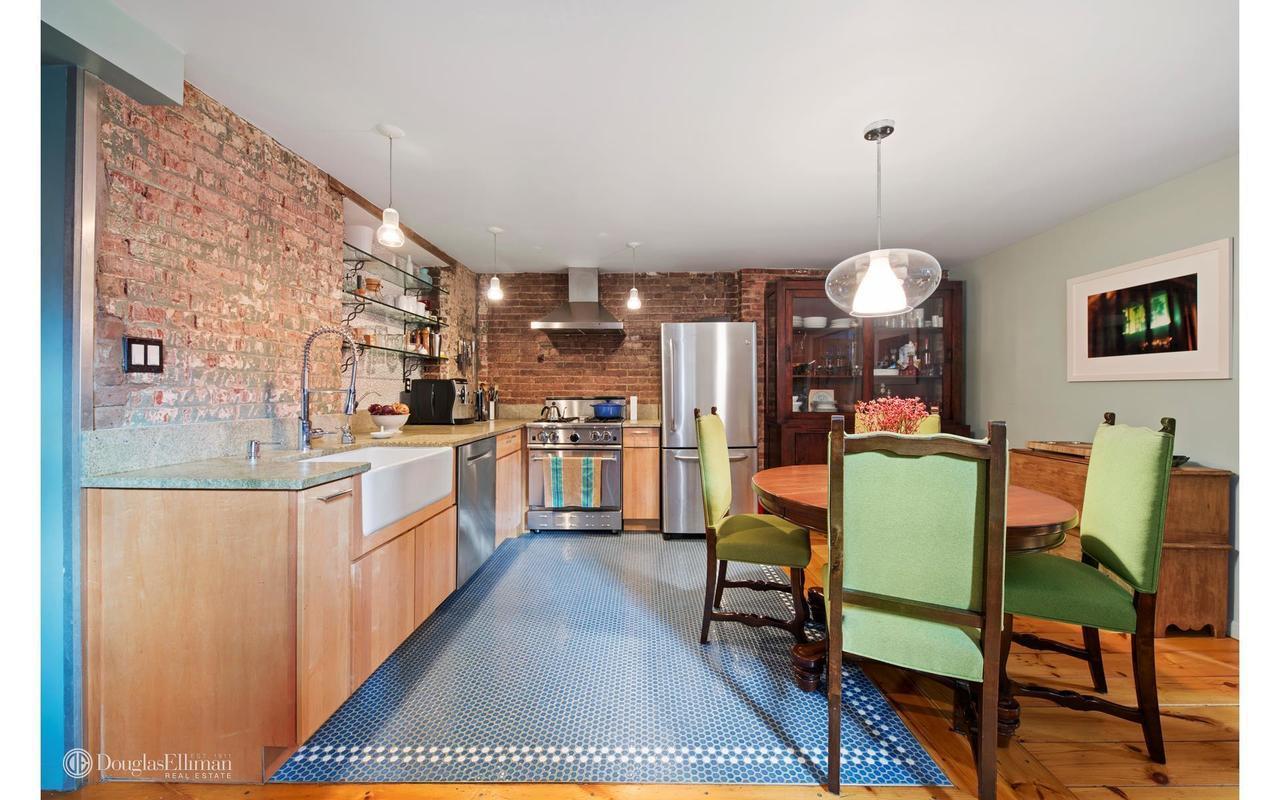 Turn up the music and do the electric slide on the inviting blue hexagon tile while you wash dishes at this Clinton Hill garden apartment, which features an expansive kitchen big enough for a large table and all your crazy dance moves.
Indoor-Outdoor Entertaining Made Easy
Downtown Manhattan condos often undercut kitchen space — especially listings under the $2M mark. But this two-bedroom condo at the Renwick Modern offers ample space, including a two-seater breakfast bar. Bonus: The kitchen flows into the living room and sliders open to a spacious outdoor patio for al fresco dining.
Everyone Gets a Seat at This Midwood Kitchen

Could a kitchen this big really be in NYC? Yes! This three-bedroom single-family home is in Bay Ridge, Brooklyn where you'll get all the perks of a luxury New York City kitchen (think convection wall oven, six-burner stove, wine cooler, breakfast bar) but none of the crowding and awkward angles of confined NYC apartment kitchens.
Tell Your Guests Not to Worry About Staining the White!
The kitchen at this duplex Chelsea penthouse perfectly bridges the formal dining area and the apartment's casual living area, creating a seamless space for entertaining. Worried about your guests staining the all-white counter tops? Don't. The 16-foot island is made of Caesarstone and the cabinets are lacquered, both of which are stain-resistant and can wipe down easily. Whew.
Related