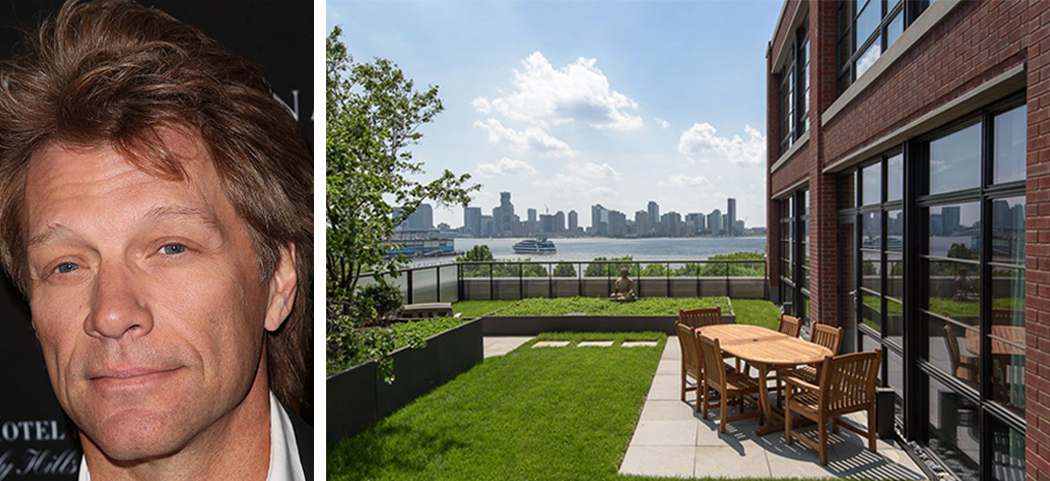 Surely it will all work out, but how it works out remains the question — for now. What are we talking about? Well, it's Jon Bon Jovi's decision to pair his 150 Charles Street condo listing with another adjacent unit owned by someone else (or at least an LLC) at one swanky development in the West Village.
With a hat tip to Curbed, for calling attention to the newfangled dual listing, here's the selling point: For some well-heeled buyer looking to combine two huge units at 150 Charles, Bon Jovi's 4,000-square-foot duplex unit (#4BS listed now at $15.95 million) and his neighbor's 2,600-square foot unit (#4C listed for $11.75 million) could become a sprawling, 6,700-square-foot residence, not counting the 2,900 square feet in terrace space that comes with Bon Jovi's place.
This is an interesting play, given that Bon Jovi's unit went on the market this spring at a list price of $17.5 million. That was well over the $12.5 million the rocker/activist/philanthropist paid for the unit two years ago. The "Dead Or Alive" singer has dropped the price just as this new approach to marketing the pair of condos is being attempted. Per the listing:
FANTASTIC OPPORTUNITY! to combine two of the finest duplex homes at 150 Charles Street to create a 6,700 square foot residence with 2,900 sq ft of south facing outdoor space with views of the Hudson River and Freedom Tower. Wrapping two corners at the amenity driven 150 Charles Street Condominium in the West Village, one can create a 7 bedroom, 7 bath home with 2 powder rooms and access to a magnificent landscaped terrace directly off the entertaining rooms of the apartment.
Bon Jovi is a veteran buyer in the NYC luxury real estate market, listing another fabulously over-the-top condo at 158 Mercer Street for $42 million in 2015. Reports have it that the property eventually sold for $34 million, but it now appears to be back on the market for $38 million. The listing for this opulent duplex penthouse in the full-service New Museum building is held by C. Graham Uffelman at Brown Harris Stevens.
Given the fact that Bon Jovi now has two luxury duplexes on the market, it makes sense that he is willing to try a unique approach with the 150 Charles property. Naturally, it's decked out in luxurious finishes: a Molteni custom kitchen featuring walnut cabinets and Alabama white marble; spa-like bathrooms with river views and deep soaking tubs, LeFroy Brooks fixtures; a professional laundry room; hardwood floors; and Alan Wanzenberg-designed finishes. We guess that sort of beats a bed of roses.
Related: