Editor's note: "NY Stories" is a recurring feature about successes (and failures) at the hands of New York City real estate. This first "NY Story" is submitted by a NYC renter who wishes to remain anonymous. This is her story.
My situation:
After spending six years in Europe, splitting time between Paris and Berlin, in 2010 I made the decision to return to New York City. I went to school at Columbia and Pratt, so I was well aware that trading my gorgeous, affordable three-bedroom apartment in Berlin for something in New York would be painful. Not only was my Berlin apartment spacious, but it was deemed historically important, with lovely arched windows and high ceilings. It was located smack-dab in the center of Mitte – the SoHo of Berlin — and I greatly enjoyed views of the square or piazza below. I knew this kind of living would translate into very little in NY, with its tight spaces and horrible rents. But, here I go into the belly of the beast.
What came next:
For the first four months in New York, I got very lucky and swapped my Berlin apartment for an artists' SoHo apartment. I swapped again with someone else in Boerum Hill, but only for a month. I reluctantly gave up my Berlin apartment because the stress of subletting it from New York was too much, and decided to take the plunge into the roommate/rental game. I easily found a listing on Craigslist that needed a roommate and I moved into the top floor of an older-looking Boerum Hill brownstone with two others. This brownstone, compared to others around it, was decrepit, which is probably why the rent was so cheap. It was clear the frame of the house was in bad shape. Our top floor apartment was run-down, but had some charm. We did the usual fixes such as painting, replacing bare bulbs with funky lighting fixtures and buying furniture that worked well in the space. So far, so good.
Then, the rains came.
It was the early September and torrential rains hit the city for a week. We were getting leaks everywhere in apartment and we put pots and pans all over the place. Without even coming to our apartment, our landlady/owner, who was elderly — perhaps in her 80s — denied there were leaks. We clearly lived in different realities, but none of us wanted to force an octogenarian to climb the flight of stairs. We kept telling her there were leaks. She said it's just "heavy rain and it will go away."
The first sign of trouble was when an entire section of tile around the bathtub just fell off the wall. We were literally looking at the wall's two-by-fours.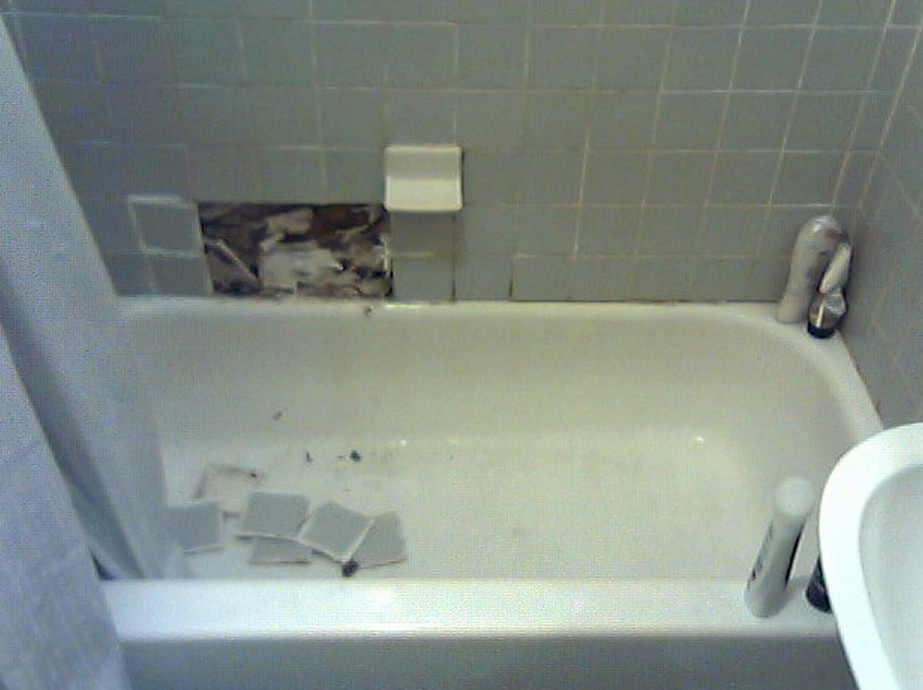 A few days later, I was home by myself one afternoon. It was raining especially hard this day. I went to take a shower and in the middle of it, I heard a thunderous boom. I couldn't imagine what it was, so I ran out, dripping wet with a towel around me to see a huge chunk of the ceiling – probably the size of a table — fell down and crashed all over the living room. I was in shock, gaping at the hole in the ceiling when another huge chunk fell right in front of me. We are talking about a heavy slab of original plaster stucco several inches thick. The reverberations shook the floorboards and I thought to myself, "If that thing had fallen on me I'd be dead now."
Shaking, I started making phone calls. First, to the roommates, then the landlady (she didn't pick up). It was a disaster zone. I went through all the rooms and saw a little part of the ceiling fell in my roommate's room as well. Small pieces of plaster would occasionally rain down for the next few days.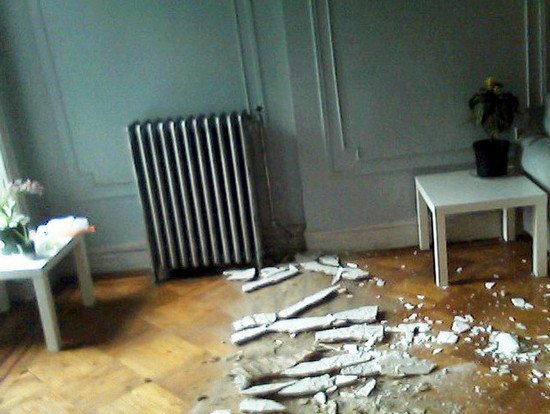 Outcome:
The landlady was unhelpful. She didn't respond to the problem, and neither did her grown children. I was furious with the entire family refusing to acknowledge the urgency of the situation. I wanted to cancel the rent check, but my roommates, who were young and barely getting by on their salaries, didn't want to do that. Despite the danger of this place literally falling down around us, they felt they couldn't find another place that was so cheap. Within two weeks, I found another place to live, this time a loft in Chinatown with four other roommates. As soon as I could, I eventually moved into a place of my own.
What I learned:
I never ever want to be someone else's roommate. I certainly don't want to be in a situation when I am a sublessee, where I don't have control and power to negotiate my terms directly. My roommates didn't want to stop paying rent, but we were living in a dangerous situation. There should be some consequences to landlords who are unattentive to the point of endangering tenants, but there is not. The place looked old, but a lot of places in the city look old, and I'm not a specialist in infrastructure. After that experience, I have to say I don't find old buildings nearly as charming any more.
Do you have a story you want to share? "NY Stories" is a regular series on StreetEasy Blog, featuring stories about successes (and failures) at the hands of New York City real estate. Send your story to nystories@streeteasy.com so we all can learn a little from each other. Photos are a BIG plus!
Related: