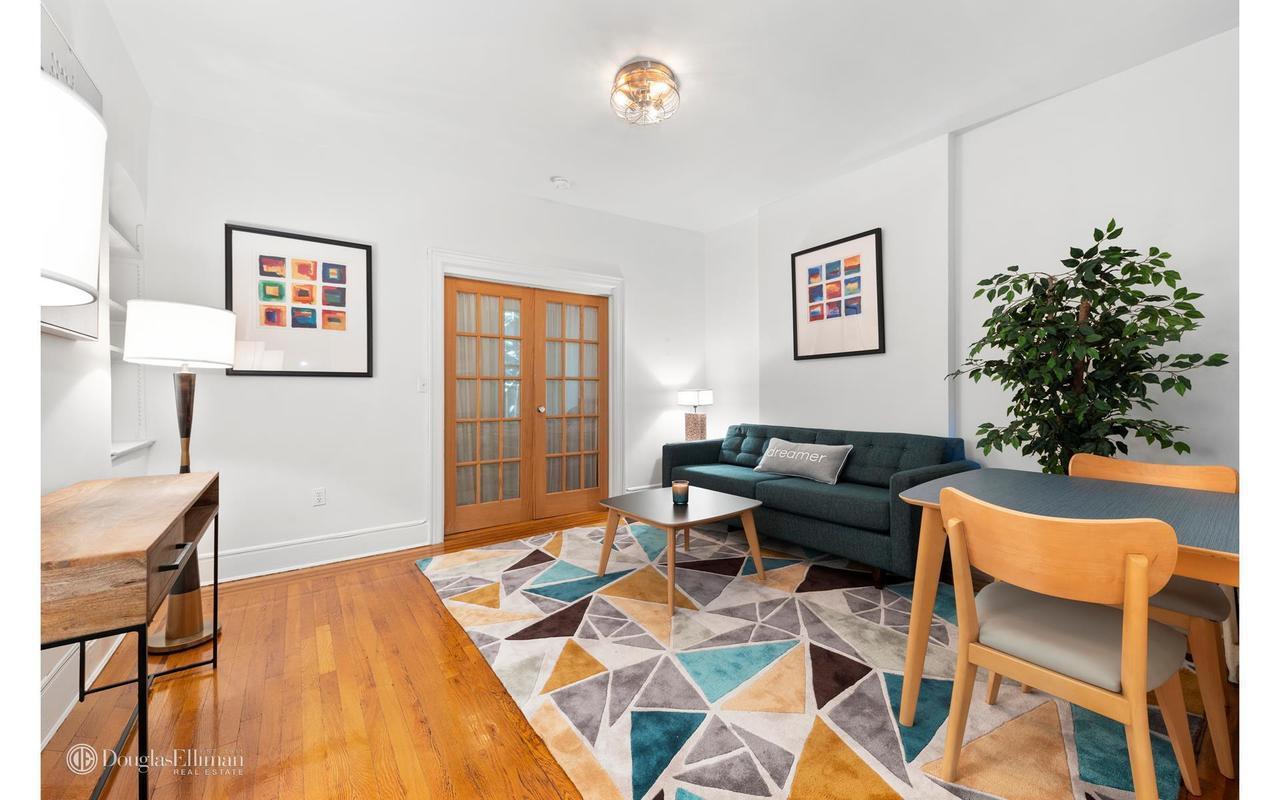 "It" couple Ariana Grande and Pete Davidson may have just moved to Chelsea, but that doesn't mean the neighborhood is completely out of the realm of (relative) affordability. You can score your very own slice of Chelsea for under $500K with our latest Deal of the Week, a 1-bedroom co-op at 234 W. 16th St. #2B.
The Price: $499,000
The fact that this apartment is under $1 million, let alone $500,000, is reason enough to take note. The median price for a 1-bedroom in Chelsea is $1,137,000, substantially higher than the Manhattan median of $925,000. The price here, obviously, is far, far below that.
Buyers putting down 20 percent, or $99,800, can expect to see monthly payments of about $2,948. That includes a mortgage payment of $2,018 and a maintenance fee of $930. While that's not cheap, you'd actually be paying less for this place on a month-to-month basis than the median rent in the neighborhood of $3,780.
Why You'll Love It …
There's plenty to love about this apartment beyond the price. First of all, it's only one flight up in a gorgeous prewar building on a centrally located, picturesque street.  The High Line is only two blocks away, and other great neighborhoods like Greenwich Village and the Flatiron are within walking distance. Several subway lines are just a few steps away.
The interior is nothing to scoff at, either; you'll be welcomed by 9-foot ceilings and hardwood floors throughout the space. French doors separate the bedroom from the living room, offering some refinement and style. And while the kitchen might look a bit outdated, it does have a dishwasher.
To top it all off, pied-à-terres, gifting, subletting, and parents buying for children are all allowed in this co-op building, so even if you're not interested in making this place your permanent home, it could make a good investment. The building also has a pet-friendly policy, so you can bring your furry friends.
… And Why You Might Not
There aren't many windows in the living room, so most of the natural light in here will have to come through the bedroom and kitchen windows. As we've mentioned, the kitchen itself isn't anything fancy, but if you can stand outdated cabinetry and countertops — or spring for a renovation — there's nothing to fear.
There also isn't laundry in the unit or in the building, which is unfortunate but somewhat common in older spaces. So yes, you will have to walk to the laundromat (right) down the street. But you'll also get to say that you own a 1-bedroom apartment in Chelsea.
Check out the listing at 234 W. 16th St. #2B, listed by Ryan Stenta and Marc Riedel of Douglas Elliman. 
—
Hey, why not like StreetEasy on Facebook and follow @streeteasy on Instagram?