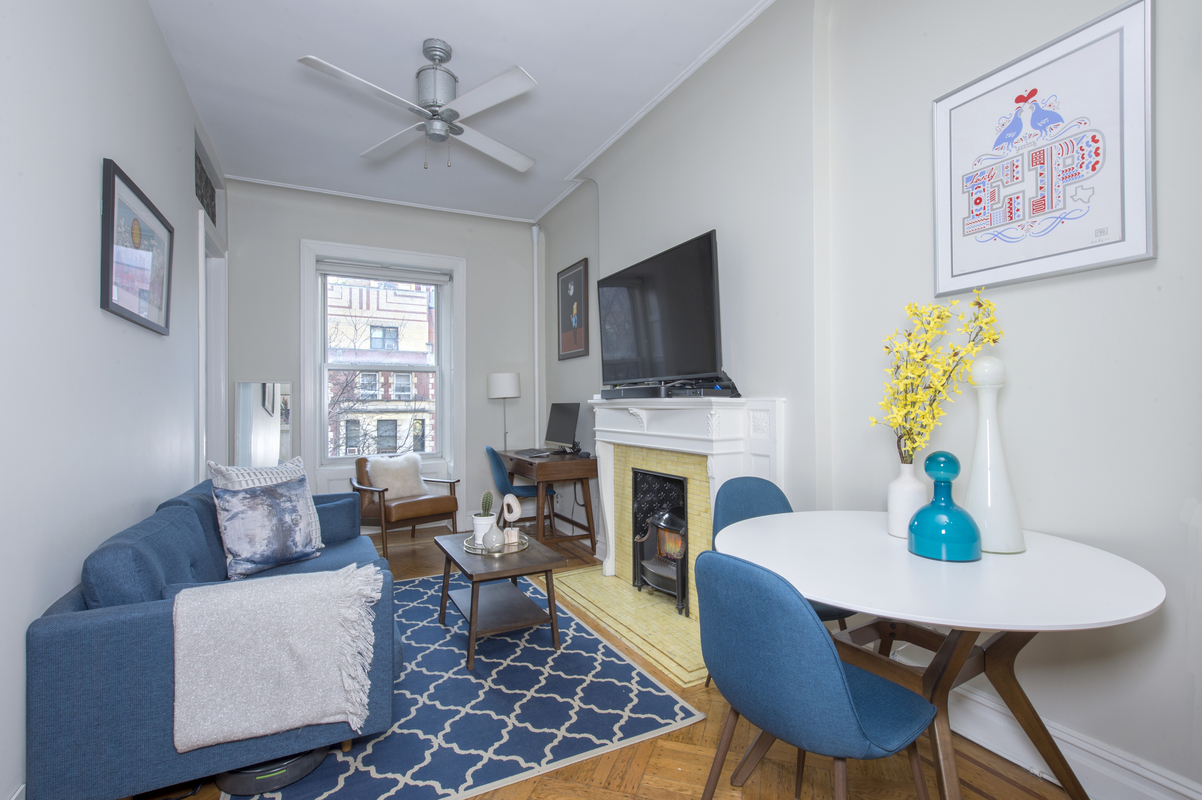 If chic style and easy access to Central Park and Riverside Park sound great to you, you'll want to check out this West End Avenue 1-bedroom. Our Deal of the Week, 622 West End Ave. #4W, offers a classic Upper West Side location and great amenities — we're talking an in-unit washer/dryer and a dedicated spot for an exercise bike. Even better? It undercuts the median prices for the neighborhood by rather a lot. Read on for more, and don't miss the video walkthrough on the listing!
The Price: $565,000
The median asking price for a 1-bedroom on the Upper West Side is $825,000, just about on par with the overall Manhattan median of $849,000. That puts this West End Avenue 1-bedroom more than $250K below the median asking price for the area.
Buyers who put down the minimum 20% down payment of $113,000 can expect to see monthly payments of $3,046. This includes a mortgage payment of $2,344 and a maintenance fee of $702.
Why You'll Love It…
This adorable home's open foyer entrance makes a perfect spot to create a home office — or, as the listing suggests, to set up your Peloton. But the real charm starts once you step all the way inside. A working gas fireplace graces the living room, decked out in sunshine-yellow tiles. There's also old-school trim and parquet floors, both here and in the bedroom.
The kitchen is more modern, with marble countertops, high-end appliances (including a Miele dishwasher), and even an under-counter washer/dryer. You're too chic for the laundromat now, darling! And there's plenty of closet space to put everything away neatly.
Finally, all of the Upper West Side's best features are at your doorstep from this home's brownstone-beautiful location on West End Avenue and West 90th Street. It's just a block from Riverside Park and a short walk to the Central Park Reservoir, not to mention the restaurants of Broadway and Amsterdam Avenue. The 1, 2 and 3 trains are super-close as well.
Upper West Side 1BRs Under $800K on StreetEasy Article continues below
… And Why You Might Not
While this elegant co-op building is a beauty for sure, it's also a walk-up. On top of that, this apartment is what you might call "cozy" — well laid out but definitely small, and with only two windows. But they face west, which means good afternoon sun, and the neighborhood is a solid home run. An affordable West End Avenue 1-bedroom with period details is always worth a look, in our book.
Check out the listing at 622 West End Ave. #4W for a video walkthrough of the apartment. Contact a StreetEasy Expert on the listing for more information.
—
Inspired to find your next place in New York? Whether you're looking to rent or to buy, search NYC apartments on StreetEasy.