It's officially "game on" for the $407 million mixed-use development in Jamaica. Groundbreaking took place today for The Crossing at Jamaica Station, the largest private investment project in Jamaica.
The project is located across from the Long Island Railroad station along Archer Avenue and Sutphin Boulevard at 93-01 Sutphin Boulevard, a major transit hub that services more than 250,000 commuters every day, including the AirTrain service to JFK Airport.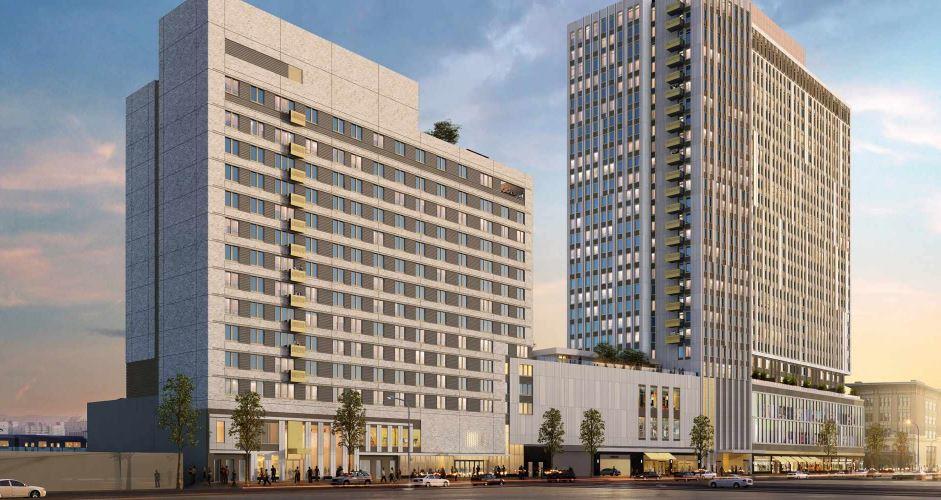 BRP Company is building two residential high-rises with 669 total rental units, all of them affordable, along with retail space and parking. The new development is seen as another push in the $1 billion upgrade project that has helped change this section of Queens, where mass transit stations have paved the way for commercial real estate development since zoning changes took place in 2007. Buildings were designed by FX-FOWLE Architects.
The Crossing at Jamaica Station is slated to open those units in 2019.
"The Crossing at Jamaica Station will be a true-mixed income project that strengthens the whole neighborhood," Deputy Mayor for Housing and Economic Development Alicia Glen said in a statement. "For nearly 700 families, this will mean real security and the ability to have a little left over every month to get ahead. And this is just one of many dynamic changes afoot in Jamaica that will anchor its families, support local businesses and build community for generations to come."
The project consists of two buildings with a mix of studio, 1, 2 and 3-bedroom apartments, all of them affordable:
A 14-story mid-rise tower includes 130 units with maximum income limits ranging from $25,400 to $75,625 for individuals and $32,640 to $97,125 for a family of three.
The 28-story high-rise tower includes 539 units with maximum incomes limits ranging from $38,100 to $104,775 for an individual and $48,960 to $134,640 for a family of three.