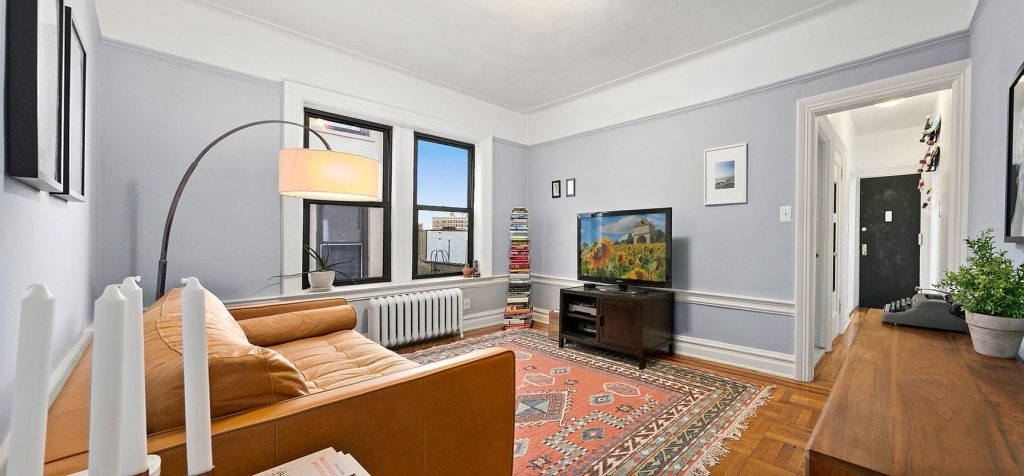 Many New Yorkers put off buying until they have enough saved up to invest in a permanent apartment. But this 1-bedroom co-op at 77 Eastern Parkway in Prospect Heights proves you don't need to have a baby on the way or a huge nest egg to buy a place. It's perfectly sized for two and is about as pricey (per month) as the typical rental in the neighborhood. It might not be a forever home, but for the here and now? It's a clear Deal of the Week.
The Price: $549,000
Clocking in at just under $550,000, this 1-bedroom co-op is a hands-down good deal. Although slightly above than the $497,000 Brooklyn median for 1-bedroom, this place is far cheaper than other 1-bedrooms in Prospect Heights. Right now, the going rate for one in the neighborhood is $799,000.
With a 20 percent down payment of $109,800, your monthly payment would be about $2,757, thanks in large part to the building's low maintenance fees. The current median asking rent for 1-bedrooms in Prospect Heights is $2,680. If you can swing the down payment, you might as well shell out another hundred bucks and call yourself a homeowner, right?
Why You'll Love It …
This place has classy touches that are hard to find in a rental. Instead of a cramped kitchen with second-rate appliances, here you get a double-windowed kitchen with enough room for a table, custom cabinetry, and sparkling marble countertops.
The layout of the apartment also works great for a couple, with a generous living room and bedroom directly adjoined. The windowed bathroom has an unfussy, simple feel with handsome fixtures.
The location couldn't be better: The Brooklyn Museum is literally across the street, and Prospect Park and the bustling farmer's market at Grand Army Plaza are just a two-minute walk down Eastern Parkway.
Transportation and dining options abound in the area, so whether you're a neighborhood homebody on the weekends or tend to travel elsewhere in the city, this location is hard to beat.
… And Why You Might Not
This place isn't going to be anyone's forever home, and that's not because it's only a 1-bedroom. It's a fifth-floor walk-up, which won't go over well with the stroller-hauling set (or the knee-replacement set). Another downside is the limited storage space on hand, which will help keep you from amassing too much stuff — or at least let you know when it's time to trade-up to that 2-bedroom.
>> Join us for StreetEasy's First-Time Home Buyers Seminar on March 3. Register for free here.
—
Hey, why not like StreetEasy on Facebook and follow @streeteasy on Instagram?