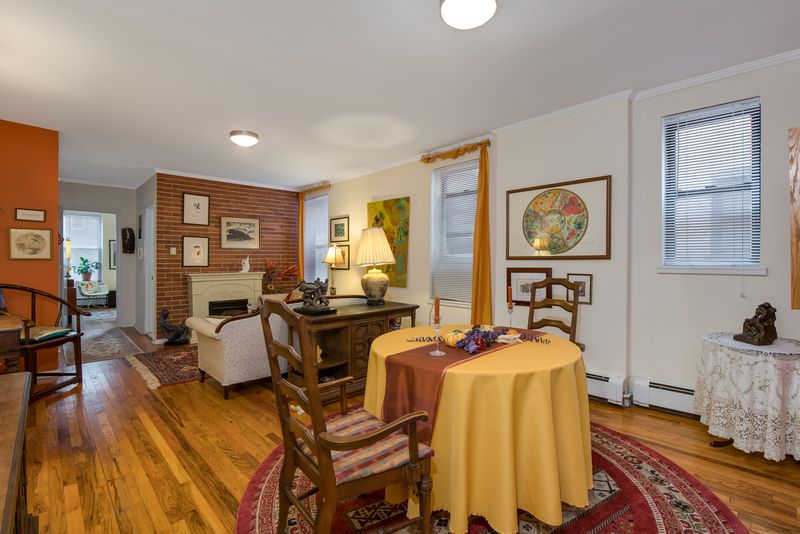 In New York City apartment hunting, there are must-haves — say, subway access and adequate space. Then there are nice-to-haves: a doorman, outdoor space, a pet-friendly policy, a washer and dryer in-unit. And then there are places with character, amenities and coziness.
You can't just check a box and find an apartment with these qualities — but here, we have an unusual 1-bedroom condo at 2112 Dorchester Road in Ditmas Park that offers much more than basic features. You may never have thought you needed a decorative fireplace until you see this Central Brooklyn deal — and this one's included with the unit. But the best part is its asking price.
The Price: $349,000
Often, a 1-bedroom asking $349,000 will have "HFDC" tacked on at the end, marking the property as income-restricted. This one has no restrictions — it's just a great price. After a 20 percent down payment of $69,800, monthly payments will be about $1,800 — well below the current median Brooklyn rent of $2,499. And you'd own the place.
Since it's a condo, there's also no board approval process. Monthly common charges for this unit are just $242 per month, with taxes at $219.
Why You'll Love It …
For that price, you get a 1-bedroom with windows in every room, a kitchen that could have come out of a suburban house, and even a washer and dryer in-unit. There's room for a dining table in the kitchen and in the living room. Hardwood floors run throughout the apartment, and the closets are amply sized. Oh, and did we mention that that nifty decorative fireplace in the living room — which looks electric to our eyes — is included with the apartment? Well, it is, according to listing agent Michael Dvorkin. Other pluses of the building include proximity to the B and Q trains at Cortelyou Avenue and a pet-friendly policy.
… And Why You Might Not
Based on the listing images, the apartment appears to be on the interior shaft of the building, which may mean low light and bad views. (The blinds are conspicuously closed in every photo.) The finishes in the kitchen and bathroom might not suit everyone's taste, either. But while there is no easy fix for lack of light, there are easy fixes for those. And after getting this charming 1-bedroom in Brooklyn for just $350K, you might have some cash left to afford them.
—
Hey, why not like StreetEasy on Facebook and follow @streeteasy on Instagram?