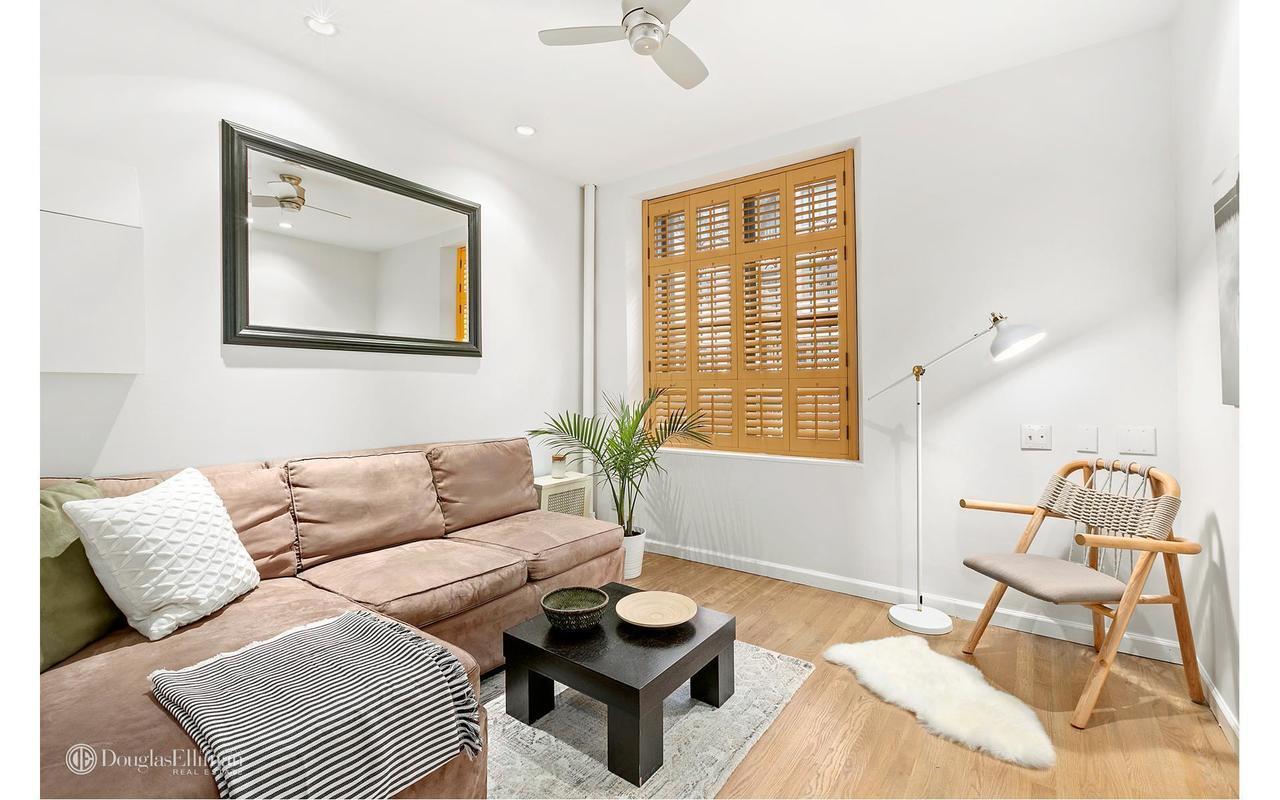 You'd think finding a 1-bedroom in Manhattan for $500K or less would be easy enough, but landing a great one is not so simple. Our Deal of the Week might put an end to the search: This 1-bedroom co-op at 228 E. 13th St. #1 is located on the northwestern edge of the East Village. For half a million, buyers will get a whole lot of charm, style, and perhaps most importantly, laundry in-unit.
The Price: $500,000
According to the latest StreetEasy Market Reports, the median asking price for an apartment in the East Village is $1.1 million. At $500,000, our Deal of the Week cuts that price in half. Buyers putting down the 20 percent minimum of $100,000 can expect to see monthly payments of around $2,791. That includes a $2,024 mortgage payment and a $767 monthly maintenance fee. Those numbers look pretty good when you consider that the median rent for a 1-bedroom in the East Village is $2,795.
Why You'll Love It …
This apartment features high ceilings and hardwood floors throughout for a sleek and classy look. The kitchen has been outfitted with butcher-block countertops, stained wood cabinets and stainless-steel appliances. There's plenty of counter space, too.
The bedroom boasts plenty of storage, with both a custom closet and a gorgeous, built-in captain's bed. The wood from the bed and closet continues up the wall to tie the whole space together.
Copurchasing, guarantors, and pied-à-terres are all allowed, providing flexibility. In terms of location, the apartment is right off of the Third Avenue L stop, and only a block and a half from the multitude of trains at Union Square. Shopping, dining, and entertainment are all easy accessible, and there's a Trader Joe's less than a block away. No more hauling grocery bags on the subway!
… And Why You Might Not
The apartment isn't exactly on the large side, which means that that skinny table pushed up against the kitchen wall is probably the closest you'll get to a dining set. But for one or two people, it's perfectly manageable.
There won't be a ton of light in the bedroom, with only a small window above the bed. And there isn't much room to roam beyond the bed and the closet. But according to the listing, the room is "pin-drop quiet" — so at least you'll sleep well.
Check out the listing at 228 E. 13th St. #1, listed by Josh Rubin of Douglas Elliman. 
—
Hey, why not like StreetEasy on Facebook and follow @streeteasy on Instagram?