A walk through the Lower East Side proves it has come a long way since its teeming heyday when 3,000 tenement buildings housed 225,000 immigrant newcomers at the turn of the 20th century.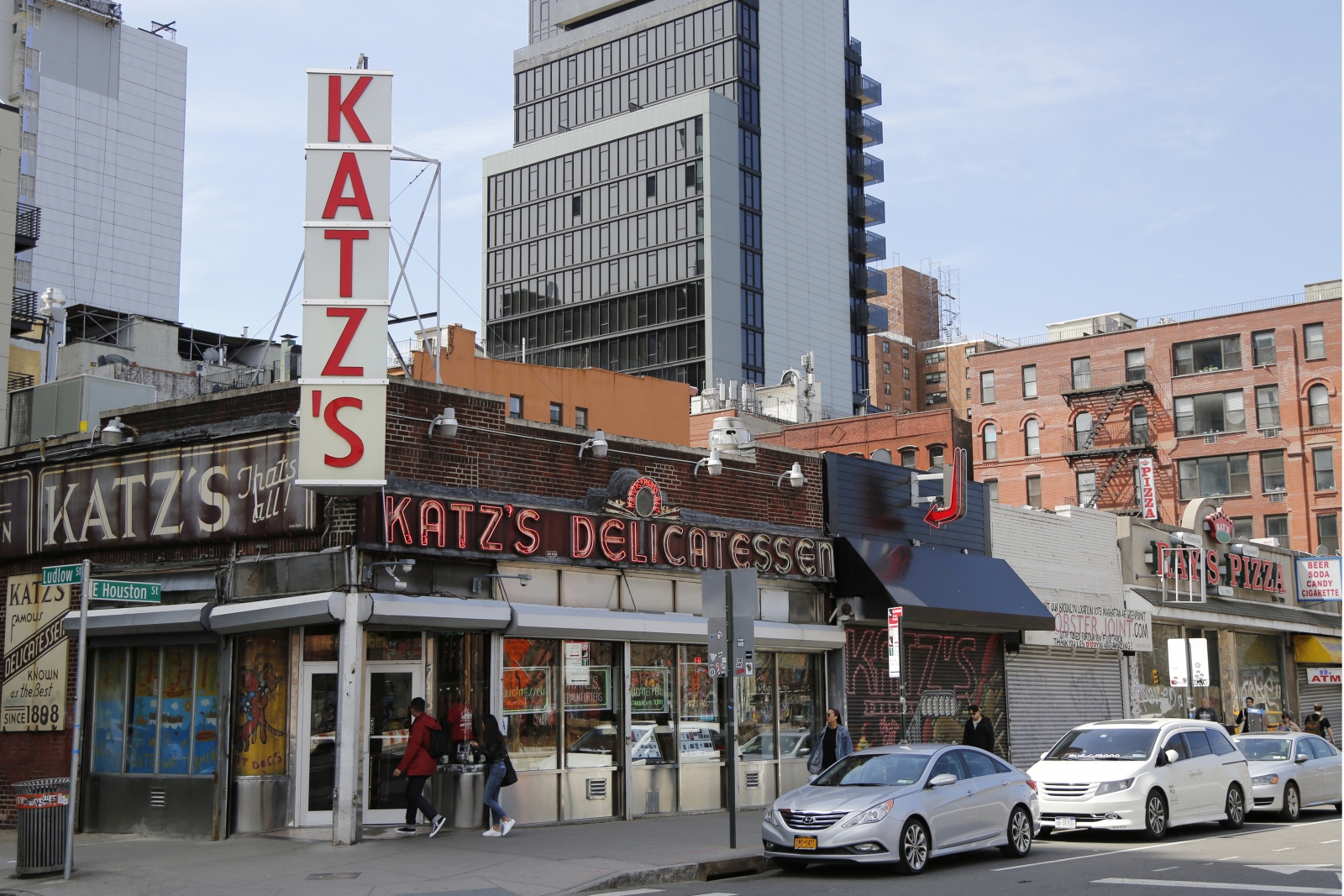 The area retains some of its essential DNA, and its residents battle hard to keep it a diverse and democratic part of the city. But these days, funky new bars and restaurants have made their home alongside the likes of Katz's Deli and the Tenement Museum, which tells the housing history of the Lower East Side. The brick, walk-up row houses now boast apartments with rents higher than most long-time residents can afford.
The Lower East Side has become one of the last parts of NYC to finally undergo what is rapid gentrification. StreetEasy data found it to be the hottest neighborhood in Manhattan two years ago — and now there's a major Lower East Side development taking shape called Essex Crossing. The long-anticipated project along Delancey and Essex streets is expected to welcome residents early next year to a few of the nine sites that comprise the mega project.
Essex Crossing is the realization of a redevelopment zone that for decades had been called the Seward Park Extension Urban Renewal Area (SPEURA). The 6-acre parcel had been the site of slums in the 1940s, and then was the cause for much controversy between 1967 and 2013, when razed tenements gave way to parking lots that left gaps in the neighborhood. Many plans to re-do the site were introduced but ultimately scrapped, as clashing views of how to maintain the integrity of the Lower East Side — and institutions like the Essex Street Market and affordable housing — while developing these empty parcels.
Finally, a Vision That Suits All Parties
In 2013, the logjam was broken. Former Mayor Michael Bloomberg's initiative was pitched and accepted as Taconic Investment Partners, along with L&M Development Partners, BFC Partners, and The Prusik Group, was selected by the city to develop nine city-owned sites. These parcels represented one of most significant urban renewal development opportunities remaining in Manhattan, winning the backing of local officials and community members with a plan for a series of buildings that would boast senior housing, affordable apartments, public spaces and parks as well as retail space.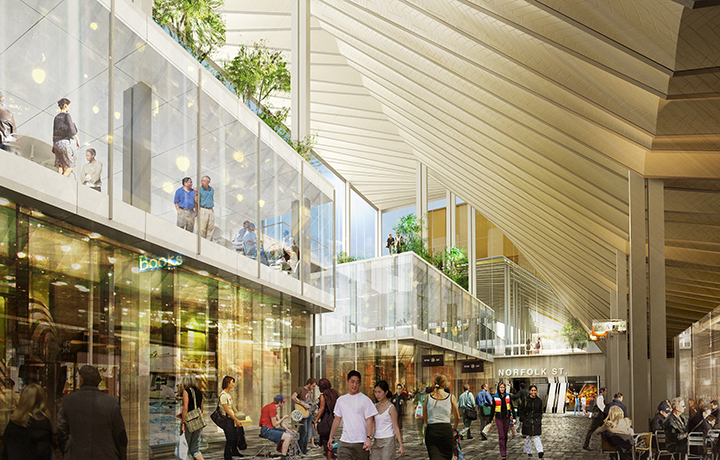 Like Hudson Yards, which is a mega, mixed-use development project now transforming the West Side of Manhattan between Chelsea and Midtown, Essex Crossing will deliver 1.9 million square feet in residential, commercial and public space to the Lower East Side. Where Hudson Yards is projected to deliver around 4,000 new residences, Essex Crossing is slated to deliver about 1,000 residential units. By the spring of 2017, several of these first-phase buildings will be topped out and close to ready for business.
First Four Buildings:
Site 1 — 242 Broome Street (below)
242 Broome Street — This luxury condo building will be 14 stories tall. Designed by SHoP Architects, 242 Broome will contain 55 condo units ranging from 1 to 3 bedrooms and priced between $1.3 to $5.25 million. The base level of 242 Broome was originally slated to host a new Andy Warhol museum, but the Warhol enterprise backed out of that plan. The basement level will hold a bowling alley and entertainment center called Splitsville.
Site 2 — 115 Delancey (below)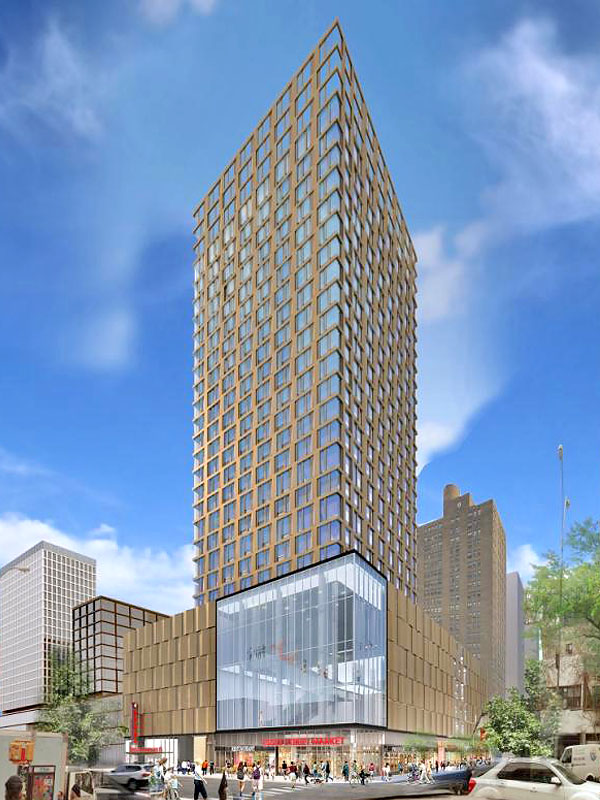 115 Delancey — This will be the largest structure built in Essex Crossing and will occupy one entire city block, sided by Norfolk, Delancey, Broome and Essex streets. It will contain 195 rentals — 98 which are considered affordable. The 24-story building will also host the redeveloped Essex Street Market and a 14-screen movie theater complex.
Site 5 — 145 Clinton Street (below)
145 Clinton Street — This 15-story building will contain 211 rental apartments, 100 of which will be affordable. As a matter of fact, an affordable housing lottery for 145 Clinton has been opened. Qualified applicants need to apply by May 2, 2017. The building will offer studios, plus 1, 2 and 3-bedroom apartments. It will also contain a Trader Joe's supermarket and a Planet Fitness gym.
Site 6 — 175 Delancey (below)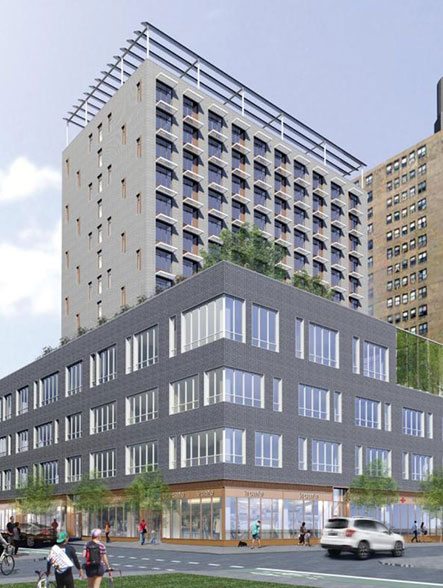 175 Delancey — This 14-story building will contain 100 rental apartments, all priced below market rate and will be available only to seniors. The building will have ground-floor retail including a medical clinic. It will also have a planted rooftop garden. A housing lottery is now underway for 175 Delancey. Deadline to apply is June 16, 2017.
What is Looks like Now
Below is a 360 image taken April 18, 2017 at the corner of Delancey and Essex streets looking south. Site 1 is behind the Chase building and Site 2 is across the street.
Post from StreetEasy – Spherical Image – RICOH THETA
Extras for Essex Crossing and the City
In addition to these Phase 1 buildings, Essex Crossing will offer a 15,000-square-foot public park on Site 5 at Broome & Suffolk streets. The park will feature native plantings, play areas, and gathering spaces; woodland garden and other space for passive and active recreation.
One feature of the development that will appeal to Lower East Side residents, as well as tourists to the neighborhood, is the Market Line. This 150,000 square-foot retail space will be incorporated into Essex Crossing buildings and loaded with restaurants, farmer's market and other enterprises. Designed by Prusick Group, Market Line will aim to function and appeal to people the way Pike Place Market does in Seattle, or the Reading Market in Philadelphia. The separate Market Line spaces in Sites 2, 3 and 4 will be connected by below-ground passageways.