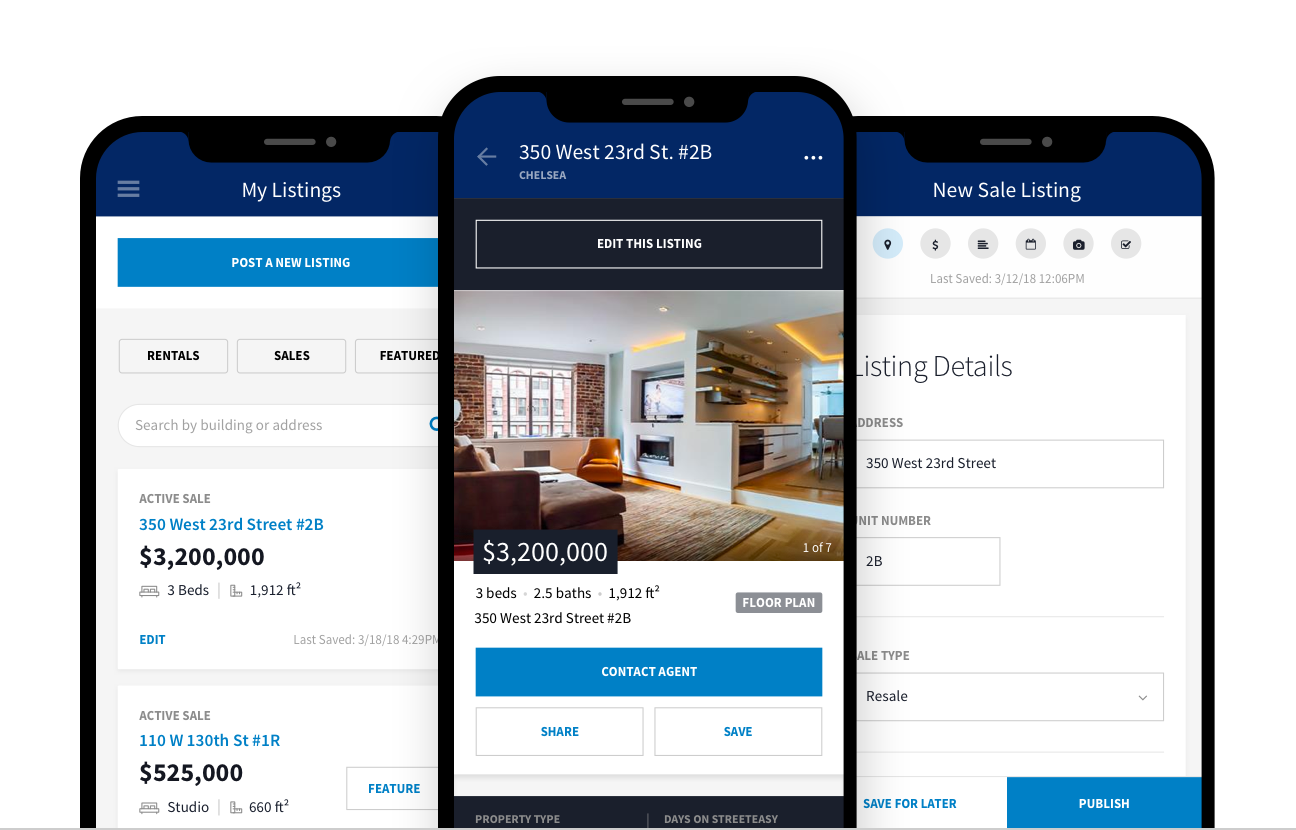 Did you know you can post and edit listings from start to finish right on the StreetEasy Agent Tools app?
Save as a draft, post photos and more
First, open the Agent Tools app and navigate to "My Listings" and you'll see a "Post a New Listing" button. From there you'll be prompted to answer all the questions and input all the info you usually do in the desktop experience. Only now, you can do it straight from your phone — no computer necessary.
Once you've selected whether your listing is a rental or a sale, simply select the address from our drop down menu, then enter the bedroom count, bathroom count, price, description, and listing amenities (we'll automatically pull in building amenities from our database). And yes — you can save it as a draft for later. So, if you'd like to add a longer description later, just jot a quick one down on your phone and then pick it up when you do have time on your computer.
Another great feature is the ability to post photos right on the app. Sometimes you have a full lineup of listings to tour and post on a given day, but you might not have time to return later and photograph them. With the new app, you'll be able to snap pics right in the app. While there's a lot of value to staging and professionally photographing a listing, most cell phone cameras these days can take high-quality photos, so they'll be sufficient for many of your time-sensitive listings, or allow you to begin marketing the listing while you wait for professional photos to come in. It's about as seamless as it gets.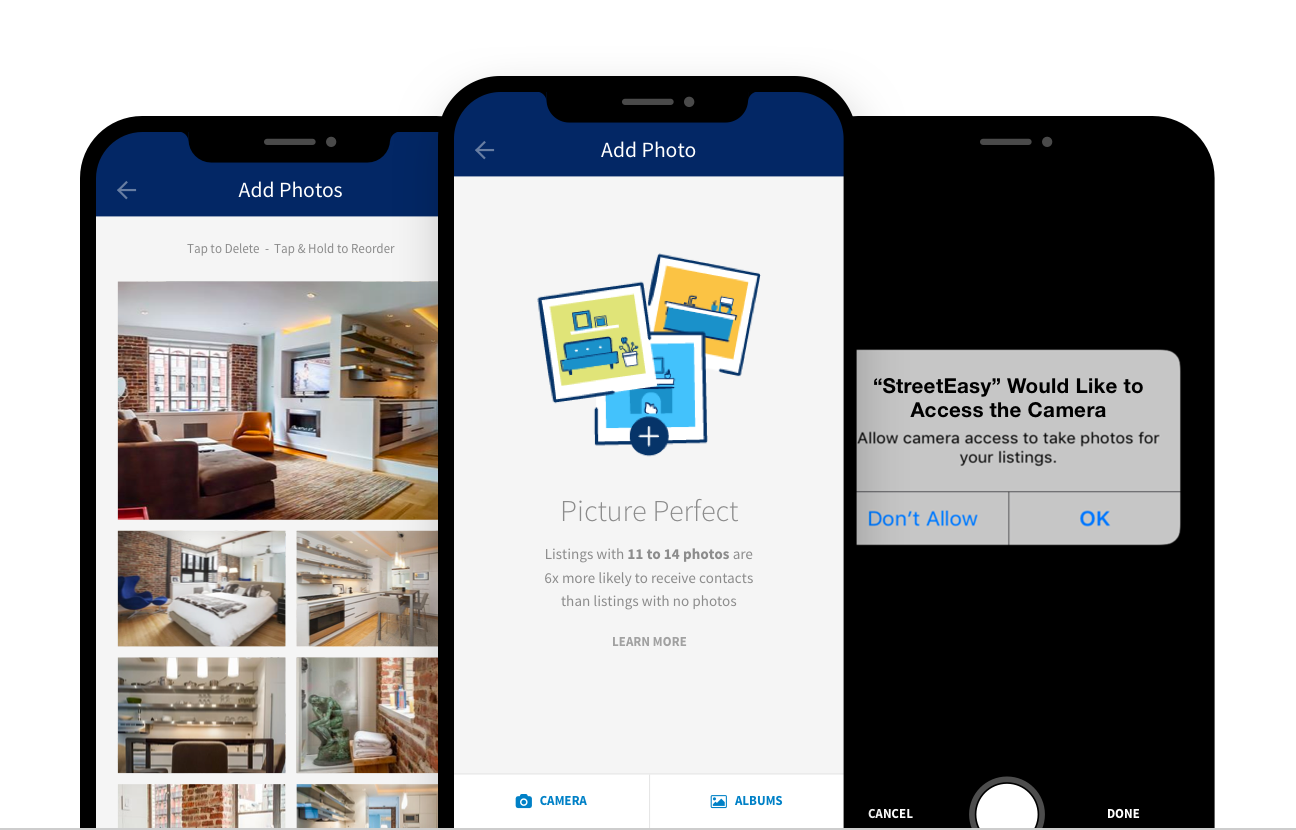 Some things to watch out for
Posting listings quickly on the app is a great option, especially for the agent who's constantly out and about (let's be real — what good agent isn't always out and about?). But there are a few things to keep in mind when you're using the app.
Just like using StreetEasy on your desktop, make sure you select an address from the dropdown menu when submitting a new listing. To ensure accuracy, every listing on StreetEasy must match a building on our site. If it truly is a new building we don't have yet, you'll need to submit a request via email.

When you're uploading via the app, the price, address, description and exclusivity fields are all required.

When uploading videos, name them all differently because our system won't accept video files with duplicate names.

When you're putting in open houses, make sure you're only putting in one open house for each given time slot.

Before you can upload photos directly on the app, don't forget to accept your phone's permission request to access your camera and photos when asked, otherwise you won't be able to post photos. We're only requesting access for your personal in-app use.
Finally, another important note is if you're currently posting through a feed from your brokerage, you won't be able to publish new listings on the app, as you'll need to post through your brokerage per usual. But, once your listings are on StreetEasy, you can edit them. Just be aware that if you update information through the feed again later, those new changes will overwrite the ones you made on the app.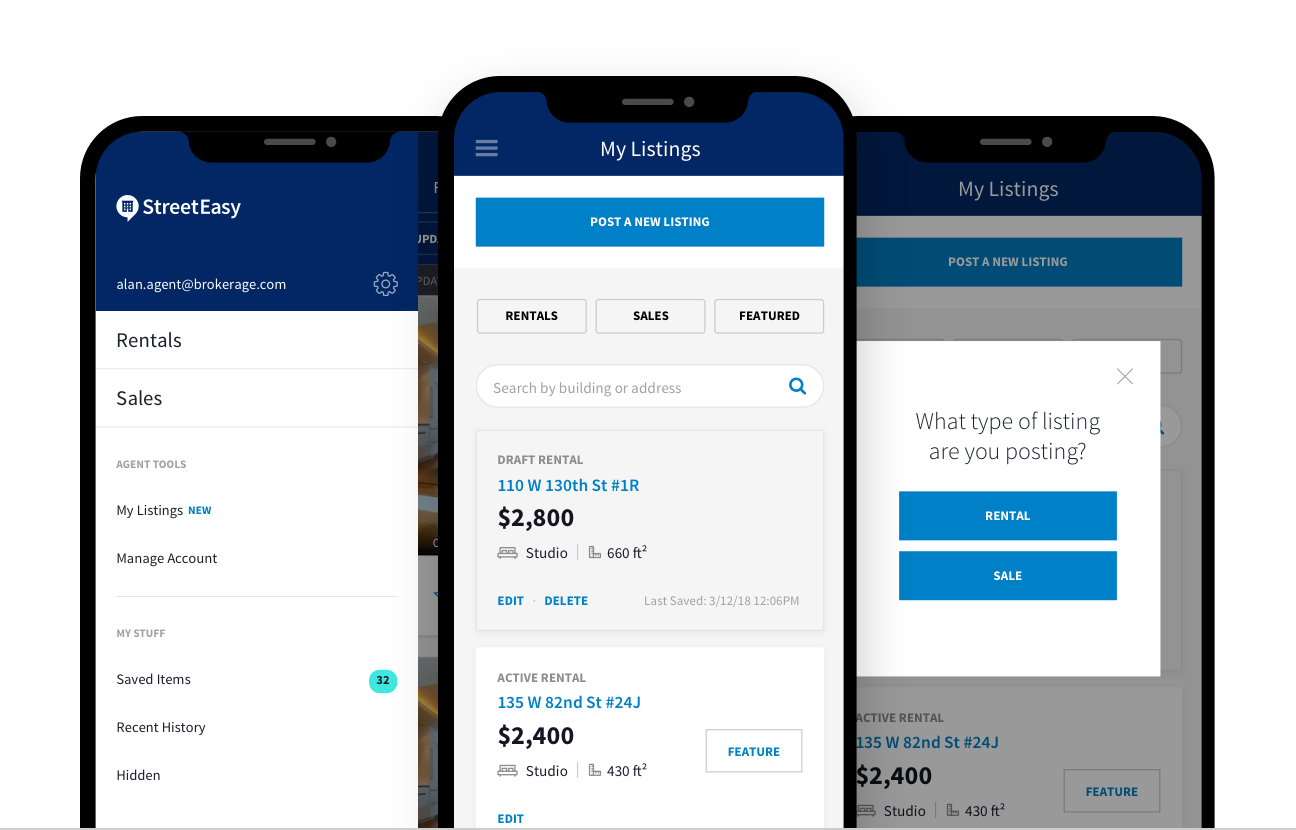 So, why is this a game-changer for agents?
In essence, the new features on the app are basically the same as the features you already have on the desktop site. The real value here is the ease of access and how it'll seamlessly work into your life as an agent on the go.
Think about it: a huge amount of your day is spent running around the city looking at new units, meeting with sellers/buyers, taking clients on showings, and more. The new app lets you quickly update a listing (or start a brand-new one) as soon as you get the info.
Got an in-person price update from a seller? Give them more confidence in your urgency as an agent by updating that listing right on the spot. Touring a new apartment? Post a quick listing, complete with photos from your phone, while you're still standing inside the apartment itself. That seamless photo access we mentioned earlier is one of the easiest functions on the app.
One last thing to consider: the new app also gives you access to your full My Listings section on StreetEasy. You'll be able to use your phone kind of like a real-time list of the available units you have, or – if you've saved a few drafts of listings – that are about to hit the market. That way, if you're showing a prospective client a few apartments and their feedback is that they want more bedrooms, more space, or a different location, it'll be easy to pull up your list on the spot and share those listings with them. It all goes back to the key goal for these new app features: to minimize the time between listing updates and when sellers, buyers and renters receive those updates. If there's less of a delay, there's a great chance you'll get new clients or close new leads.