Voters in New York haven't had the opportunity to cast a ballot in a primary that actually mattered in a very long time. But now we do! On Tuesday, April 19, registered voters in New York state will have the chance to cast a ballot for one of the five presidential candidates currently duking it out across the state as well as right here in the five boroughs.
The NYS primary is a closed primary, which means if you are a registered Democrat or registered Republican, you can vote on Tuesday, assuming you are registered and didn't miss the March 25 deadline like Ivanka and Eric Trump.
For the general election on Nov. 8, you have much more time to make sure you're registered and ready to vote.  See the chart below more deadline dates: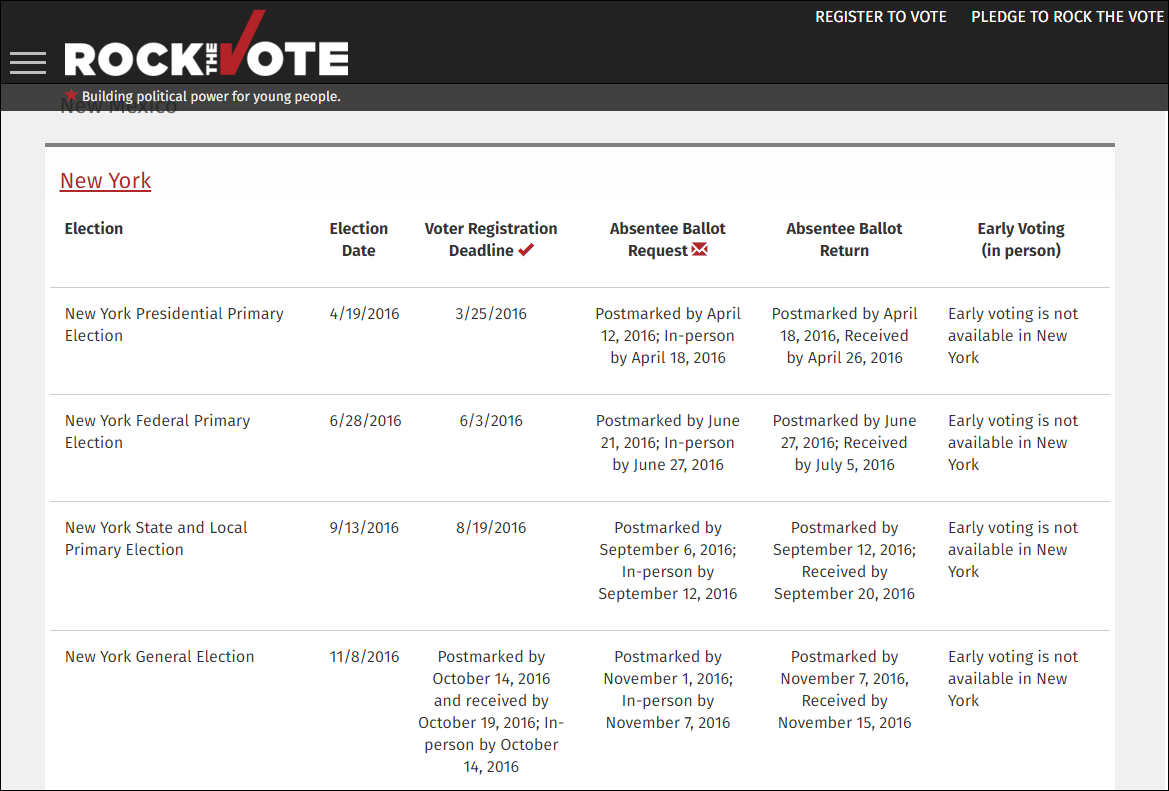 Requirements for Registering to Vote
You must be 18 years old
You must be a U.S. citizen
You must live in New York for 30 days prior to the election
You must not be a felon, or judged mentally incompetent by a court
You must not claim the right to vote elsewhere
How to Register to Vote in NYC
Make sure you have the right documentation. In order to register to vote, you must have a Social Security Number and a DMV number (either a New York State Drivers License Number, or a non-driver ID number). If you don't have a DMV number, you may present a valid photo ID and a current utility bill, bank statement, paycheck, or some other government document that shows your name and address. You do not need to prove that you pay taxes in New York City to vote.
Visit the New York State Board of Elections website for more information about where to register. You can either register online or in person at your county board of elections.
Nota bene, New Yorkers: Each borough is its own county so that means there are five different county board of election sites. Depending on which borough you live in you can register at one of the following sites:
| | |
| --- | --- |
| Borough     | County Board of Elections Locations                   |
| Brooklyn | Kings County Board of Elections, 345 Adams Street, 4th Floor |
| Bronx | Bronx Board of Elections, 1780 Grand Concourse, 5th Floor |
| Manhattan | New York Board of Elections, 200 Varick Street, 10th Floor |
| Queens | Queens Board of Elections, 118-35 Queens Boulevard |
| Staten Island | Richmond Board of Elections, 1 Edgewater Plaza |
If you happen to live or work near one of the city's many college campuses, you will probably see students out in force trying to register voters in the days leading up to the primary.
The voter registration form can be used to change your party affiliation or your address as well.
Where is My Polling Site?
Yes, it matters where you vote! Find your designated polling station here.
If you've moved since the last time you voted and haven't updated your voter registration info, you'll still have to vote at your old polling site. If you're like many of us and can't remember what address you're registered under, the folks at the Voter Phone Bank (1.866.VOTE.NYC) are incredibly helpful.
Make sure all your information is updated and correct, and go forth and fulfill your civic duty!
Related: