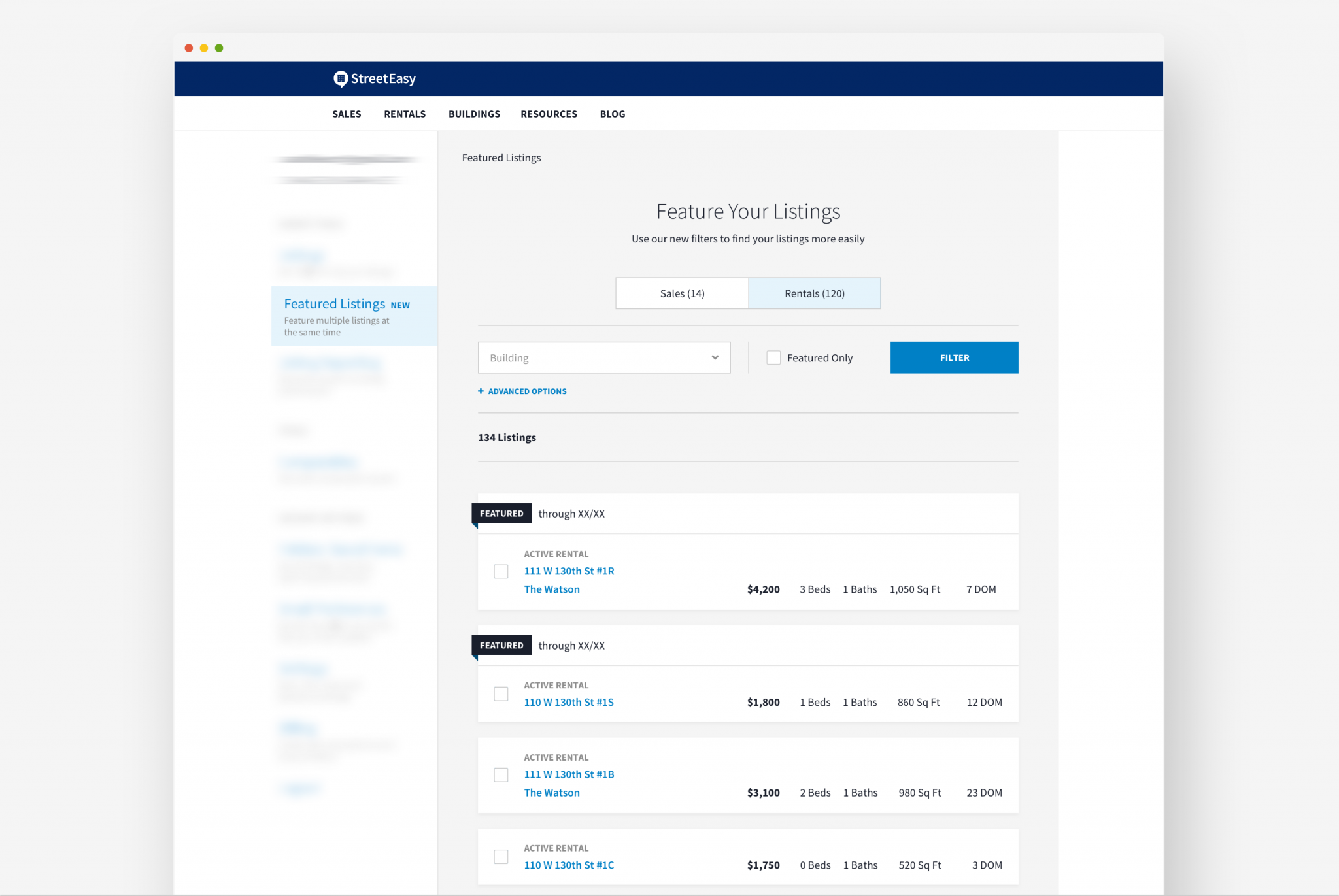 With the massive audience of buyers and renters on StreetEasy, putting yourself first on our search results page can really amp up your views and, by extension, your leads. But if you're a leasing office, a larger rental company, or a media agency, it's been somewhat tedious to feature multiple listings. This is now a thing of the past. We're excited to announce a brand-new tool that lets you view, filter and feature all of your listings at once, all from one page. Here's how it works.
Featuring Multiple Listings
First the obvious: our new tool gives you the option to select which listings you'd like to feature all at once — no more having to go through the entire feature process for each listing individually. Once you navigate to the new Featured Listings page, you'll see a full list of all your listings on StreetEasy. Next, all you have to do is check the "feature" box next to the listings you'd like to feature. Please note that your existing Featured Listings will also appear on this page, and checking the box simply indicates that you'd like to extend that feature.
From there, your listings will go into a cart. Once you've added your listings to your cart using the "feature" checkboxes, just click the "view cart" button, and you'll be taken to the final checkout page to confirm your purchases (more on that in a second).

Using Filters to Simplify Your Workflow
While this page was designed to help you feature multiple listings at the same time, we've also extended the capabilities to help you find those listings on the page more easily. This is especially useful if you have a ton of listings to sift through. On the new Featured Listings page, you can now use a handy set of filters to cull through your listings. You can choose to view only listings in certain buildings, only units with specific bedroom counts, and more. Once you've selected your criteria, just hit the "filter" button, and then you'll only see those units listed. Then you can check the boxes to add those features to your cart.

Checking Out
The last step you'll have is the checkout cart. After you've selected which listings you'd like to feature or extend on the previous page, you'll be taken to a checkout page to view all your selections, confirm that they are correct, and set how long you'd like the features to last. Once everything looks good, just hit the "purchase" button and you'll be billed with your current payment method, whether that's a manual credit card (which can be updated from the new tool) or a direct bill to your brokerage or rental management company.
Please note that, as always, we can't offer refunds on Featured Listings. So make absolutely sure that your selections are correct on this last screen. And if you want some insight into Featured Listing strategy, please reach out to your business consultant. If you have further questions about how to use this new tool, please reach out to support@streeteasy.com, we're happy to help. This new feature has been designed with your success in mind, and we're excited to help you boost your business on StreetEasy.
Want a more in-depth walkthrough? Check out this video tutorial:
How to Feature Multiple Listings at Once from StreetEasy on Vimeo.