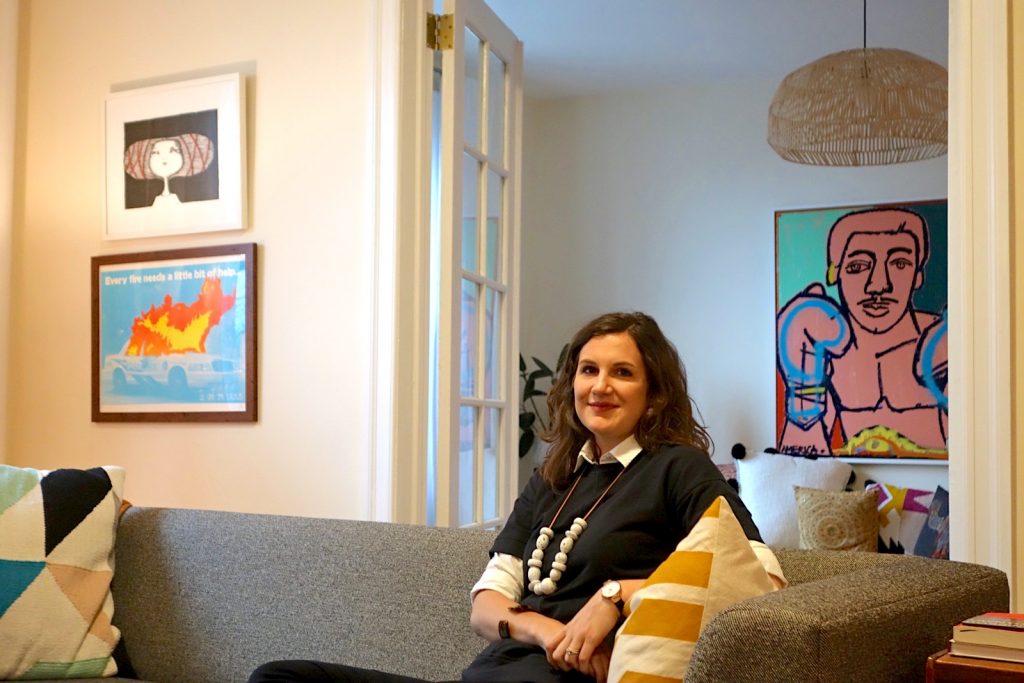 "I say 'we,' but it was really me who wanted to buy," says Allie Mansueto of her fitful apartment hunt. "If it were up to my husband, we'd probably still be renting."
For five years, Mansueto, 31, and her husband Isaac, 30, had been renting a garden apartment in East Harlem with Sly, their Border Collie mix. They loved the neighborhood, and got along great with their landlord. Although their apartment was slightly cramped, it had a large backyard that was all theirs. "We ended up spending all our time out there, because it was so much nicer than being inside," Mansueto laughs.
Ready to Settle, If Not Forever
Over the past 15 years, Mansueto had moved around, from the small town of Pella, IA, where she grew up, to Boston for school, and then to Kansas and Los Angeles. She eventually landed in Manhattan, where she was reunited with Isaac, her college boyfriend, who eventually wooed her to East Harlem.
She loved the vibe of East Harlem. It felt more authentic and less transient than Downtown Manhattan, and that's what she'd always wanted: something permanent. "I've always dreamed of buying," Mansueto says, "because it's the only way to make a place your own."
As a kid, Mansueto's family moved a lot, buying a new place, renovating it, selling it, and then moving on to the next one. "Growing up, I wanted to be an interior designer, but my dad told me that's not how you make money," she laughs. "So I went to school for business."
The couple finally decided to buy in NYC when Mansueto realized she didn't have plans to move any time soon. After maintaining their relationship long-distance for years, she and Isaac were ready for married life in the city together. "We couldn't say we will be in the city forever," she says — but they could commit to five years. "When we were comfortable with saying that, we thought we were ready to buy."
A Classic Mistake
While she and Isaac were saving up, Manuseto tried not to let herself look at homes: "I knew it would be a slippery slope and I'd fall in love with a place." Soon, though, she was browsing StreetEasy, and found a place in Inwood that piqued her interest. It was large and had a ton of character, and while it was at the upper end of their budget of $600,000 to $800,000, it was still within the range. "It was the classic first-time-buyer story: We fell in love on the spot," Manseuto laughs.
She and Isaac called up a buyer's broker as they walked in the door of the Inwood co-op. He hinted that they didn't have the money for the place, so they didn't put in an offer. It remained on the market for several months, and eventually they decided to throw their name in the hat. Their offer was rejected. "I was devastated," Mansueto says. Later, she learned that the place closed with an all-cash offer, which made her feel slightly better.
False Starts Force a Decision
After flirting with a couple of apartments in the outer boroughs, and some over-budget brownstones, the couple settled on Upper Manhattan co-ops. The criteria made sense. Isaac works at New York Presbyterian/Columbia Medical Center as an administrator, and they go upstate often, so proximity to the George Washington Bridge made sense. The high density of prewar housing stock was an added advantage.
"It would have been really nice to stay in East Harlem or Harlem, but we simply didn't like what we could afford," Mansueto says. "Lots of new buildings were going up. Developers were everywhere and everything felt overpriced."
It took almost three years to save up an adequate down payment, but when the couple finally began to put in offers around Upper Manhattan, they found that the tables had turned. Several times, they bid on places that went to a second round. When asked to go higher, they were forced to reassess whether each was really the place they wanted. For a long time, the answer was no.
Finding the Right Place
The 2-bedroom at the foot of hilly West 181st Street wasn't all that much different from the other prewar apartments they had seen. The potential, though, was evident. Herringbone floors, classic prewar detailing, and partial views of the George Washington Bridge all melted Mansueto's heart. And the best part: The floor plan could be changed. 
The original layout was broken up into three cordoned-off rooms along a long, dark corridor — a classic layout in prewar apartments. Right off the bat, Allie knew she wanted to change the apartment into an open floor plan, with a single master bedroom and two contiguous living areas. She also knew the asking price was high. But she had a plan to solve both these problems at once. It relied on the fact that the unit was a sponsor sale, offered up by the co-op itself, not by a previous resident. A building would be more inclined to make renovations to please a prospective buyer, Mansueto figured, and its own maintenance staff would be equipped to do the work.
Allie and Isaac put in an offer at $712,000 — $38,000 below the asking price of $750,000. It "was high enough not to be insulting, but not the full ask," Mansueto says. The sellers came back at $725,000. Knowing they wanted to take out walls, Allie and Isaac responded that they were willing to pay $725,000 if the sellers handled and paid for the renovations. It was a gamble, but it worked: Allie and Isaac got the apartment, and the renovations they wanted.
A New York Anomaly: Losing a Bedroom
Mansueto's approach to the renovations was unconventional. Knowing that they only planned to occupy the apartment for five years, she focused on changes that would up the apartment's comfort and livability, not necessarily its functionality — something of an anomaly in New York City, where common renovations include adding pressurized walls, converting closets to bedrooms, and redoing outdated kitchens.
"We aren't going to touch the kitchen," Mansueto says, "if we were only here five years, [it's] not worth that money."
She did not entirely overlook practicality, recognizing that a 2-bedroom has obvious resale value over a 1-bedroom. They retained French doors so that the second living area could easily be converted back to a second bedroom.
Allie is now dreaming of what's next, and wants to add in a built-in sitting nook by one of the windows in the main living room. "I have these visions of me sitting there with a book, looking out onto the bridge," she says.
With the first renovations now complete, Allie and Isaac are thrilled with their new living situation, even if it lacks the outdoor space and in-unit washer and dryer their old apartment offered. They now find themselves more eager to spend time inside. "We don't feel so desperate to get outside, now that being inside is actually enjoyable," Mansueto laughs.
She's always been a firm believer in the connection between where you live and how you feel. Although it's not their forever home, their converted 1-bedroom co-op on 181st Street feels pretty good. "When I walk into the place, it makes me feel happy," Mansueto says. "And that's exactly what a home should do."
—
Hey, why not like StreetEasy on Facebook and follow @streeteasy on Instagram?