Update (6/26/2017): A year and a half after it was first listed, Gwyneth Paltrow and Chris Martin's Tribeca penthouse has sold for $10.7M, a major discount from its original asking price of $14.25M. Over the last 18 months, the apartment has gone through a series of price cuts, dropping most recently to $9.95M. All price cuts aside, the impeccably designed floor-through apartment on Laight Street still sold for nearly double what Paltrow and Martin purchased it for back in 2007. The buyer of this $10.7M seven-bedroom set-up remains unknown, but on property records goes by the elliptical moniker of "Orchard House, LLC."
*****
Update (3/17/2017): Was it the publication of the interior photos that aroused a buyer? Or the price drop? Perhaps a little of both. The Tribeca penthouse owned by exes Gwyneth Paltrow and Chris Martin went from "on the market" to "in contract" on March 15. While the final sale price won't be known for a while, the apartment, which was first listed for $14,250,000 last March, is now headed to closure for the former power couple. Through two rounds of being on and off the market, the couple did not release photos of the interior. The third time the penthouse hit the market, photos were finally provided and perhaps that was enough to nudge a potential buyer into pursuing the property.
*****
Update (2/28/2017): Third time's a charm, right? Get ready for round 3 for the Tribeca pad owned by exes Gwyneth Paltrow and Chris Martin. The penthouse is back on the market and this time around, it took a major price drop to $9,995,000 from nearly $13 million. And this time we have interior photos! Take a look:
> See more photos of Gwyneth Paltrow and Chris Martin's Tribeca penthouse
Update (4/20/2016): In real estate and divorce, the mantra is to "keep things moving." In that vein, the price for the Tribeca penthouse that Coldplay lead Chris Martin and now ex Gwyneth Paltrow owned together has been reduced. After 40-ish days on the market, it has gone from $14,250,000 to $12,850,000 — a drop of $1,400,000.
Original post: Back when they ruled the world of married look-alike celebrities, Chris Martin and Gwyneth Paltrow together snapped up sumptuous real estate from London to Los Angeles. That also included a pit stop in Tribeca, where the now consciously uncoupled couple bought a $5.1 million Tribeca penthouse in 2007.
Now that marble-laden, 3-bedroom, 3-bathroom in the River Lofts building at 416 Washington Street (above) has hit the market for $14.25 million. It is very Vogue, indeed.
On top of surging NYC real estate prices, the price increase for the spacious penthouse can be accounted for by the complete remodel done in 2008, which was performed by set designers-turned-interior-designers-to-the-stars Roman and Williams. To satisfy the notoriously Goop-y tastes of Paltrow, the 4,479-square-foot condo was given a dramatic white-washing, complete with white floors and enough marble to rival the Vatican. Unfortunately, the listing only shows the floor plan. But, oh — what a floor plan it is: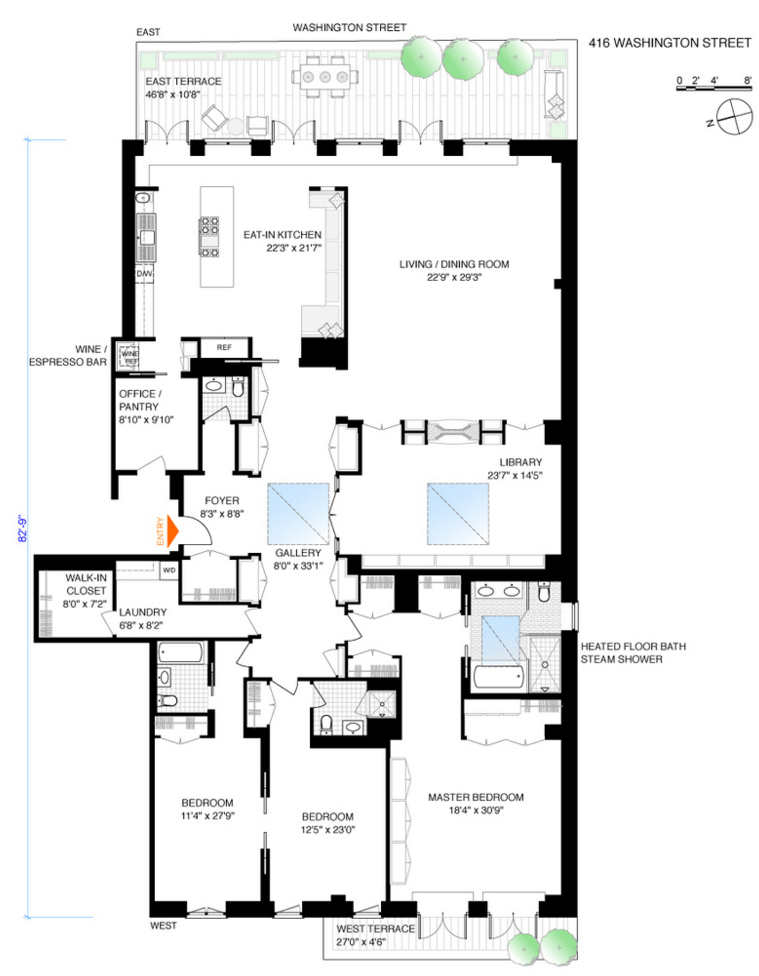 In addition to a pretty stunning kitchen, there's a covered deck area that allows the high-rolling indoor festivities to take it outside. This custom-designed interiors include a ton of closet space — because where else would the kids store their stuff? — and pressed tin ceilings on the master suite.
The Paltrow-Martin penthouse is one of 67 units in the two buildings that comprise the River Lofts. The 13-story building at 92 Laight Street property was built in 2004 and contains 38 units, while the second building is a 19th-century brick warehouse at 424 Washington Street, containing 30 units.
Paltrow is no stranger to selling in New York. In 2005, she sold her Greek Revival townhouse at 278 W. 4th Street for $6.75 million. The 4-bedroom single-family has since been offered for rent, listing for $30,000 a month two years ago.  Martin and Paltrow also owned an 8,000-square-foot  condo at 13 Harrison Street. They bought that in 2005 for $7.5 million and sold in 2007 for $13.5 million, just before moving to River Lofts.
Related: