Billed as "attainable" housing with 1-bedrooms set to sell for $600K and 2-bedrooms at around $900K, a condo building called The Aurum looks to be the next new thing in Harlem.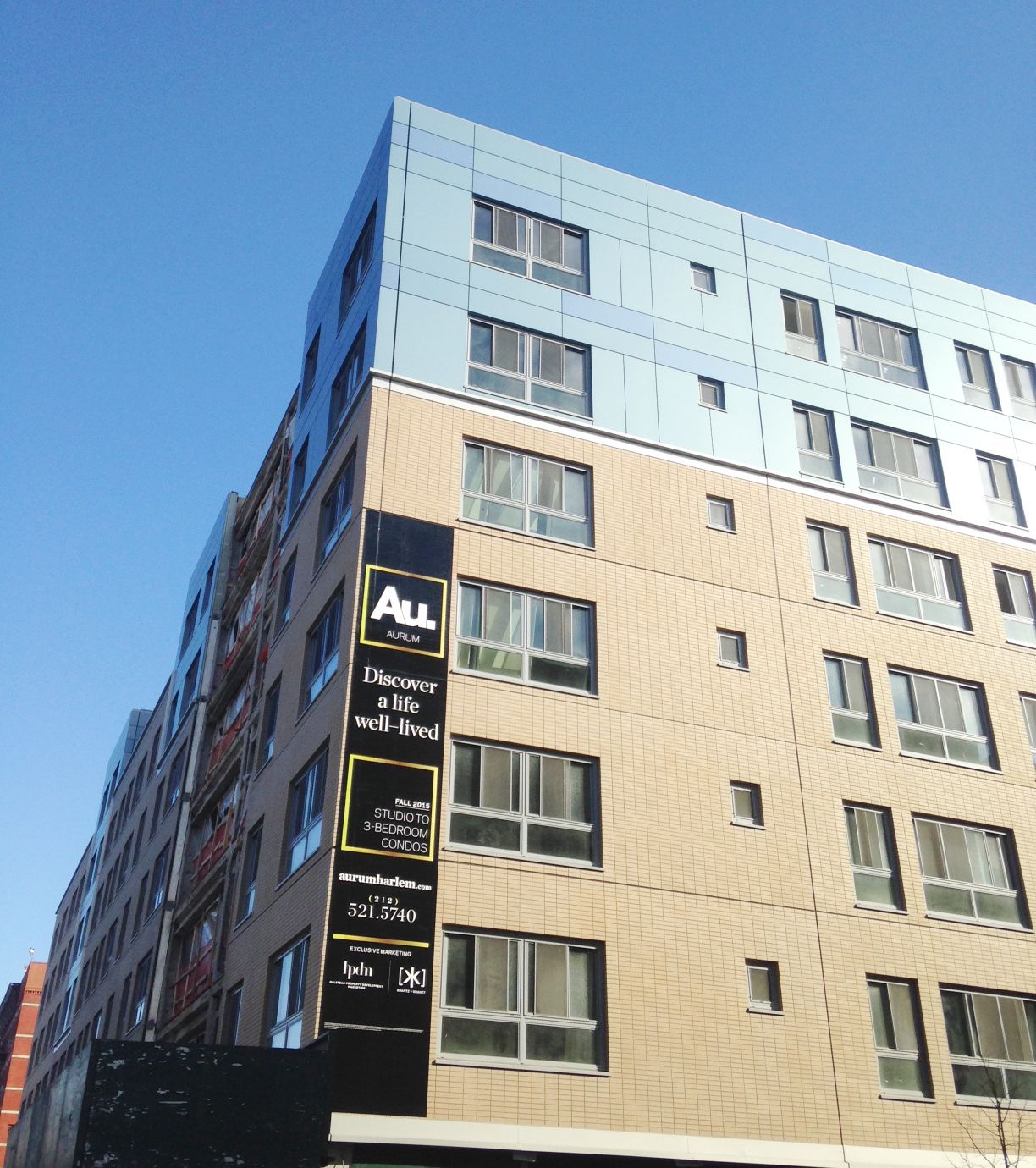 Located at 2231 Adam Clayton Powell Boulevard (Seventh Avenue between 131 Street and 132nd Street) the 94-unit development is on the verge of entertaining offers from buyers. Developed by BRP Development Corp., and being sold by Krantz & Krantz under Halstead Property Development Marketing, The Aurum is just waiting on final sign-off by the NY Attorney General's office before holding its first open house.
"We'll release a handful of units as soon as the offering plans have all the i's dotted and the t's crossed,'' said Jeff Krantz, adding that developers for The Aurum decided to not offer units in the pre-construction phase because "there will be a lot of first-time buyers interested in this building and we wanted first-time buyers to have the full experience.''
Krantz and his wife, Kristen, were the ideal brokers for this new Harlem development, since the husband-and-wife broker team have been living in Harlem since the market downturn in 2009. Sensing that the economic recovery would lead to a development push in Harlem, Krantz & Krantz made it their goal to know the neighborhood they were going to start selling in. No question, they were on the right track.
Harlem Housing Data Points to Hot Spot
Harlem's next renaissance will never match the original. Sorry, folks. That's just the way it is when it comes to the era of THE Harlem Renaissance of the 1920s and 30s, when this upper Manhattan neighborhood exploded as the dynamic hub of social and artistic creation of a new black cultural life.
Couple that era with Harlem's bricks-and-mortar legacy of historic churches, clubs, theaters and buildings, it's little wonder that the redevelopment of Harlem as the next "IT" ZIP code is met with consternation, to say the least.
Without debating too hotly the legitimate points of old Harlem giving way to a new Harlem, the most recent analysis of Upper Manhattan data by our experts here at StreetEasy show clear evidence of a definite Central Harlem uptick. With median resale prices 35 percent below Manhattan's resale prices, the uptick in prices is relative to the demand or willingness of home-seekers to consider Harlem as a place to make home base.
Believe it or not, though, not everyone wants to live in Tribeca, the East Village or Brooklyn. Or, let's put this another way: The economics of New York real estate have already pushed the boundaries on where home-seekers will look and live.
The Aurum Takes Place of Historic Theater
The Aurum takes the place of the Lafayette Theater, which thrived during the Harlem Renaissance alongside Connie's Inn and the Ubangi Club. The ghosts of famous black artists who played and partied in those haunts are palpable not just in history books but in the Harlem air: Louis Armstrong, Bessie Smith, Fats Waller, Ethel Waters, Duke Ellington and Gladys Bentley all famously appeared here.
Given the dynamics of turning over historic Harlem into a new outpost for real estate development, The Aurum has rattled the same psychic cages as at least one other BRP Development project, The Renny. This new condo building also in the pre-construction phase takes over the spot at 2341-2349 Adam Clayton Boulevard where the old Renaissance Ballroom once stood. The ballroom had been vacant for years, and the neighboring Abyssinian Baptist Church — through its Abyssinian Development Group arm — moved to sell to BRP to spur mixed-use development on the block.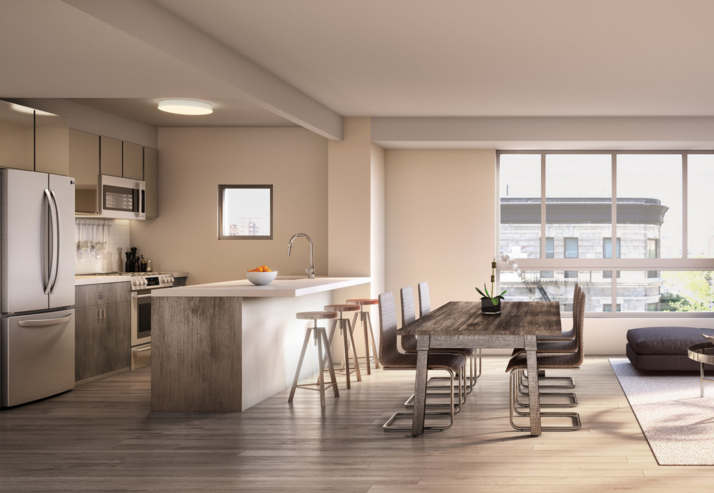 The Aurum, in fact, was going to be named after the theater it replaces. However, the name "Lafayette" was considered to be potentially confusing by Halstead because of downtown Lafayette Street.
"Market forces create change and we try and be sensitive to history and we hope our developers acknowledge the history of some buildings,'' Krantz said.
For buyers whose first inclination is Inwood or Jackson Heights or other farther-flung NYC neighborhoods, Krantz said Harlem presents an alternative, especially with its merchants, restaurants and history as an important NYC neighborhood.
First it was about apartments up to 96th Street; then it was about anything below 125th Street, where 320 West 115th Street shines as an example of redevelopment producing upscale new housing units.
Of the 6 units listed for sale at 320 West 115th Street, all but one was under contract as of Nov. 11, 2015. A "massive" garden unit was still available for $2.499 million.
Now the boundaries are pushing up to 135th Street. If a sales pitch is needed to get buyers uptown to look at Harlem property, Jeff Krantz said it diminishes once buyers see the neighborhood and the value.
"Land prices are still lagging up here a bit, so there is a great return for developers who believe in this neighborhood. I know when people do come up, they buy,'' Krantz said.
Access to lower Manhattan is via the 2-3 train, which is two-tenths of a mile away, or the A-C-B-D stop on 125th, about four-tenths of a mile.
Krantz said initial sales offerings will take place within weeks, with occupancy targeted for February or March 2016.
Related: