Halloween and Houdini: The holiday and the illusionist go together not because Houdini was a ghoulish magician, but because the "Elvis Presley of escapology" died on Halloween in 1926.
Ninety years later, Houdini's house in Harlem at 278 W. 113th Street remains a big tourist attraction for Houdini fans — even though the four-story home in South Harlem is privately owned and contains no Houdini paraphernalia. There is no tour, no open door. Just the chance to stand outside the home that Houdini called home from 1904 until his death.
There's a slew of Houdini memorabilia in New York City, but it is housed in The Houdini Museum of New York at the Fantasma Magic Store (421 Seventh Ave., Third Floor). It's across from Penn Station. The museum opened in 2012 and contains hundreds of items that bring Houdini to life, including Houdini's Escape Coffin. It was from this box in 1907 that Houdini freed himself after an hour and six minutes, even though it was nailed shut.
There are also many Houdini enthusiasts and experts who have meticulously collected news clippings and artifacts from Houdini's thrilling life and career, including many linked here at a site called Houdini Museum. There is also the 5-acre Houdini Estate in Los Angeles, which has been restored and still serves as a rental property for large events.
Houdini Bought the Home in 1904 for $25K
Still, the house where Houdini lived is an indisputable chunk of handsome Upper Manhattan real estate that remains a permanent testimony to Houdini's place in history, specifically in NYC history. He was one of the biggest stars to ever emerge in New York, which is saying something given the litany of musical, theatrical and literary royalty that was born and bred here. Also adding to eternal fascination with Houdini is the fact that he was said to have uttered secret codes to his wife, Bess, and a few others, saying that when he died, he would contact them from beyond the grave. Many believe Houdini's spirit is still in the W. 113th Street townhouse.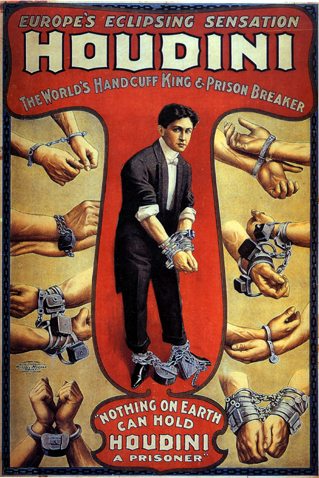 Houdini was born Erich Weiss in Budapest, arrived in New York in 1886. By the time he bought the Harlem house in 1904 for $25,000, he was a wildly famous illusionist who wanted the home to serve as a place to relax with his wife, Bess, and his mother. It was also a practice studio for his magic and escape-artist stunts. He had a huge bathtub installed to practice underwater escape techniques. Historic pictures show Houdini also had a library filled with books about magic tricks, as well as props and accouterments for his grand illusions: straitjackets, handcuffs, locks and chains.
While all that is gone, the home is marked with a Cultural Medallion plaque from the Historic Landmarks Preservation Center of NYC. Here is an enthusiastic blog post from a Houdini aficionado (Wild About Houdini) about what it felt like to see Houdini's house on W. 113th Street.
Houdini died of peritonitis on Oct. 31, 1926 after being punched in the gut by a college student in dressing room. This was found at least by insurers to be reason for his rupture appendix, which led to his death at age 52. Years later, Houdini's wife eventually sold the house, which is now owned by a man who has struggled to fend off so many Houdini enthusiasts, especially on Halloween. The New York Daily News interviewed the Houdini house owner, Fred Thomas, about what it's like to own Houdini's house. (For 10 years after Houdini's death, his wife, Bess, held a Houdini seance at the Knickerbocker Hotel to try and reach her beloved husband from beyond the grave.)
With the 90th anniversary of Houdini's Halloween death, revelers and fans and thrill seekers will once again traipse in front of Houdini's house at 278 W. 113th Street. There may be plenty of ghostly, ghoulish or just plain creepy addresses in New York that see interest spike come Halloween, including Edgar Allan Poe's cottage in the Bronx and the Amityville Horror house on the east end of Long Island.
But when it comes to New York and Houdini, the bond is strong and the draw to pilgrimage to his house is powerful. As Allison Meier wrote in her Atlas Obscura post about Houdini: New York is where this immigrant came to roaring, magical life: Houdini met his wife in Coney Island. He recorded his voice on wax cylinders with Thomas Edison.
"In 1917, Houdini performed his straitjacket escape above a Times Square crowd while hanging upside down from a crane being employed to work on the subway. In the East River he survived his first crate escape, tossed in the currents between Manhattan and Brooklyn, and in 1926 he escaped from a coffin at the bottom of a pool in the Shelton Hotel on Lexington (now a Marriott Hotel). In 1918, he even made an elephant vanish at the New York Hippodrome," Meier notes.
In between all these epic escapes, Houdini had another, ultimate escape: Houdini's home. Unfortunately for real Houdini thrill seekers, the only way to get inside is to wait until a rental apartment in the 4-story home comes on the market again. The 2-bedroom apartment (above) was advertised as a desirable home and office in South Harlem inside a charming townhouse. Houdini may be gone, but perhaps his spirit lives on.
In the meantime, if you want to know Houdini's top 10 illusions, here's a story that runs them all down, including the tricks Houdini used to pull off some of the greatest illusionist capers of all time.
Related: